Definition
cohort learning
What is cohort learning?
Cohort learning is a learning strategy prioritizing coursework or lessons that groups of students complete together in an interactive fashion. This type of learning is typically used in K-12 and higher education settings where instructors teach the same lessons to groups of students. However, cohort-based learning also encompasses online e-learning and virtual courses used to train or expand the skill set of multiple students at once.
With cohort learning, students work at the same pace and cover the same assignments. Interaction among students is a key part of the learning process; discussion groups and forums are generally incorporated into this learning method. Learners work alongside each other, providing encouragement and some competition. Working interactively and sharing perspectives means students can also lean on each other for assistance, increasing the likelihood of success.
How does cohort learning work?
In cohort learning, a group of students convenes at specified times for group learning sessions. They engage in interactive activities and discussions, and are expected to complete the course at the same time.
The instructor provides students with a syllabus that describes the course sections, reading list and assignments. This level of structure differentiates cohort-based courses from self-paced ones.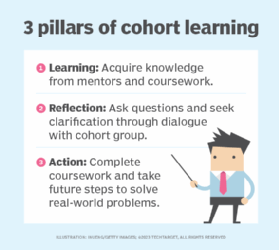 Cohort-based courses are also different from massive open online courses (MOOCs) that prioritize openness and flexibility. MOOCs free students from time constraints and strict deadlines, but they rely on personal motivation to get students to complete courses. In theory, such flexibility would seem conducive to students' success, however, case studies have shown students are more apt to not complete these courses.
While cohort learning enforces synchronous assignment deadlines, there is nonetheless some asynchronous learning involved. Students are given some flexibility as to when they read chapters and articles, watch videos and listen to lectures and podcasts, if they do so within a specific time frame. Traditional graduate-level courses where at least some students also have professional work lives must incorporate some flexibility to enable students to manage their time more efficiently.
Benefits of cohort learning
The main advantage of cohort learning is the interactive nature of the method. That benefit was underscored during the COVID-19 pandemic, when virtual cohort-based training programs enabled by platforms such as Zoom and Google Hangouts became necessary. And in the post-pandemic world, businesses and other organizations continue to use virtual online and hybrid learning models that combine both online education and in-person approaches.
Other benefits of cohort learning include the following:
Community and support. In addition to interactive video calls, cohort learning environments use other collaborative tools that encourage group work, such as discussion boards and forums where students can interact and ask questions. This builds a sense of community and reminds students that they're pursuing a common goal.
Real-time assistance. Students get real-time assistance during interactive online learning sessions when struggling with course material.
Increased motivation. MOOCs and self-paced courses with little structure often result in lower completion rates compared with cohort learning. With enforced deadlines and group activities where peers rely on one another for assistance, the cohort approach motivates students to complete assignments on time.
Sense of accountability. Cohort learning instructors require timely completion of assignments, and team-based activities encourage students to contribute and participate. As a result, learners are accountable to do the work necessary to complete a course.
Knowledge retention. Cohort learning often includes an element of fun through gamification and other activities. This makes a group of learners more likely to retain the knowledge gained through those activities. Instructors can now use artificial intelligence and the analytics capabilities that come with it to gain insights on what strategies are most effective at boosting learner engagement.
Pillars of cohort learning
Cohort learning encompasses an array of strategies and ways to engage students through collaborative learning. However, its basic structure rests on three components: having a mentor or facilitator to oversee the course curriculum, a body of students and a set of learning tools that foster a learning community.
In addition, the learning experience ascribed to cohort-based courses is made up of three pillars:
Learning. All methods these courses use -- such as discussion forums with threads and gamification -- share the same goal: to impart new knowledge students can use to complete coursework.
Reflection. A cohort-based program lets students talk with each other and reflect on what they've learned. They can question what doesn't make sense and seek clarification. These courses provide new perspectives that students wouldn't be exposed to if they didn't have a cohort to work with.
Action. In the short term, students use their newfound knowledge to finish their coursework. In the long term, they're equipped to solve real-world problems.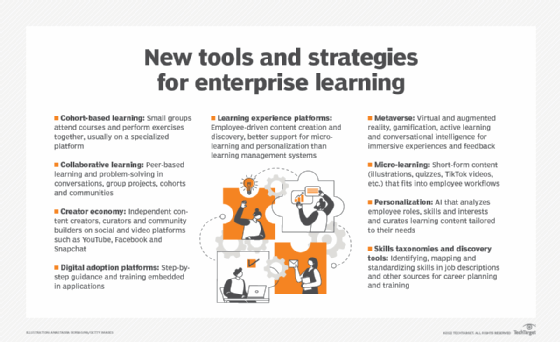 Self-paced learning vs. cohort learning
Self-paced learning and cohort learning share the same goal: to impart knowledge in ways that upskill and reskill students. Both learning approaches have unique benefits and challenges.
Self-paced learning
Self-paced courses are best suited for professionals such as entrepreneurs and solopreneurs with busy lives who need to work at their own pace and in their own time. They're more likely to be motivated to complete coursework without added incentives and pressure from mentors and peers. However, self-paced learning isn't for everyone, as evidenced by the failures of MOOCs.
The benefits of the self-paced approach include total flexibility in terms of timing and attendance, low to no pressure in completing assignments and the autonomy to go faster than anticipated if assignments come easy to a student. Conversely, those who need to go slower because they aren't fast learners, find the subject matter challenging or have other pressures in their lives might also prefer this approach.
Cohort learning
Cohort-based courses are built to be as accommodating as possible to students with varying situations and learning styles. They often provide a mix of synchronous and asynchronous learning, as well as human and technology resources. Those who view the structure and resources of a cohort learning program as assets rather than liabilities will benefit most from such a program.
Learning management systems encompass the technology tools that cohort-based course organizers need to carry out interactive lessons and assignments. Learn about these tools and how they let organizers oversee multiple features, such as discussion forums, from a single system.
This was last updated in
August 2023
Continue Reading About cohort learning