Getty Images
8 Web3 courses to try in 2022
Gain the skills necessary to engage with the newest iteration of the web with one of the many Web3 developer courses and learning resources available online.
Web3 is a new internet model built on blockchain that has garnered significant attention in the past few years.
The core concept behind Web3 is decentralization. Proponents expect the technology to distribute power away from internet gatekeepers, and to give developers and users more control over their data. This ethos has created an environment that encourages tech enthusiasts, entrepreneurs, governments and enterprises to jump on the Web3 hype.
Web3 combines many blockchain-adjacent evolving technologies, including digital avatars, non-fungible tokens (NFTs) and decentralized applications. As with any influx of new technology, there's a need for new skills and talent. The Web3 community is growing all the time and developing accessible learning content for developers of all levels.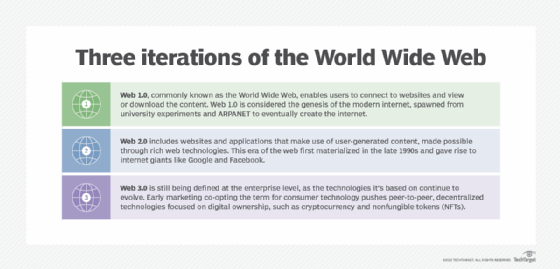 There are many websites that offer Web3 courses. Here are some sites to consider.
1. Web3 University
Web3 University offers a variety of lesson tracks that include tutorials on various topic areas of Web3 development. Track topics include NFT building and smart contract creation, and courses on blockchain-centric programming languages such as Solidity and Solana. The free tutorials are a mix of video and articles. The learning track Create Your First Smart Contract is a good starting point for aspiring Web3 developers and enterprises looking to break into the Web3 space. Web3 university's content is free to access.
Website: https://www.web3.university
2. Chainshot.com Ethereum Developer Bootcamp
ChainShot is a 10-week, instructor-led Web3 developer bootcamp that promises to give attendees the skills needed to build a proof-of-work blockchain, develop smart contracts in Solidity and build decentralized applications. The bootcamp uses a cohort learning model, where students spend the first half of class-time learning from an instructor, then break into separate coding groups to apply what they've learned.
Students need to apply to be accepted, ensuring everyone is at the same coding level. There's an option for students with a lower coding level to apply for a custom curriculum. There are two payment options: a one-time payment of $3,000 or five payments of $650.
Website: https://www.chainshot.com/bootcamp
3. Udemy Inc.
Udemy is an e-learning platform offering video courses on a variety of topics. Users can log on to Udemy.com and search for the topic they want to learn about. Udemy has several blockchain courses available on its EdTech platform. Some highlights include:
Blockchain for Business: The New Industrial Revolution
Build a Blockchain & Cryptocurrency | Full-Stack Edition
Master Ethereum & Solidity Programming From Scratch in 2022
Complete DApp -- Solidity & React -- Blockchain Development
Getting started with Web3 Development
Prices for these courses vary.
4. Bloom Institute of Technology
The Bloom Institute of Technology -- formerly the Lambda School -- offers a 10-week Web3 course to help students transition from Web2 to Web3. It covers smart contracts, Solidity and new software concepts such as decentralized finance.
Students should expect approximately 15 hours of work per week, with live sessions and built-in office hours. The course is $5,500 and gives students access to the learning materials for an entire year. Students are required to have one to two years of prior coding experience with JavaScript, Git, Github and shell scripting.
5. Zero to Mastery Inc.
Zero to Mastery (ZTM) has a five-hour long Web3 Masterclass that teaches blockchain security, potential use cases for Web3 applications, cryptocurrency basics and the basics of Decentralized Autonomous Organizations.
ZTM uses a similar format to Udemy's, offering video courses on a variety of tech topics. Users can subscribe to ZTM to access the videos for $39 a month, $279 annually or by paying a one-time $999 lifetime fee. Once subscribed, the courses are free.
Website: https://zerotomastery.io/courses/introduction-to-web3
6. LearnWeb3
LearnWeb3 offers free courses on four separate learning tracks: Freshman, Sophomore, Junior and Senior. There's also an accompanying Discord community where students can ask questions, make connections and attend exclusive events. In addition, students can link their ETH wallet -- a wallet for the use of cryptocurrency on the Ethereum blockchain -- to receive graduation NFTs.
Following the tracks all the way through, learners can go from setting up their developer environment and coding their first DApp, to learning about Web3 security, flash loans and Ethereum's tax known as maximal extractable value (MEV). Many of the lessons link to readings on FreeCodeCamp.org and Codecademy.com.
Website: https://www.learnweb3.io
7. LinkedIn Learning
LinkedIn Learning has a Web3 content section that users can access for an annual subscription fee of $26.99 per month. It offers course videos that typically last less than an hour and entire Learning Paths that last upwards of nine hours. Common topics include the basics of blockchain, Bitcoin and the interaction of blockchain and business.
8. Buildspace
Buildspace is a Web3 development platform that offers free, cohort-based online learning courses on building Web3 apps. Users can sign up and connect their Ethereum wallet to verify coursework completion and to receive a course completion certificate in the form of an NFT.
When students complete a course, they're given alumni permissions, which provide them access to other channels on Buildspace, including where employers post jobs for Web3 developers.
Website: https://buildspace.so
Other resources
In addition to the courses mentioned above, there are other resources on the internet that developers can use to learn and write code for Web3. Some free courses -- such as LearnWeb3 -- also link to these resources.
FreeCodeCamp.org. FreeCodeCamp.org and its individual instructors have several free tutorials on YouTube, including:

Solidity, Blockchain and Smart Contract Course
How to make NFT Art with On-Chain Metadata
Create your own Blockchain ERC20 Token | Python, Brownie, Solidity

Games. Users can engage with interactive interfaces such as CrytpoZombies and Ethernauts, which teach players about the technical aspects of the blockchain while they game.
Open source libraries and tools. There are many online open source tools for Web3 developers to take advantage of including:

OpenZeppelin. OpenZeppelin offers open-source security products for smart contracts.
Create-ETH-App. This is a collection of open source application templates that users can make into an application with one code command.
Hardhat. Hardhat is a professional Ethereum development environment.

Media and news. Prospective Web3 developers can follow many media outlets to stay involved in crypto trends, including:

Coinmonks
Week In Ethereum News
Bankless podcast