Getty Images/iStockphoto
Gamification in learning platform tested at Mayo Clinic
The Mayo Clinic is piloting a gamification in learning platform. Unlike other forms of learning, the healthcare organization believes the platform facilitates two-way communication and team effectiveness.
The Mayo Clinic plans to test a gamification in learning platform to train employees. The healthcare organization believes it might be more effective in teaching than lecture-type training. If successful, it may use the platform to teach a significant number of its 75,000 employees.
The gamification approach emphasizes two-way communication, which was one of the platform's appeals, said Marion Kelly, director for the Office of Community and Business Relations at Mayo Clinic in Arizona, which is overseeing the pilot for diversity, equity, inclusion (DEI) and management styles training. Mayo Clinic in Arizona is part of the Mayo Clinic Health System network, which is headquartered in Rochester, Minn.
With gamification in learning, "everyone gets to speak, and everyone has to listen," Kelly said, "and as a result, it changes your perspective."
Other learning approaches, such as a lecture, are more passive. "[You] listen and you learn -- or they expect that you would learn," he said.
Using the gamification platform, employees answer questions such as, "If you could change one thing that would make your life easier, what would it be and why?" Participants give points based on how authentic they think a participant's answer is and whether they need more information. Or they may ask the person to try again.
"They're voting on how open, honest and vulnerable you are," said Lauren Fitzpatrick Shanks, CEO of KeepWOL (Keep Wondering Out Loud), maker of the gamification platform that the Mayo Clinic is using. The firm's SaaS platform has on-demand multiplayer games.
"With this approach, you have no idea what is about to spill out," Shanks said.
Everyone gets to speak, and everyone has to listen.

Marion KellyDirector of Office of Community and Business Relations, Mayo Clinic in Arizona
This month, Mayo is running a test with about 50 to 60 employees, from entry level to leadership, over a five- to six-week period. Kelly said he believes the platform may work as a supplement to other forms of training.
Gamification in learning is big
An HR industry analyst, Josh Bersin, called gamification in learning "a very powerful approach."
"It doesn't mean you 'play games'; it means people get points, compete with each other and get game-like incentives to create energy and engagement with the content," Bersin said. "I absolutely see it as big."
Mayo's training will focus on DEI and management styles. The latter involves how participants might modify their learning and work style to accommodate differences in leadership, Kelly said.
The goal is "that we understand one another better as an organization, which should mean that we become more productive as an organization," he said.
KeepWOL's Shanks began her professional career as an aerospace engineer and later earned an MBA in operations management. Shanks worked at some large firms before creating KeepWOL. The idea came from her identifying gaps in DEI training programs.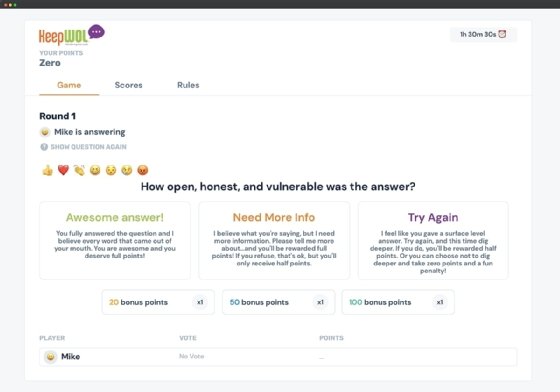 She said that employers promise DEI and belonging programs, but they base their success on "vanity metrics," such as how many people they hire in different demographics.
"No manager ever received training on managing, leading, motivating and communicating with people from all walks of life," Shanks said.
Mayo's test will involve pre-and post-test assessments to determine if the program had a positive effect, including on participants' ability to communicate with their team. Longer-term, Kelly foresees a broader and gradual rollout of the gamificiation in learning program across the company and said he would be pleased if as many as 10% of the staff participated in it.
Patrick Thibodeau covers HCM and ERP technologies for TechTarget. He's worked for more than two decades as an enterprise IT reporter.