How to develop successful e-learning content in 10 steps
A well-rounded, engaging, self-paced, skills-oriented e-learning program requires a combination of time-tested teaching practices and advanced online tools and technologies.
E-learning is evolving rapidly with the introduction of generative AI, platform enhancements and new learning modalities. Developing e-learning content follows age-old principles, while new e-learning tools and capabilities change workflows and learning processes. The result is customized e-learning content that drives learning outcomes, increases knowledge and saves time.
To develop e-learning content, first consider the endgame and anticipated learning outcomes and work back from there. Think about how the learning experience pertains to different job roles, levels of expertise and learning styles and the ways new content can improve that experience. "This includes considering what skills employees need and strategizing around the best vehicle to deliver those learning opportunities," said Leah Houde, chief learning officer at PwC.
Houde is overseeing the development of e-learning content to upskill 75,000 people on AI and recently released a foundational learning pathway focused on generative AI. The online training teaches people what generative AI is and explores responsible AI, with emphasis on improving privacy, explainability, bias detection and governance.
Customized content can help people pursue learning opportunities on their own rather than being constrained by a scheduled or in-person class. It's also important to recognize that learning can be tailored to individual goals and learning styles using a combination of in-person seminars, gamification, snackable video content and AI-enabled tools to train people in ways they learn best. "This personalized approach," Houde explained, "empowers learners to continuously pursue their interests, aspirations and unique upskilling needs."
Why e-learning content is important
E-learning is valuable to learners because it's available when the student needs it, said Michelle Ratcliffe, global learning and development leader at consultancy Protiviti. E-learning course development is potentially easier than other forms of learning. "The ease of access, abundance of options and diversity of e-learning solution types allow learners to find an upskilling solution that best meets their individual needs," Ratcliffe added.
In business, e-learning is important to employee upskilling efforts for several reasons, as outlined by Priyanka Mitra, vice president, business process services, at research firm Everest Group:
Self-paced learning. Students can select their learning materials and study at their own pace.
Cost-effective. E-learning can significantly reduce travel, accommodations and physical materials costs.
Just-in-time learning. Employees can quickly access the information they need to perform their tasks effectively without the training lag associated with scheduled learning sessions.
Consistency. E-learning content delivery is consistent in terms of the quality of training materials and information.
Timeliness. E-learning content can be updated and distributed to all students simultaneously, ensuring they have access to the most current training materials.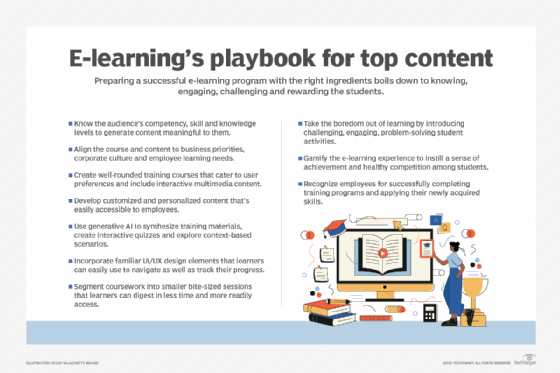 Steps to creating effective e-learning content
There are many components to consider when developing e-learning, ranging from business objectives to the priorities and skill levels of the students to the technologies used to enhance the learning experience.
1. Know and understand the intended audience
A good grasp of the learning group's competency, skill and knowledge level is necessary when compiling very specific learning program objectives. "If a learner feels that the course content is not relevant to their needs or goals, they will have a hard time engaging with it, and they might reject it completely because it feels useless to them," said Mike Caruso, manager of instructional design and project management at online higher education services provider AllCampus. Surveys and interviews can help analyze student needs. And it's important to involve subject matter experts in the program's design and development.
2. Align content with company culture and priorities
Effective e-learning content should align with corporate priorities and culture. Questions to ask include: Is this learning content a top priority for the business? Will it help employees succeed in their roles? Is it a fun, engaging learning experience? "With so many demands on an employee's time," PwC's Houde reasoned, "it's important to streamline what e-learning content is delivered and connect back to why it's a priority for them and the organization at large." PwC, for example, has a learning and development strategy team representing various business segments that understand what skills are most needed. They work with learning architects and designers to create engaging, compelling and impactful learning opportunities.
3. Consider the essential ingredients in a well-rounded training program
Developing and delivering a training program effectively is both art and science, suggested Priya Iragavarapu, vice president of data science and analytics at consultancy AArete. She recommended four areas to consider when developing a training program: the audience's level of knowledge, level of audience interest in the training material, best channel for delivering that material and level of urgency. "Where possible, the training should be customized and geared toward a user's preference," Iragavarapu said. E-learning course design should include an assortment of multimedia content. "Text-heavy modules or long videos may not always motivate the learner to participate actively," said Everest Group's Mitra. Experiment with a blend of content such as simulations, scenarios, activities, animations and interactive quizzes. Good storytelling can help connect with the learner and boost retention. And interspersing assessments or quizzes throughout the online course can encourage users to gauge their progress.
4. Develop content that's easy to find, customize and personalize
Personalized experiences help ensure students access e-learning content that's most important to them. PwC launched a consolidated learning portal called My Learning, where more than 34,000 employees have activated their own personalized learning plan tailored to their job role, compliance requirements and learning needs.
5. Use generative AI to synthesize training materials
Explore how generative AI technologies can help organize and locate existing enterprise content for upskilling employees and onboarding new ones, advised Diane Gutiw, vice president of analytics, AI and machine learning at IT services consultancy CGI. "Generative AI can ingest and synthesize training manuals, technical manuals, policy documents and multiple types of media to provide context-based and focused information through a simple chat-based user interface," Gutiw explained. The technology can also be used to create interactive quizzes, facilitate role play and explore context-based scenarios.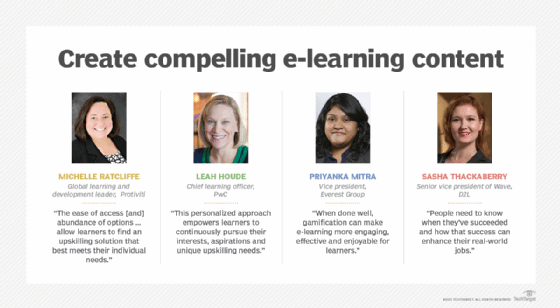 6. Incorporate a familiar interface design
Good UI/UX design can make or break an e-learning experience. Use familiar design elements, including icons, that learners can easily use to navigate. Also, students should be able to easily access all the resources they need and track their progress as they complete lessons.
7. Create bite-sized learning opportunities
Segmenting the coursework into smaller sessions of five to 15 minutes each can make learning more digestible for employees. "This less-is-more approach often aligns well with the modern learner, who grapples with shorter attention spans and limited time availability," Mitra explained. Learners also may be more inclined to visit specific training modules for refreshers whenever needed.
8. Encourage learners to think and act
Some e-learning programs have earned a reputation for being boring, Caruso said, because they focus on delivering information and spend very little time challenging the students with engaging activities. E-learning courses should give students problems to solve, questions to answer or scenarios to explore. "Don't be afraid to challenge learners and let them fail on low-stakes activities," Caruso noted. Those failures can help pinpoint where students need to improve.
9. Gamify portions of e-learning content
Consider how the content and its presentation can help gamify the e-learning experience. Explore elements such as leaderboards, point systems and rewards to instill a sense of achievement and healthy competition among students, Mitra advised. It's important to strike a balance, however, so gamification enhances and doesn't distract from the learning experience. "When done well," Mitra said, "gamification can make e-learning more engaging, effective and enjoyable for learners."
10. Validate the program and outcomes
Reward users for successfully completing e-learning programs and modules. Consider how the coursework will translate into credible, verifiable skills recognized and used in the workplace. "People need to know when they've succeeded and how that success can enhance their real-world jobs, not to mention make them more experienced," acknowledged Sasha Thackaberry, senior vice president of Wave at e-learning platform provider D2L. Find opportunities to celebrate an employee's success in applying newly acquired skills.