Edelweiss - Fotolia
Uber mall kiosks act as brick-and-mortar storefronts
Uber uses digital mall kiosks as storefronts to recruit drivers, and an integrated video conferencing app enables users to interact with remote agents.
Consumers can expect to encounter just about anything as they walk the long corridors of shopping malls.
Vendors hawk toys, calendars and beauty products, while others offer to fix broken smartphones. The clamor only increases during Christmas shopping season, when even more merchants vie for the attention of shoppers, including the clothing retailer L.L.Bean with its holiday pop-up shops in select malls.
Count Uber among those trying to capitalize on the shopping mall experience, but rather than hailing rides for shoppers, the company is trying to fill its rank of drivers. The company last year started placing interactive kiosks in some U.S. malls with the goal of recruiting drivers.
The Uber mall kiosks let prospective drivers register for a driving gig. They also include a video conferencing application that connects to a remote Uber employee who answers questions about what it's like to be among the estimated 95 million people worldwide who contract for the ride-sharing service. While styled as an "arcade-inspired" interactive tool, the kiosks have an undeniable goal: spread the message of Uber and attract drivers, both on the cheap.
"This is Uber creating a storefront as cheaply as they can make it," said Sucharita Kodali, vice president and senior analyst at Forrester.
Kiosk design
The Uber kiosks are like the Redbox kiosks found in malls and grocery stores, she said. "They minimize overhead, but by paying a mall landlord for visible retail space, they maximize exposure."
Indeed, the Uber mall kiosks reduce the cost of recruiting drivers, but at the same time, they try to market to potential contractors by offering an interactive CX similar to the technologies that some retailers have rolled out in stores over the past few years, including robot assistants, touchscreens that display products and interactive mobile apps that guide shoppers through stores.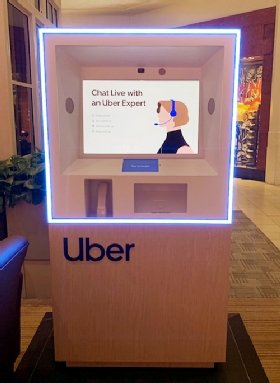 Uber did not respond to requests seeking comment. But an article published on Uber's website describes the design process and goals of the kiosks. Uber's retail team helped design the kiosk, which the company said was partially influenced by old-fashioned, stand-up arcade games, such as Ms. Pac-Man. The arcade-style, can't-miss kiosk creates an environment that invites others to gather around to see what an applicant is doing and perhaps apply themselves.
"I can see why they designed it like that. Arcade games are popular with certain segments of people," analyst Brent Leary of CRM Essentials said. "The kiosk is trying to appeal to a generation of people who appreciate interactive technologies."
The Uber kiosk joins a growing list of customer-facing technologies that empower consumers to take action, usually reserved for human employees, but that also offer help at the touch of a button, Leary said. This movement started with self-service cash registers, but as Leary said, the DIY retail experience can now encompass an entire store, as seen with Amazon Go. At any of the nine Amazon Go stores in the U.S., customers take what they want off shelves and simply walk out the door, with sensors determining the total cost and sending an itemized receipt that appears on patrons' mobile apps.
Attracting new audiences
Leary doesn't believe the Uber mall kiosk is an attempt to distract attention from the publicity problems Uber has suffered, including concerns about passenger safety and the increase in ride-sharing vehicles being blamed for compounding traffic congestion in cities. Rather, the kiosk is a "novel idea." It fits with the efforts of Amazon and other companies that are upending old business models in an attempt to attract new audiences.
This is Uber creating a storefront as cheaply as they can make it.

Sucharita KodaliVice president and senior analyst, Forrester
"It's a potential win-win," Leary said. "From a potential driver's perspective, it should provide a fuller picture of what driving for Uber is going to be like. It should make you comfortable making a decision. For Uber, it gives them a better opportunity to have interactions with prospective drivers and find the kinds of people who will provide better experiences for their customers over the long haul."
Kodali said the kiosks illustrate the difficulty Uber must have in contracting with drivers.
"To build something and put it in a mall … it's really hard to get drivers," she said. "It shows how it's really hard to make this [gig economy] ecosystem work."
In the article describing the kiosks, Uber acknowledged the technology enables a representative at another location to help customers at several mall locations -- via the video conferencing app -- rather than having many representatives staff booths at malls. Uber first tried that approach at several malls, but the employees sometimes faced periods of downtime when those malls weren't busy.
Down the road
The article also hinted at Uber's hopes for other uses for the kiosks, including letting mall patrons call for rides, as they now do on its mobile app. That would open all sorts of opportunities and conundrums for shopping malls, according to Mike Ramsey, senior research director of automotive and smart mobility at Gartner.
"Bus stops and cab stands are not new, but adding them in new places where people usually use their own vehicles today is a way to plant a seed in shoppers' minds that there could be another way to execute transportation," Ramsey said in an email. On the other hand, "malls themselves are wrestling with what to do in the future with all the parking they have set aside when, increasingly, people are using Uber and other mobility services to get there. Do they need a giant surface lot? Or more curb space for drop-offs and pickups?"
With its mall kiosks, Uber could soon provide answers to those questions.