1xpert - Fotolia
7 customer segmentation methods to help connect the dots
Customer segmentation is essential to marketing, enabling businesses to provide the right people with the right products -- and is a move away from bulk appeals.
For years, organizations viewed customers as a homogenous mass of people that wanted the same products and services, so they sent everyone the same marketing and sales pitches. It was the only way companies knew how to connect with consumers.
But marketing and sales have come a long way in the past decade due to technology, enabling companies to tailor relationships with individual customers and discard bulk appeals. Organizations can now identify their customers by segmenting them according to gender, income, socio-economics, past shopping experiences, future needs and a host of other defining characteristics. With these nuanced views of consumers, they can build one-on-one relationships that engender loyalty and advance the bottom line.
Despite these advancements, companies still need to do their homework to properly segment customer data -- the underlying technology won't work magic on its own. Businesses that don't adopt well-conceived customer segmentation methods will fail to connect the dots in their data.
Martha Mathers, a managing vice president and analyst at Gartner, and Brandon Purcell, a principal analyst at Forrester, are here to help connect the dots. They've outlined seven customer segmentation methods that should help businesses tell the difference between a 29-year-old single male who has cultivated tastes and a 49-year-old father of two children who just looks for bargains.
1. Understand segmentation
First, it helps to understand customer segmentation, which aims to divide customers into smaller groups of people who behave and interact in the same way.
"Consumers demand a great deal of customization -- one size will only fit a few. They expect you to anticipate and know their direct needs," Purcell said.
Segmentation helps B2C companies personalize customer relationships, but it can do the same for B2B companies, Mathers said. Businesses can fit their clients into profiles: big spenders, pragmatic spenders, responsive organizations and so on. By segmenting its client base, a B2B company can more accurately plan how to serve individual clients and, in turn, grow to scale, she said.
2. Define your segments
Aside from understanding customers, segmentation enables you to learn more about the perception and performance of your own products and services.
Determining what you're segmenting for is inarguably the most important foundational step in the process. Segmenting customers into the groups that best suit business processes and goals enables marketing, sales and other departments to deliver what is expected, Purcell said. In other words, don't create a customer group if you can't sell to it. You can tailor specific customer journeys for each segment by recognizing the differences among customers that you want to reach, he said.
Aside from understanding customers, segmentation enables you to learn more about the perception and performance of your own products and services. Data can break down, by customer demographics and other groupings, what those particular audiences think about your brand, Purcell said. Segmentation can tell a cement company its product is satisfying few customers in Wisconsin but, for a variety of reasons uncovered in the data, might point to a receptive audience in neighboring Minnesota.
To create distinct customer segments that reveal who a customer is and how they will respond to outreach, Forrester urges organizations to consider how they approach customer segmentation as a whole. The often-used basic approach relies on quantitative insights such as sales and conversion rates. The more advanced approach depends on qualitative insights that are based on behavioral and transactional data that reveal actual qualities of consumers.
With quantitative insights, segmentation is limited to representations of customers, meaning organizations don't have a firm idea of who customers are. With qualitative insights, organizations can actually see clear segments of customers and discover new ones, enabling them to then better identify how customers will behave.
3. Involve all relevant stakeholders
Businesses shouldn't make decisions about segmentation in a vacuum. Almost every department will have valuable opinions about customers that you'll want to include. Determine who will be relevant stakeholders and ask what they'd like to see come out of segmentation, Mathers said.
Purcell recommends involving a marketing or customer experience employee to target the proper customer groups, a data scientist to handle data with care and an IT representative to properly manage your data warehouse and relevant technology. Mathers recommends much of the same but has reservations about hiring a data scientist.
"A lot of times the people who are hired to clean data are overqualified," Mathers said.
Instead, companies should have an advocate for data -- someone who can consult resources for technical help but whose role facilitates stakeholders getting what they need from the data -- such as a brand manager, Mathers said.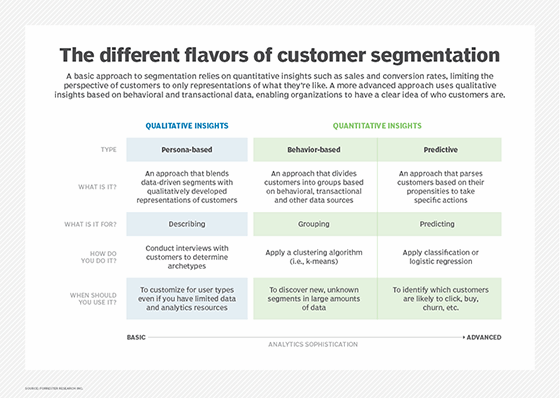 4. Align data with business objectives
With input from the involved stakeholders, you should be able to recognize the business objectives that will benefit from customer segmentation, Purcell said. Without objectives, you'll be segmenting for segmenting's sake.
"Is it strategic segmentation to determine the right products (to sell), or are you trying to grow your customer base?" Purcell asked, also noting that businesses need to measure success and agree on some key performance indicators to evaluate the success of the program.
5. Find the "right" technology
"Golden records" -- the datasets that reveal what needs to be known about customers -- can be built by several types of technology, Purcell said. Basic data preparation tools can perform a wide range of functions, including data discovery, cleansing and analysis. Analytics workbenches perform those functions but also build data models.
Businesses could also buy a customer data platform, a transaction that would call for reviewing a number of vendors, Purcell said.
"The promise of the CDP is to unify data for marketing," he said. "It's not the panacea that it's reported to be, so many companies are turning to service providers and analytic consultants who can create a golden record of the customer. You might need that extra push."
Moreover, finding ideal customer segmentation technology isn't as difficult as it's made out to be, and Gartner advises clients to start with small segmentation projects.
"Don't try for the 360-degree view when just 90 percent will be effective. If that means capturing forms on a website, that's better than no insight whatsoever," Mathers said.
Instead, approach segmentation channel by channel. The complexity of a channel's data and the resources you have to coalesce and analyze it all will reveal whether you should purchase a customer data platform or outsource with a data analytics service.
6. Stay on top of your data
Technology alone won't achieve constant customer segmentation. Stakeholders need to constantly review how their data scientists and their technologies are reaching conclusions about customers, Purcell said. For example, when you're initially organizing and cleansing your data, the algorithms won't know what you're truly looking for. The proper stakeholders should be responsible for measuring accuracy.
The same holds true as your segmentation initiatives continue.
"A data scientist is good at building a model, but you need someone who knows customers well to verify and ask, 'Does this make sense that these people will be together?'" Purcell said. "The model will say something that challenges preconceived notions, and it is sometimes correct or wrong."
7. Don't discount the advantages of segmentation
By following these customer segmentation methods and trusting your instincts, you should be able to set some easy data goals, make the most of your technology and see actionable results.
Even if your customer base offers limited possibilities for profiling -- lacking the diversity of a larger company -- segmentation can still help, Mathers said. Separating even a few groups of customers is worth the commitment because you'll recognize the subtleties needed to approach each segment and will be able to convert those niched understandings into opportunities.