Silvano Rebai - Fotolia
MSPs expand into managed physical security services
Companies such as Deep Sentinel and Viakoo are tapping partners to deliver physical security services. Learn how MSPs are incorporating physical security into their offerings.
As the physical security technology market tries to breathe new life into traditional products and services, vendors are enlisting MSPs to deliver their offerings to customers.
Emerging technologies play an important role in improving the applications and management of physical security. Thanks to machine learning algorithms, for example, a friendly dog that wanders into view of a video surveillance camera won't trigger a security alert. IoT, meanwhile, is being used to monitor security connections, and identity access management and automation promise to prevent hackers from invading digital security systems.
"There is a whole range of security services and a wide need for them," said John Gallagher, vice president of marketing for Viakoo, an IoT applications management company in Mountain View, Calif., that focuses on security.
Customer organizations don't usually have comprehensive physical security departments in-house. As a result, companies are increasingly turning to an MSP to integrate and manage physical security technologies, Gallagher said. "The scale of security for a large organization is giant. It's a lot of work. Say you have thousands of cameras but have four firmware issues. If you take care of that manually on every camera … that just cries out for you to bring in an MSP."
Managed physical security services an untapped opportunity
MSPs have long made their mark as a go-between for vendors and organizations that need help implementing and managing all types of technologies. Security is one such technology category, and MSPs are increasingly finding success in security services. IT management company Kaseya found that 73% of surveyed MSPs increased revenue in the past year by providing security services.
MSPs have typically focused on technologies related to cybersecurity, including those that protect networks, email, endpoints, applications, cloud and IoT. In turn, services for physical security systems -- surveillance cameras, passkey buzzers, photo ID systems -- are a largely untapped area for MSPs, especially for those that already have a foothold in cybersecurity and are relatively easy to offer, according to several industry sources.
The managed physical security services market "makes sense for MSPs," said Chris Sterbenc, chief revenue officer of the home and business security vendor Deep Sentinel, based in Pleasanton, Calif. "If you're an SMB owner and already outsource cybersecurity, now, you'll go to the MSP to buy cameras. You'll go to an MSP because it's a trusted advisor."
A combination of physical security and cybersecurity
Deep Sentinel's security camera system uses machine learning algorithms to enable cameras to identify objects and events that enter into frame. The system learns to separate events such as the family dog wandering into view from the presence of suspicious people. After the machine learning process detects a potential threat, the company's in-house security guards are alerted and given access to the live video feed, Sterbenc said. Deep Sentinel guards can then use a speaker to verbally interact with the individual or individuals raising a red flag and, if needed, alert police.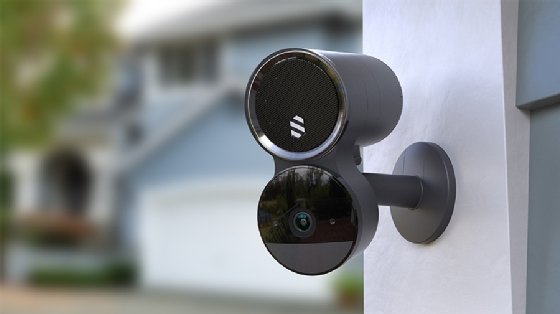 The MSP, meanwhile, "gets a nice residual stream" for installation and necessary maintenance of Deep Sentinel's system, Sterbenc asserted. "It's almost a set-and-forget system. The only time the MSP gets involved after installation is if it breaks."
Deep Sentinel launched its business security service in March and has partnered with several MSPs. "MSPs are a big chunk of [Deep Sentinel's] channel. They're already installing the camera systems," Sterbenc noted.
One such partner is Alvarez Technology Group. The Salinas, Calif., MSP couldn't ignore the opportunity of offering physical security services alongside its portfolio of managed IT, Microsoft support and other tech services, according to Luis Alvarez, company president and CEO. Alvarez Technology Group provides and manages cameras and other security devices for municipalities, government agencies and school districts.
AI and machine learning are now more integrated in the role that humans used to play [in physical security].

Luis AlvarezPresident and CEO, Alvarez Technology Group
The physical side of security is often a compliment to cybersecurity, he said.
"AI and machine learning are now more integrated in the role that humans used to play" in physical security, Alvarez said. "Now, it's a combined front, and in cybersecurity and physical security, it's an awful feeling to be one step behind the bad guys."
Alvarez said his clients want to be alerted of a break-in or other crime on their properties "when it happens, not after the fact."
Motion detectors on cameras lead to an excessive number of false positives, Alvarez and Sterbenc said, so running live images through a machine learning process diminishes anomalies and lends to proactive security.
Protecting physical security assets
Cybersecurity, a top concern for all manner of technology, is also a priority for organizations that want to protect their physical security assets, which are now mostly connected to servers. Physical security has become an IT issue.
Viakoo's video network analysis offerings analyze the metadata of an organization's security operations, scanning the connections of all security devices to determine if a camera is malfunctioning or if there is a bottleneck in the security network. Financial institutions, hospitals and other industries can't afford to have any gaps in security, and they need to demonstrate they are compliant, Gallagher of Viakoo said. "You want to make sure failures don't happen [undetected]," he said. Viakoo also helps organizations identify cybersecurity threats to physical security systems.
Konica Minolta Business Systems works with Viakoo as an MSP partner. The companies partnered three years ago because Viakoo's physical security products are a "natural extension" of Konica Minolta's IT security services, according to Jean-Marc Mommessin, Konica Minolta's new venture lead for AI. Organizations now seek a complete IT and physical security package, he added.
The partnership also enables Konica Minolta to layer its own services on top of Viakoo's offerings, Mommessin said. One such offering uses thermal cameras that measure the temperatures of people as they enter a building, which can help organizations determine if an employee or guest is exhibiting COVID-19 symptoms, he said.
Physical security poised to receive more attention
Brad Konkle, director of integrated solutions for Stanley Security, said it was only about four years ago that most security devices and systems operated independently. "They were not on a network," he said. "IT departments were afraid to put [them] online. Fast forward to where we're at now, and there's increased video storage and cloud-based SaaS security models. These are deployed in IT environments."
If IT departments rely on MSPs for other technology needs, it makes sense to turn to them to also handle security device installation and maintenance, as well as the many technical nuances behind the management of security networks, device data and system cybersecurity, Konkle said. "All these companies are looking at how they use these technologies to make security better," he added. "For one, there is a lot of data. Every time a door opens or someone walks by, you're collecting massive amounts of data."
Organizations will need more help with physical security technology as they tighten the management of on-site visitors during the pandemic, Konkle added. And 5G and IoT will only continue to improve the connection of devices and analysis of data, he added. "Security will be a default function of IT," Konkle said. "Buildings will want improved security and frictionless IT."