ECM, digital document management help energy company surge
Sterling Energy can now expand its gas and water distribution services with a digital document management system that gives them real-time insight into business transactions.
Sterling Energy works underground, providing natural gas and water services in northern Colorado. But one of the...
Continue Reading This Article
Enjoy this article as well as all of our content, including E-Guides, news, tips and more.
defining characteristics of the company is above ground: a tree symbolizing the company's organizational chart through which purchases and other transactions must be approved.
For years, passing important paperwork along the approval tree proved almost as hard as digging through Colorado's diverse terrain. Thirteen Sterling Energy employees are on the tree, but what makes the records management process tricky is that the sequence of approvals depends on the type of transaction.
Some documents have to move from the director of operations to an executive vice president; others must go directly to a vice president and then to other top executives. If an invoice takes a wrong turn along the way, it has to stop and go back to the beginning, regardless of how many people reviewed it.
Sterling Energy won't trim this tree, but Kathleen Flanagan, the company's senior financial accountant, and her colleagues recognized that this time-consuming but crucial process could be improved with digital document management software. A leap to digital reporting seemed even more critical considering the company's growth.
In 2013, Sterling Energy broadened its portfolio by adding freshwater pipeline delivery services to the region. Five years later, the company and the number of documents it has to process continues to grow.
"Everything has increased: invoicing, our capacity, our employee count," Flanagan said. "We really had to look at that, and we wondered what we were going to do."
Evaluating ECM features
Sterling Energy finally tried an enterprise content management (ECM) platform, but two months into a trial run, it was evident the system couldn't handle complex vendor projects. Sterling Energy has a select group of vendors that perform site construction projects, such as pipeline installation and smaller tasks, like foundation grading and concrete pouring. A vendor might be involved with five different projects, each with its own project manager, and an ECM system has to be able to make these distinctions. The ECM system Sterling Energy tested couldn't do that; it instead tucked all the projects under one bucket.
"It couldn't move things laterally; only vertically," Flanagan said.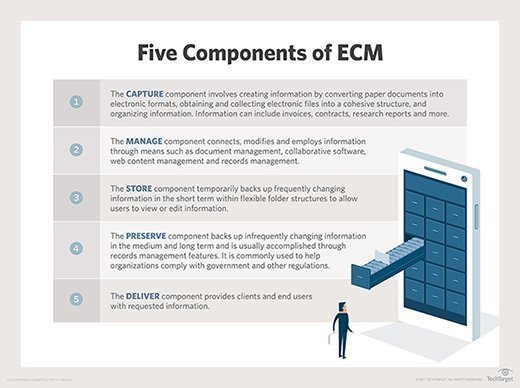 There are a number of ECM platform providers in the information management market that do offer granular digital document management as part of their platforms, along with collaboration tools, business process management and workflow management tools and other content services. Some of those vendors include Alfresco, DocStar, OpenText, IBM, Oracle, Micro Focus, Microsoft and M-Files.
Sterling Energy's CFO met a DocStar sales representative and agreed to a demo. Sure enough, Epicor's DocStar ECM was able to differentiate and categorize separate projects from the same vendor. With that, Sterling Energy abandoned its other ECM platform and went live with DocStar in January 2017.
ECM eliminates the paper jam
DocStar also eliminated two other big hurdles in Sterling Energy's paper-driven system: time and transparency.
Before using the cloud-based ECM, the company couldn't coordinate and share details of the customer transactions that project and field managers handled on job sites. Each new record, purchase request or notation had to be entered into the accounting system at company headquarters in Denver or at one of the company's plants throughout Colorado.
This meant new purchases couldn't be approved in front of the customer. Invoices also had to be transported between offices by employees. If an invoice missed the next ride, it would have to sit around until the next trip. As a result, transaction time lagged -- not to mention sales -- and support and office staff couldn't see the latest updates.
DocStar ECM reduced Sterling Energy's invoice approval process from a full day -- or longer -- to just one hour. All of the employees can view and share details of invoices.
"There's no more printing," Flanagan said. "Everyone can now see when something is approved."
Also, project and field managers can see and share information directly from the field. They submit documentation on mobile devices from their trucks or homes and avoid driving several hours from a job site to a facility just to hand in paperwork.
Flanagan said Sterling Energy now pays vendors within a 10 to 14-day window.
"We've gotten invoices on Monday and they're ready to go by Friday," she said. "That didn't happen as quickly before."
By shifting from paper-bound transaction management to digital document management in ECM, Sterling Energy is confident it can handle its next growth spurt.
"We can take on more capacity," Flanagan said. "We're in the midst of another expansion: a big plant, two additional pipelines and a loop. With construction comes more purchase orders, which leads to more invoices. They'll now get processed on time and with clarity."
Dig Deeper on Content management software and services