CRM for nonprofits helps organization streamline work
Wolverine Human Services' adoption of the Salesforce.org Nonprofit Cloud halved foster care licensing time and improved productivity within the agency.
Many adoption and fostering agencies still use paper-and-pencil practices, making it easy for paperwork to fall between the cracks. A foster home cannot be licensed until all adults in the home complete the licensing process -- something that used to take Wolverine Human Services agents 12 to 16 months.
But Wolverine's adoption of Nonprofit Cloud -- a CRM for nonprofits -- enables the company to manage recruitment, training and licensing all within the Salesforce.org platform, and all data to be stored in one place. The recruitment and training processes that used to take five Wolverine agents now take two. And the foster home licensing process? It now takes seven months.
"In case management, there is now a 50% reduction in time due to all information being in one place and not needing to duplicate efforts," said Matthew Wollack, vice president of strategic development for Wolverine Human Services. "We've never seen anything like this in this industry. We haven't had the ability to afford this type of technology or customize things of this nature." Until now.
Prior to making the switch to the Salesforce.org product, Wolverine used a CRM platform called FAMCare. Wollack said after two years of not being able to run a report or turn on the system, it began looking at Salesforce. The agency received 10 free Salesforce licenses to start, enabling it to understand the CRM technology and be sure it would receive the appropriate return on investment.
"The value we saw in efficiencies made this affordable," Wollack said.
Wolverine said the agency originally began its relationship with Salesforce.com. At that time, Salesforce didn't realize Wolverine was a nonprofit. When that information came to light, Wolverine was moved onto the Salesforce.org Nonprofit Cloud platform and refunded the difference in price for the previous year due to the oversight.
In case management, there is now a 50% reduction in time due to all information being in one place and not needing to duplicate effort.

Matthew Wollackvice president of strategic development, Wolverine Human Services
Wolverine's original per-license fee with Salesforce.com was $125. With the discount it received after switching to Salesforce.org's CRM for nonprofits, the fee was negotiated down to $86 -- a 31% discount.
However, there is no one-size-fits-all pricing, said Lori Freeman, vice president of nonprofit solutions and strategy at Salesforce.org. Beyond the first 10 free licenses, discounts vary depending on the tools customers are using within Nonprofit Cloud.
What sets Salesforce.org's Nonprofit Cloud CRM apart from its Salesforce.com enterprise counterpart is that it comes with the Nonprofit Success Pack, which enables nonprofits to contribute to open source technology. Salesforce.org, Salesforce.com and their customers meet three times each year and work with citizen developers to create tools either within the success pack or add-on apps to benefit nonprofits.
The majority of entities that Salesforce.org partners with are 501(c)(3) organizations, Freeman said. These organizations view technology as a strategic investment area, she added.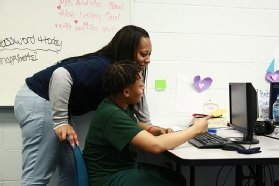 Salesforce.org is Salesforce's philanthropic division and home to Nonprofit Cloud, Philanthropy Cloud and Education Cloud. The Nonprofit and Philanthropy clouds cater to nonprofits, while Education Cloud caters to schools.
Other software companies offer CRM for nonprofits, such as the Microsoft Dynamics 365 Nonprofit Accelerator. However, Wollack said this was never even an option.
Wollack has had such an exceptional experience using Nonprofit Cloud that he began a startup called Noble Child to package and sell what Wolverine has built on the Salesforce system.
"Our technology is so good, think about how many more kids will be adopted out and find foster homes," Wollack said.
Wolverine is one of the only agencies in the nation to provide a full contingency of child welfare services, including adoption, fostering, teen support and aging-out services, family reunification, substance abuse and mental health treatment, and support for victims of human-trafficking. Wollack said Wolverine has an 86% to 96% success rate when reintegrating kids back into the community.