Denys Rudyi - Fotolia
CRM for nonprofits rewires charitable giving
Salesforce.org Nonprofit Cloud and marketing automation tools help charitable organizations gain and retain valuable donors, giving them a more positive experience.
Strapped for resources and not typically on the cutting edge of enterprise IT, nonprofits can lag behind the for-profit business world when it comes to CRM. But with CRM for nonprofits, successful charitable organizations can adopt new digital models for fundraising and executing community engagement activities.
Salesforce.org's Nonprofit Success Pack is one path for modernizing nonprofit activities, said Eric Dayton, director of data management at buildOn, which develops urban after-school programs in the United States and facilitates school construction abroad. His nonprofit began using Salesforce.org in 2014.
"The shift for us has taken away the reactionary aspect. We're being more predictive and forecasting out what we're going to be doing," Dayton said, noting that buildOn recently adopted Salesforce.org Nonprofit Cloud -- a CRM for nonprofits.
The move to Nonprofit Cloud enables buildOn to more quickly view all aspects of its mission -- from donors to programs to the impact of its programs in seven countries and six U.S. cities.
"These systems really allow us to tie together everything -- all these different geographies, languages and skill sets," Dayton said. "The big piece of that change and that growth is when you make it the cornerstone of all your programs, when you're able to clearly describe to donors and constituents the development and improvement that's taking place."
Author: Tech changing nonprofit engagement
Greg Warner, author of the recently released Engagement Fundraising: How to Raise More Money for Less in the 21st Century, said engagement strategies embrace, rather than resist, changes in communication and society, especially those precipitated by technology.
To better understand how donors think and what they want out of the experience, organizations can leverage technology to achieve results more efficiently and increase donor retention, especially among wealthy and legacy donors.

Greg WarnerFounder, MarketSmart
"To better understand how donors think and what they want out of the experience, organizations can leverage technology to achieve results more efficiently and increase donor retention, especially among wealthy and legacy donors," Warner said.
While fundraising is an important aspect of buildOn's success, Dayton touted the cyclical nature of buildOn's growth through collaborative partnerships, aided by the Salesforce.org Nonprofit Cloud CRM. From crowdfunding $30,000 to build a school in Kasungu, Malawi, to putting people on the ground to speak with local government agencies there, to tracking student attendance and adult literacy classes once the school is complete, Dayton said this type of global program boosts opportunities for areas with few resources, low connectivity and a high percentage of children not in school.
It also boosts donations, enabling donors to track the progress of buildOn's programs through each step of the process. "Access to all of these different touchpoints and all of this different data allows us to make more informed decisions," Dayton said, noting 49 schools are being built in Malawi this year.
Enabling nonprofits is a focus for Salesforce.org. "Salesforce.org gets its technology in the hands of nonprofits so they can connect with others and do more good," said Rob Acker, Salesforce.org CEO.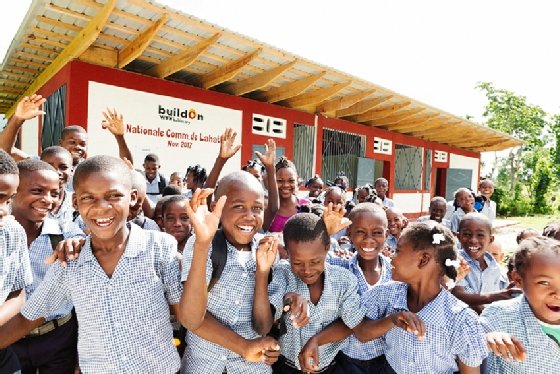 Nonprofits enjoy price breaks
Warner, also the founder of MarketSmart -- a nonprofit-centric planned gift and major gift marketing software and services firm -- said successful charities can harness low-cost and sometimes free technology options to identify and engage passionate donors, those most likely to deliver large, major or legacy gifts.
Acker pointed to the Power of Us program as an example of this type of option for nonprofits. The program, Acker said, includes 10 donated subscriptions and deep discounts on additional subscriptions, products and services from Salesforce.org.
Acker said this Salesforce.org cloud CRM is designed to give insights into nonprofits' donors and partners, along with a 360-degree view of their community impact.
"This cloud was built to provide flexibility depending on the needs of the community each nonprofit is serving," Acker said, "and it was built in partnership with 40,000 nonprofits to truly understand their needs."
BuildOn, with operations on four continents and in underserved U.S. cities from Bridgeport, Conn., to San Francisco's Bay Area, uses CRM for nonprofits -- specifically Salesforce.org Nonprofit Cloud -- to engage donors more effectively. The buildOn forecast, Dayton said, includes continued growth in constructing schools around the globe, from 112 in 2014 to 227 this year and a projection of 368 in 2021.
"As a donor, you want to know what the successes and the outcomes are," Dayton said. "We're running all of our programs, all processes, more efficiently. We take that data and share it, have donors buy in, changing them from one-time participants to long-term partners. We've seen this growth, and we're going even deeper, but we're only scratching the surface."
Anna Fiorentino contributed to this story.