Fotolia
Activists get organized with new Salesforce CRM for nonprofits
Salesforce has adapted its CRM for nonprofits, giving activists a lower-cost way to track fundraising, organize activities and keep their communities engaged.
The 78,564 origami elephants on display at the Bronx Zoo in 2016 set a Guinness World Record, but the wildly successful ivory trade awareness campaign was an epic fail in terms of CRM and data management.
The Wildlife Conservation Society (WCS), which manages the New York-based zoo and oversees millions of miles of wild places around the world, created contact records for only a fraction of the potential donors. Ripples from that one missed opportunity were felt for years, said Jan Kaderly, WCS vice president of public engagement and digital programs.
"We were inundated by tens of thousands of people and we could not capitalize on the vastness and passion of the community to keep them engaged in elephant conservation," she said. "If we could have been automated then, we would have developed messaging and taken them on a journey that captured how they came to us and brought them in deeper. Oh, my god, the cultivation was just lost without that."
Going forward, when the wildlife foundation embarks on a campaign, it will use the new Salesforce CRM for nonprofits -- called Nonprofit Cloud -- with add-on tools for marketing and Salesforce Einstein AI to track and measure progress, monitor individuals, and unlock data to help raise more money. Ultimately, Kaderly said she looks to the CRM giant's philanthropic division, Salesforce.org, to boost strategic capabilities.
"We need the tools to identify motivation, what people care about, capitalize on it and keep people engaged," she said. "Urgency is everywhere now."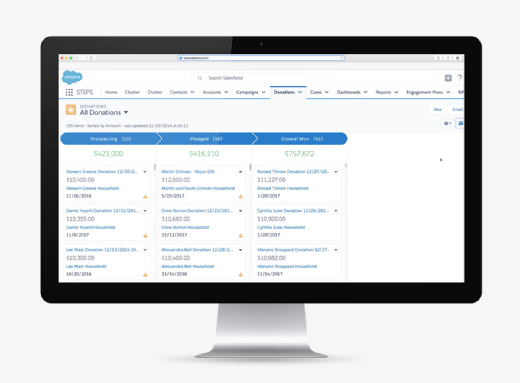 While Salesforce's core was built for B2B users, its CRM for nonprofits was designed for consumers, explained Rob Acker, CEO of Salesforce.org.
"Taking that concept further, the consumer can be a constituent, a volunteer, a donor or the refugees you're trying to help," he said. "You have to be able to connect with them. It's not just a customer consuming a product."
With Salesforce.org's Nonprofit Cloud, which launched on June 13, 2018, from the moment a person reaches out, you can track their history through the entire lifecycle of the organization, Acker said.
What Salesforce Nonprofit Cloud provides
Imagine a service organization with millions of alumni, hundreds of chapters and no central fundraising campaign. How do you get a 360-degree view of someone on a single record if you have data silos in every chapter? What if you organize a march on Washington and millions of demonstrators show up on the National Mall and in 20 other states? How do you ingest those supporters into your database, serve them with tailored content, and prompt them to support the cause and show up for the next march?
Nonprofit Cloud must convert advocates to donors, secure recurring gifts, and build a pipeline of information and stewardship between mid- and major-level donors, Kaderly said.
The new CRM for nonprofits platform works with the Nonprofit Success Packs -- customizable packs for nonprofits to get started with Salesforce CRM. Data from all of a nonprofit's internet service providers can be viewed through the new Salesforce Einstein capabilities that analyze donor propensity to give, provide reminders to follow up on gifts coming due, and match program outcomes with predicted audience or income levels. Other features enable quicker entry of gift data and streamlined report generation.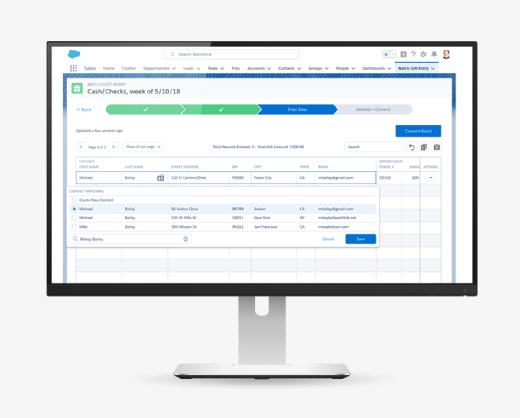 Prior to the launch of the Salesforce Nonprofit Cloud, WCS had information stored in ticketing, membership, donor and advocacy systems and only pulled data annually due to costs and time constraints, Kaderly said.
"We became masters of identifying lagging indicators; what we would have done differently," she said. "Now we'll be building out real-time lifetime value."
More timely ROI reports and ingesting real-time data into its CRM system will be critical for WCS, which wants to jump from 1.5 million to 5 million constituents by 2020. WCS also wants to ensure that it provides engaging experiences.
"When we're running a pretty intensive acquisition business, we want to know pace and rate of return," Kaderly said. "We'll get that after the second week of implementation."
Over the last year, the political and cultural environment has changed and the competition for what people need to do to make a difference is fierce ... If we're going to keep them engaged, we have to lean in hard.

Jan KaderlyVP of public engagement and digital programs, WCS
With the new Give a Sip campaign in New York, 77,000 people have pledged to stop using single-use plastic straws that harm marine life. Since they've shown an interest in environmental awareness, WCS is asking them to take the next step by examining their plastics diet and curb plastics use.
Before the Salesforce Nonprofit Cloud, WCS couldn't build that customized, technically complex journey for an individual, Kaderly said.
"Over the last year, the political and cultural environment has changed and the competition for what people need to do to make a difference is fierce," Kaderly said. "It makes it all the more important to know if people came to us through elephants, endangered species, ivory trade or climate change. If we're going to keep them engaged, we have to lean in hard."
Like Salesforce, other commercial CRM platform providers offer lower-cost editions of their cloud CRM for nonprofits, including Microsoft Dynamics 365 and Oracle Marketing Cloud for Nonprofit. In addition, there are nonprofit-centered software companies, such as Salsa Labs, which offers Salsa CRM and the Salsa Engage cloud CRM platforms.
Dig Deeper on Customer experience management