Sergey Nivens - Fotolia
Comparing Salesforce Einstein AI across the clouds
What do you get when you pay for Einstein features in the Salesforce Sales, Service and Marketing clouds? We put it all in one chart.
Within Salesforce, a layer of AI called Einstein exists to predict and recommend automated responses and actions...
Continue Reading This Article
Enjoy this article as well as all of our content, including E-Guides, news, tips and more.
based on specific sales and customer needs. Fueled by machine learning and natural language processing, Einstein delivers efficiency and effective improvements in discrete CRM usage scenarios.
Of course, what each customer gains from Salesforce Einstein AI depends on the program they're using -- be it the Sales, Marketing or Service Cloud. While the underlying AI algorithms are fairly similar in each, their usage scenarios and outcomes are quite different, said Kate Leggett, vice president and principal analyst of application development and delivery professionals at Forrester Research.
"These scenarios are all focused on making operations faster, smarter -- and, ultimately, delivering better customer experiences," Leggett said. "These are canned scenarios baked into the product that can be turned on and off with a license key."
Salesforce Einstein AI also offers capabilities to build your own AI models, called myEinstein, which can add intelligence to any process.
While AI will never completely replace humans, it is rapidly changing customer service. Already, according to Forrester, four in 10 contact center decision-makers are exploring using AI technologies to differentiate their service. By taking over routine, predictable tasks, like collecting and reporting information, agents can enhance their customer interactions requiring deeper insight and analysis. AI frees up time so people can nurture profitable customer relationships, which are increasingly rare in a digital-first world.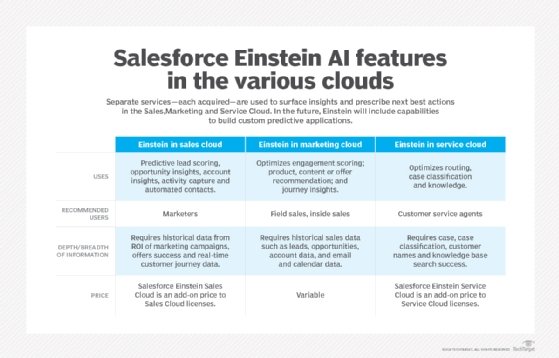 With Sales Cloud specifically, Salesforce Einstein AI offers predictive lead scoring, opportunity insights, account insights, activity capture and automated contacts to increase the seller's productivity and effectiveness. Einstein AI in the Marketing Cloud, on the other hand, looks much different, optimizing engagement scoring; product, content or offer recommendation; image analysis; and journey insights. Meanwhile, the Service Cloud optimizes routing, case classification and knowledge.
"Usability is the same for Einstein-empowered features and non-Einstein-empowered features," Leggett said. "The difference is, you are just adding intelligence under the hood."