Fotolia
Salesforce buys Salesforce.org: What that means for customers
Salesforce.com bought Salesforce.org. Nonprofit Cloud customers mull changes they hope to see now that all Salesforce products are under one umbrella.
Salesforce bought Salesforce.org, its spinoff serving as home to Nonprofit Cloud, Education Cloud and Philanthropy Cloud. While pricing questions may come with the transaction, customers we interviewed see the upside in getting new features added to their CRM that commercial Salesforce customers already get.
Salesforce.org was an independent nonprofit that provided Salesforce CRM products as well as its own vertical-specific tools to educational institutions, nonprofits and philanthropic organizations. Now, as a part of Salesforce.com, the Salesforce.org products and services will function as a new for-profit division serving the nonprofit and education verticals, led by current Salesforce.org CEO Rob Acker. Salesforce made public April 15 that it paid $300 million for the acquisition by donating the cash to the Salesforce Foundation.
"This is really good for nonprofits," said Matthew Wollack, vice president of strategic development at Wolverine Human Services, a Nonprofit Cloud customer. "Nonprofits are always segmented, always classified as something different from business, but I am of the mindset that nonprofits are businesses and they need to be treated like businesses."
The Salesforce.com and Salesforce.org merger signals that nonprofits and educational institutions need access to high-quality business technology as much as any other business does, Wollack said.
For years, Salesforce.org has been a big part of Salesforce's well-publicized "1-1-1" philanthropic initiative to devote 1% of its profits, technology and employee time to charity. In a press release, Salesforce stated that the merger will enable the company to scale its philanthropic efforts and improve the experience for nonprofit, education and philanthropy customers.
Access to more Salesforce products
The acquisition opens up the possibility that Salesforce will expand its technology for nonprofits and educational institutions.
Nonprofits are always segmented, always classified as something different from business, but I am of the mindset that nonprofits are businesses and they need to be treated like businesses.

Matthew WollackVice president of strategic development, Wolverine Human Services
"I am really looking forward to this merger because the two product catalogs are going to come together," said Eric Dayton, director of data management at buildOn, a Nonprofit Cloud customer. "I think we are going to see really specific product tracks of other Salesforce products be brought into the nonprofit space."
Before the merger, customizing and implementing Salesforce products often required more technical expertise than most nonprofits have in-house. If a nonprofit did implement a Salesforce product not included in Salesforce.org, such as Einstein or Heroku, the typically lean organizations would have to invest capital for an implementation partner, said Dayton.
Both Dayton and Wollack expect to see more pre-built functions and use cases designed specifically to make those products more accessible to Salesforce.org customers.
"Customers of the new cloud will benefit from the greater Salesforce footprint -- be it product, presence or resources," said Gartner analyst Penny Gillespie.
Discount pricing
Salesforce.org customers currently receive free or highly discounted access to Salesforce tools tailored for the nonprofit and educational industries. This will not change, according to a Salesforce press release.
Some analysts speculate that, with shareholders involved, Salesforce may boost prices for Nonprofit Cloud, Education Cloud and Philanthropy Cloud. But customers we interviewed are not particularly worried.
"It is not a concern for me at all," Wollack said. "I don't see them driving up prices, I see them continuing to give out these 10 free licenses and being able to offer more products to nonprofit customers that otherwise come over to Salesforce.org a little bit slower."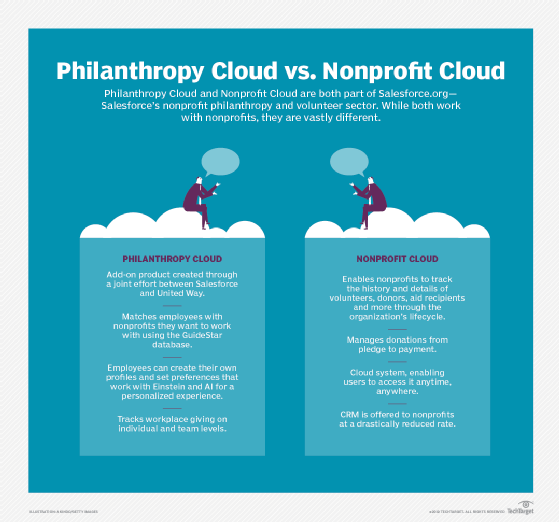 Dayton said he thinks that Salesforce.com buying Salesforce.org may lead to additional discounts for nonprofits and educational institutions on products that have previously been cost prohibitive for these communities, such as Einstein and Heroku, in order to grow its nonprofit use cases.
"Nonprofits aren't equipped with huge technical teams of in-house resources, so you can't raise the price and make these things cost prohibitive," Dayton said. "There will have to be plans put in place to make these things attainable or this move won't mean anything to most organizations. But I really can't see that happening because it would be putting such a huge community on an island."