Reimagined customer experience mobile apps driving new sales
Mobile and lightweight web apps aren't new. But digital teams driving demand generation is new, thanks to marketing automation platforms that can personalize the pitch.
With customer experience mobile apps running on marketing automation platforms and increasingly sophisticated e-commerce tools married to customer behavioral data pools, brick-and-mortar retailers can newly weaponize old digital channels to create new sales demand, reinforce customer brand loyalty and battle online-only competitors.
But making newer, deeper, data-driven connections to customers takes more than just spiffing up the website or making a tired, old mobile app work a little faster, according to presenters at the Adobe Summit 2019 user conference. It requires reconnecting digital content, inventory, promotions and customer data, and porting just enough personalized data to consumer devices to induce a store visit or encourage a sale.
Canada's largest grocery chain -- known as "Loblaws" to consumers and owned by parent company Loblaw Cos. Ltd., which also owns several other chains, including Shoppers Drug Mart -- boasts that 90% of Canadians are 10 minutes away from one of its stores. Yet, it took the company spinning off its own digital agency, Loblaw Digital, to retool its e-commerce approach.
Since 2013, the grocer brought most items in the store online, including pharmacy, grocery, clothing brand Joe Fresh and even cannabis sales, said Lauren Steinberg, Loblaw Digital's vice president of product, UX and digital marketing, during an Adobe Summit session.
The perspective of an independent organization that wasn't in-house got the retailer to move faster, more nimbly and to create new business initiatives, including both a loyalty program and PC Express -- an online grocery order-and-pickup program, with dropoffs at select Toronto public transportation stops -- and "Click and Collect," where customers order and pay online to avoid checkout lines altogether at 700 locations throughout Canada.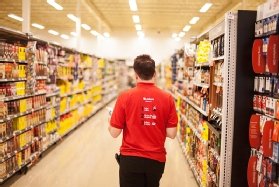 Both were demand generation initiatives wholly driven by customer experience mobile apps and automation spurred by new data connections to back-end systems, like ERP and content management, including last November's pilot of Loblaw's "Shop and Scan" self-checkout app. Those projects needed a lot of interfacing between Loblaw Digital and internal Loblaw marketing and IT to work.
"Data used to be valuable to us because it could power our experiences. But, now, it's also [valuable] because we can monetize it," Steinberg said.
She noted that Loblaw has the same amount of transactional, behavioral and media data it always had, but better interoperability and fresh thinking helps her team find new ways of connecting with customers.
"We can use it to think about the future of retail," she said.
Rite Aid rebuilds digital outreach from within
Like Loblaw remaking its digital approach to promote goods throughout its chain from the headquarters, Rite Aid's ongoing e-commerce transformation involved its in-house digital team working with many different leaders within the 2,500-store U.S. chain. The team worked with IT, marketing, operations, merchandising and more to build new e-commerce processes to drive foot traffic into stores. Those include prescription refills, online-only deals and digital editions of the customer-favorite weekly specials flier that varies by ZIP code.
Data used to be valuable to us because it could power our experiences. But, now, it's also [valuable] because we can monetize it.

Lauren SteinbergVice president of product, UX and digital marketing, Loblaw Digital
Some of Rite Aid's biggest challenges in its still-under-construction digital makeover revolve around content, said Dean Bowerman, vice president of digital marketing and e-commerce at Rite Aid, based in Camp Hill, Pa.
First, there's the challenge of acquiring content from product manufacturers. Then, the pharmacy chain has to shunt the right content from its back-end repositories to its Rite Aid customer experience mobile app and browser feeds.
Perhaps the most complicated content puzzle for an organization of Rite Aid's size and breadth of product offerings is improving site and app search -- specifically, making items findable when consumers don't know the exact name, building a search database that can understand what they're looking for.
While that may seem like a job for AI search tools, it sometimes requires humans to curate, too. Bowerman said his team puts a lot of thought into search results and how they're returned -- taking into account category, product description and boosting high-margin items versus burying low-margin items -- and analyzes site traffic reports in which site search returns zero results.
Paying attention to search patterns and results can pay off for a team whose success or failure can be tied to revenues. Scanning the zero-search-results report may seem like a small chore for a large online retailing team, but "it is the only place your customer tells you exactly what they want and expect from you. Listen to it; it will make a significant difference," Bowerman said.
Selling to franchisees before the customers
Subway and its almost 45,000 sandwich-shop locations is looking to create a more personalized customer experience mobile app. Indeed, some might say the sub-shop chain is pinning its financial hopes on digital initiatives, including the app, in-store kiosks and AI-fueled demand generation initiatives, naming former Land O'Lakes CIO Mike Macrie its new CIO this week. Subway has closed more than 2,300 U.S. restaurants since its 2015 peak, or 9% of its total.
But the chain's business model needs to accommodate variances between nearly 21,000 different franchisee owners, as well as regional differences across the 100 countries in which its stores do business.
Connecting with customers and using data for customizing individual experiences is a complex undertaking. Subway hired Accenture Interactive to create the app. Instead of a flat-fee contract, the consulting and professional services firm signed a performance-based deal tied to the revenue it generates.
"We created a new business in an incubator fashion," said Glen Hartman, Accenture Interactive's senior managing director. His team set up a permanent demo station at Subway's Milford, Conn., headquarters and is evangelizing for the app and trying to get franchisees to buy into it as they visit.
It doesn't take much to get franchise owners to adopt the new app, Hartman said, because it uses customer records, order data and geolocation data to personalize the customer experience. It even greets customers by name when they walk in to a store.
"We know when you walk in your allergies, or if you're gluten-free. It links to your favorite sandwiches you ordered before and into the loyalty thing," Hartman said. "It makes recommendations; you walk up and say, 'I'll have the usual,' and we'll make it for you. This is what we mean when we talk about experience design."
Adobe Summit 2019 took place March 26 to 28 in Las Vegas.