Omnichannel customer service improves customer experience
Customers have come to expect brands to provide omnichannel customer service, but many companies are still overwhelmed by the idea of introducing new channels and training agents.
Omnichannel customer service and customer experience bear a reputation for being little more than buzzwords -- elusive concepts that are hard to put into practice.
Regardless, customers have come to expect that they can interact with brands over a variety of existing and emerging channels and that the agents they interact with will have access to their information. Since 2009, the number of customers using voice channels for service has dipped, but other channels -- such as chat, self-help, forums and social media -- have all risen in that same time, according to Forrester.
"As these channels become more commonplace, customers will expect you to be there for them in the channels that they want to use," Dave Dyson, senior customer service evangelist at Zendesk, a customer service software vendor based in San Francisco, said in a webinar sponsored by Zendesk. "If you're not there, they will either give up and go elsewhere, or they will be cranky when they contact you in a channel that is not what they want to be using."
For service agents, this doesn't just mean being available on different channels, but also moving customers between channels without having to start over on the customer's problem. It means shunning specialization and training service agents to work across channels.
Magnolia, a home décor shop in Waco, Texas, run by Joanna and Chip Gaines from HGTV's Fixer Upper, has seen success using Zendesk's suite to implement omnichannel customer service.
Take your time
Meeting customers in the channels they are already using is important, but it is also imperative not to rush into new customer service channels. When Magnolia launched in 2014, it started with voice and email, but didn't offer chat until 2016.
"We didn't roll this out overnight," Sam Goff, director of guest services at Magnolia, said in a webinar sponsored by Zendesk about misconceptions surrounding omnichannel customer service and experience. "We have added a channel every once and while, as it has made sense us and for our guests and our guests' experience."
Magnolia has also made a point to launch new channels, such as its chat channel, during times of the year when business is slower.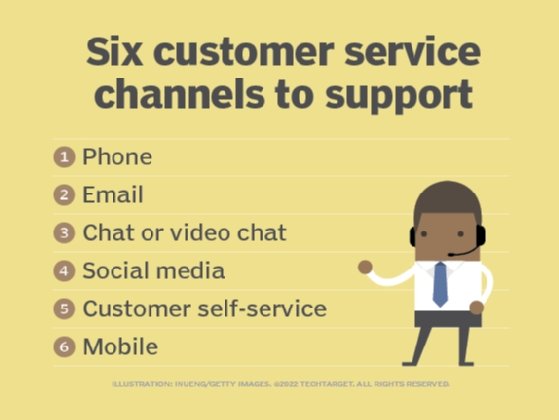 Have a goal and measure it
As these channels become more commonplace, customers will expect you to be there for them in the channels that they want to use.

Dave Dysonsenior customer service evangelist at Zendesk
By adding a chat channel, Magnolia was also able to cut down the number of voice tickets by 15%, freeing up agents' resources and allowing them to focus their efforts more efficiently, Goff said.
Magnolia has also measured the success of individual chat channels by their customer satisfaction scores.
"When we add a new channel, we see that bumping up our satisfaction score," Goff said.
Having more chat channels allows Magnolia to reach a wider variety of customers, as well.
Service agent management
To avoid overwhelming new agents with too many channels, which could lead to a poor customer experience, Magnolia starts onboarding customer service representatives on nonlive channels, such as email and Facebook, and then moves onto real-time or live channels, such as chat and voice. Once agents are trained, their ability to move between channels allows customers to choose or change the channel in which they are communicating.
An omnichannel customer service strategy works best when all communication channels are pulling from one central repository of customer information.
"With all our channels being in once place, we are able to easily pivot," Goff said. "If we see a spike in phone calls or chats, we can easily pull people off different contact channels, and they can all jump in to help relieve that stress."