Zendesk Duet ties sales, service platforms together
Zendesk courts enterprise customers with a chatbot SDK that extends self-service tech into internationally popular chat apps, while Duet bundles Zendesk Support and Sell platforms.
With Zendesk Duet, the platform that evolved into a midmarket customer service mainstay is looking to slide into larger enterprises. The platform combines the company's Sell and Support customer service and sales automation offerings into one package, with new data and process integrations to boost the exchange of knowledge between teams.
At its London showcase on June 12, Zendesk unveiled Zendesk Duet, along with new channel software development kits (SDK) for its Answer Bot, which arose from last month's acquisition of Smooch, an omnichannel messaging platform startup.
The customer service and CRM software vendor also showed new agent-assist and chatbot automation tools resulting from a partnership with Ada, an AI-powered enterprise content search and retrieval tool that integrates with many popular CRM platforms.
Zendesk resonates among SMBs and growing new-economy startup enterprises that move nimbly, said Gartner analyst Brian Manusama.
Adding Zendesk Sell and other feature additions to its core customer service offering rounds it into a more complete CRM, but it didn't result in the enterprise growth the company had hoped for. The Duet, Answer Bot and Ada additions will likely help on that front, he added.
"It makes it much more interesting for enterprise companies to engage with them," Manusama said.
Zendesk Answer Bot goes international
Acquiring Smooch helped Zendesk quickly set up Answer Bot integrations for many messaging apps popular in different regions around the world, said Shawna Wolverton, product senior vice president at Zendesk, based in San Francisco. They include WhatsApp, Facebook Messenger, LINE, WeChat, Telegram, Twitter Direct Messages, Viber, KakaoTalk and customers' own apps running on iOS and Android
Zendesk customers' service experience is moving more toward smartphone chat conversations, Wolverton said. That's where their chatbots and human agents engage their customers -- especially outside U.S. borders -- on everything from basic order status updates to more complicated problems that spawn service tickets.
"We've been great friends and partners with Smooch for a number of years," Wolverton said. "They were the messaging platform that allowed us to connect Zendesk to a whole number of [chat] apps, but the one we had been focusing on is WhatsApp. Acquiring them is doubling down."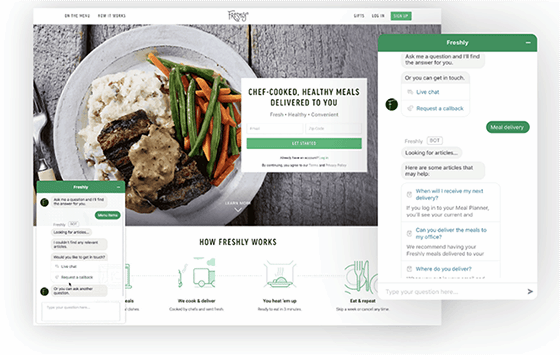 Ada's agent assist
It makes it much more interesting for enterprise companies to engage with [Zendesk].

Brian ManusamaAnalyst, Gartner
Zendesk's Answer Bot now hooks into Ada, a machine learning customer experience chatbot platform that learns how to locate a company's knowledge base content to answer customer questions, and can be trained by nontechnical employees. The idea, said Ada co-founder and CEO Mike Murchison, is to prompt both chatbots and live agents with likely answers with faster automation, as well as identifying the moment when bot-to-human handoffs must occur.
Ada integrates with other popular CRM platforms, such as Salesforce, and competes with third-party services from LogMeIn, IBM Watson and Google Dialogflow. Murchison said the company has recently found traction in the educational market and is gaining momentum in others, because the system doesn't require a data scientist to set up.
The Zendesk partnership arose for a number of reasons, including Ada's multilingual support, which plays into the expansion into the international market that Smooch integrations open up, as well as quick deployment of bots. More than that, however, was the demand.
"They're one of the leading customer service platforms, and it's important for us to be there because our customers are there," Murchison said. "Many have their agents inside Zendesk. You can't provide an incredible AI experience without appreciating -- and paying deep attention to -- the agent experience."
Zendesk Duet is available immediately. Answer Bot for web and Slack are available now, and mobile SDKs for more chat channels are in early access and will be generally available soon, the company said in a press release.