Zendesk, WhatsApp cozy up with co-development partnership
Zendesk and WhatsApp team up to break bottlenecks in customer service conversations over Facebook messaging apps -- including Instagram -- by building it into Zendesk Support.
Every day, WhatsApp business account users are messaged by 175 million of their customers -- and potential customers. Yet most WhatsApp business account holders manage those conversations from logged-in smartphones or desktops.
A Zendesk-WhatsApp partnership aims to address that bottleneck, bringing WhatsApp messaging into the Zendesk platform via APIs, opening access to a live chat function, chatbots to answer commonly asked questions and other self-service tools. Zendesk will also develop other tools for its platform that will enable workflows such as automating conversations and managing handoffs between chatbots and agents.
The companies will collaborate on workflow features to enable WhatsApp business account users to engage with followers, assist with social commerce transactions and solve customer service issues. Zendesk users will get early access to those features. According to Matt Idema, COO at WhatsApp, the features are aimed at medium-sized business users.
While messaging apps and customer service platforms have been around for years, it took the pandemic for both technology vendors and the businesses that use them to activate those channels in earnest, Forrester Research analyst Kate Leggett said. Long after the pandemic is over, she believes messaging will grow into a dominant channel for customer sales, service and general engagement.
"The pandemic has been a crash course in digitization," Leggett said. "Many brands have been slow to move to asynchronous chat, where the phone had been the way customers had interacted with them. As one reporter put it, we were one nation on hold."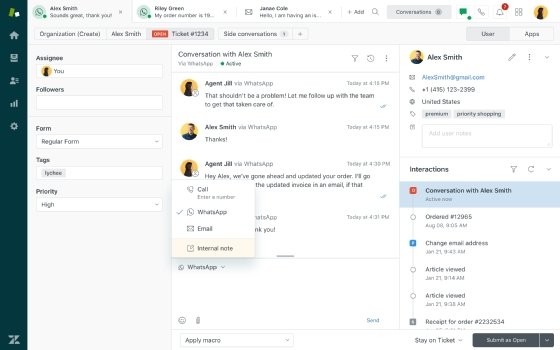 WhatsApp popular outside U.S.
The new features will be built from technology Zendesk acquired from Smooch, an omnichannel messaging startup.
WhatsApp might not be as well-known to U.S. social media users as Facebook, Twitter and Instagram, because only 68 million of the messaging app's 2.3 billion users internationally reside there. But WhatsApp is used in 180 countries, and the app boasts 1 billion daily users, making it the world's most-used messaging app. Facebook bought WhatsApp in 2014 for $19 billion.
The pandemic caused a surge in messaging-driven customer service activity in general. Zendesk said that tickets on its platform originating from messaging apps rose more than 50% between Feb. 23 and late July, with WhatsApp tickets in particular increasing by 154% during that time frame. Yet Zendesk customers are taking longer to resolve those tickets, as they figure out how to staff those channels and design workflows to accommodate them.
Many brands have been slow to move to asynchronous chat, where the phone had been the way customers had interacted with them. As one reporter put it, we were one nation on hold.

Kate LeggettAnalyst, Forrester Research
The APIs and new workflow features inside Zendesk are designed to help address those issues, said Adrian McDermott, president of products at Zendesk. The new features from the partnership were developed with WhatsApp users, but more will follow with Facebook and Instagram messaging apps as well.
Instagram recently beefed up its e-commerce connectors, which eventually will give users more ways to sell on the app, including during live streams. That will need more back-end support from systems like Zendesk, which has a popular customer service platform and a growing CRM to go with it.
"We believe conversational business is really going to take hold, where you start having rich conversations where you receive messages, catalogs and carousels of images get dropped into the conversations through the messaging channel embedded in the application," McDermott said.