thodonal - stock.adobe.com
Facebook Shops, Salesforce deliver quick e-commerce tools
During pandemic stay-at-home orders, Salesforce, Facebook and Instagram capitalize on the digital sales boom that resembles a three-month holiday surge that hasn't let up.
E-commerce business is booming during the pandemic, with consumers and B2B companies working remotely to minimize COVID-19 exposure. This week, Facebook and Salesforce released new e-commerce tools to get even more stores online.
Salesforce Commerce Cloud traffic spiked 45% in March compared to last year, and the numbers held steady through May, according to Mike Micucci, CEO of Salesforce Commerce Cloud.
"We're still running at holiday levels. I think we're probably in a new normal right now," Micucci said. "Customers are flexing new muscles from an e-commerce perspective."
To enable even more e-commerce activity, Facebook unveiled Facebook Shops as a new social commerce channel for e-tailers to sell goods on its namesake social media platform and Instagram. Businesses can set up stores, supported on the back-end by integrations with Shopify and BigCommerce, two popular e-commerce payment and shipping platforms.
The offering expands the existing Facebook Marketplace, a simple member-to-member exchange akin to Craigslist, and rudimentary shopping tools for Instagram.
Sellers should view Facebook Shops not as a new platform, but a new channel to add to their existing operations, said Ryan Gellis, managing partner of RMG Media, a digital agency that builds e-commerce sites for medium-sized businesses and larger enterprises.
Helping struggling businesses that were forced to close their stores during the pandemic is laudable, Gellis said. But he sees Facebook Shops as a play for Facebook to increase its ad revenues. That said, Gellis added that the new e-commerce tool could unlock much potential revenue for its users when it builds support of sales in Facebook and Instagram live streams.
"I think that is going to be the groundbreaking technology that nobody else is doing well right now," Gellis said. "When you can shop a live stream and see those products being used in the stream available for sale, that's going to make influencer marketing an even stronger, more mature channel."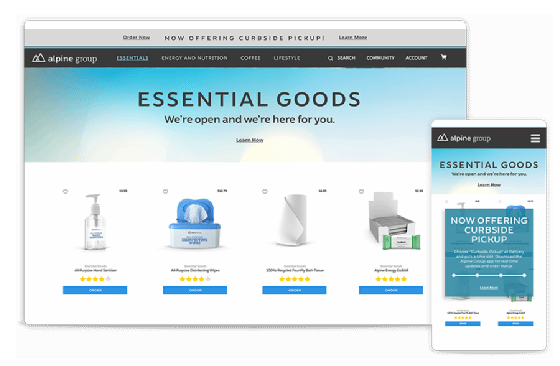 Salesforce releases Quick Start Commerce modules
In cooperation with its leading integration partners, Salesforce developed Quick Start Commerce Solutions for B2C and B2B businesses to enable e-commerce site setup in two to 10 weeks, depending on the complexity of the deployment. Many competing e-commerce vendors such as Magento already have turnkey reference builds that accelerate store setup, Gellis said, and Salesforce was lagging behind.
When you can shop a live stream and see those products being used in the stream available for sale, that's going to make influencer marketing an even stronger, more mature channel.

Ryan Gellis Managing partner, RMG Media
"It's a problem with those technologies ... Salesforce doesn't really want to be a systems integrator," Gellis said. Instead, it relies on partners to develop reference builds that can be replicated by Salesforce users of similar size or in the same vertical markets.
"Magento [acquired by Adobe in 2018] has had a reference build since day one, and I think that's why at its peak it represented something like 30% of the midmarket," he said.
Salesforce offers four customizable store models: grocery and food service, for stores and restaurants setting up web ordering; B2B, which sets up ordering, reordering, AI product recommendations, live chat and online customer communities; a buy online and curbside pickup setup that manages payments and pickup times; and D2C Consumer and Essential Goods, for stores that currently have little or no e-commerce infrastructure.
The genesis of Quick Start Commerce Solutions came from D2C, wholesalers and manufacturing users who asked for help setting up online sales, many of them for the first time, according to Micucci.
The goal of the Quick Starts is to have the Salesforce partners set up a site for the Salesforce user in as little as two weeks, turn it on and operate it until the user either decides to continue with the partner or run it themselves.
"It's not different software, because it's the same platform," Micucci said. "Once you get this running you can iterate it, grow it and expand it, launch new sites for new regions and all the things you want to do. We just tried to find a faster way to remove friction and get going."