Fotolia
Salesforce beefs up e-commerce order management features
Salesforce adds B2C-friendly order-management features to support internationalization of e-commerce, as well as pre-built integrations to channels such as Google and Instagram.
Salesforce users have access to new e-commerce functions this week -- the development of which was sped up amid the pandemic -- aimed at helping them roll out offerings outside the United States, as well as quick-start integrations to plug checkout and order tracking into Facebook, Instagram and Google.
The new features fall under Salesforce's order management suite, which connects e-commerce to fulfillment and customer service and payment systems, and provides delivery status updates for both Salesforce users and their customers. Introduced last year for Salesforce e-commerce users selling in the United States, the internationalization tools broaden users' reach by supporting different currencies, tax schemas, and time and date formats, as well as 35 languages.
The team working on Salesforce order management tools accelerated their development due to the pandemic, said Luke Ball, vice president of product management at Salesforce. He added that the tools are focused squarely on helping B2C users grow sales, but B2B users will likely find some utility offering goods and services through social channels as they build their own e-commerce offerings.
The Salesforce order management infrastructure build-out comes at a crucial time for many companies, said Nicole France, a Constellation Research analyst. Among the technology buyers she talks to, e-commerce was considered its own unit off to the side, managed separately. The pandemic has caused companies to merge e-commerce into their main operations as a major business driver.
"E-commerce has been a lifeline," France said. "It's been obvious in business-to-consumer, but what we're seeing is that business-to-business transactions are increasingly happening through similar kinds of channels as well. Companies who could previously get away with not focusing too much on their commerce capabilities are suddenly having to look at what portion of the business they represent."
Salesforce e-commerce sites have seen a massive spike in activity; orders in particular almost doubled in the second quarter of 2020 compared with that period last year, according to Salesforce data.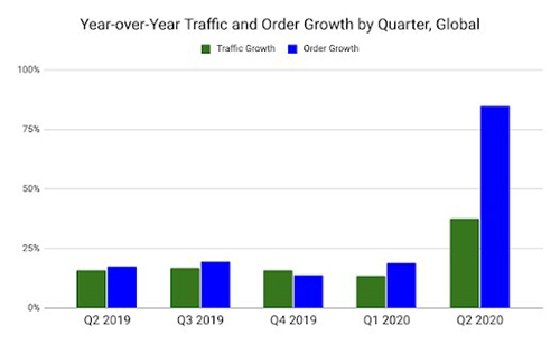 Infrastructure built from scratch
Salesforce order management was homegrown on its Lightning platform, Ball said, explaining that it wasn't derived from technology bought in previous e-commerce acquisitions.
Companies who could previously get away with not focusing too much on their commerce capabilities are suddenly having to look at what portion of the business they represent.

Nicole FranceAnalyst, Constellation Research
"We took a step back and looked at our end-to-end commerce portfolio," Ball said, adding that Salesforce's legacy tools were aimed at midmarket users and weren't optimized for Lightning, the company's current-generation platform.
The quick-start integrations for social channels extend previous Salesforce capabilities, said Kathryn Murphy, senior vice president of product management for Salesforce Commerce Cloud. They were relatively simple services to set up, similar to the curbside pickup integration Salesforce rolled out earlier this year.
While Salesforce users were already able to publish product catalogs and broadcast other information to customers using Google Shopping, Facebook and Instagram, Conversion rates were low. Murphy said she hopes order management tools such as checkout, returns and routing customer service queries from inside those social channels will help drive Salesforce users' revenue.
"We'll keep doing more of these quick starts, these bite-sized things that allow people to provide better service for their customers," Murphy said. "We started with Google and Facebook, we're going to add more, but those are such hot channels right now that we really wanted to get them in [users'] hands."