peshkova - Fotolia
Pandemic e-commerce trends point to massive growth
The pandemic caused consumers and businesses to form new online buying habits; now e-commerce is booming. That trend will hold for a year, or maybe forever, experts said.
Since the pandemic sent much of the world home to work remotely and practice social distancing three months ago, e-commerce is up 40% to 60% overall, depending on who's counting what. Some retail sectors such as hardware, firearms, toys and sporting goods have doubled or even tripled.
In light of these upward e-commerce trends -- which experts predict will come down a little but will probably hold some permanent gains -- technology buyers should upgrade their online sales platforms and the content systems that feed it.
Short-term e-commerce gains should hold until at least the middle of next year, because it will probably take that long for a coronavirus vaccine to become widely available, said Forrester analyst Nick Barber.
"Mid-next year feels like when we're going to be able to breathe a sigh of relief," Barber said. "But [even now], as we begin to ease restrictions and kind of resume a little bit of normalcy, we'll notice that there are habits that consumers have started either now [or since stay-at-home orders took effect] that are going to persist well beyond the end of this pandemic."
The pandemic has shown businesses that e-commerce isn't just another channel but bedrock to business continuity, according to "The State Of Commerce Experience: Shifting Priorities Reshape Digital Commerce Investment," from Forrester Research. The report, which surveyed 300 B2B companies and 300 consumers globally in March, was released today.
Among B2B respondents, 64% indicated they would invest significantly or moderately in more customer experience technology such as personalization, content and search, as well as in e-commerce platform technology. Similar numbers of respondents said they planned to beef up digital merchandising efforts and fulfillment centers. Only 34% indicated that same level of investment earmarked for physical stores.
About half of the consumer respondents said they were shopping on digital channels for products they've never bought online before, such as toys and groceries. More than 90% said they were changing behaviors to avoid physical stores, put discretionary shopping on hold and buy as much as possible online.
Retailers' e-commerce tech pays off
While B2C-heavy U.S. retail sales overall are down 16% according to U.S. Census Bureau indices, online sales for retailers grew 61% since April, even more than the 45% e-commerce surge reported by Salesforce, whose users lean more toward B2B.
Three pandemic-related aspects likely caused the e-commerce boom, said Jeff McCall, executive vice president at cloud marketing automation vendor Listrak, which tracked e-commerce trends at 850 retailers:
Consumers and businesses had to quickly adapt their home environments for full-time work, school and entertainment.
Stores were closed, and e-commerce was the only way to access goods.
Buyers were looking for online purchasing convenience before the pandemic; when it hit, they had need -- and the time -- to find it.
Now that buyers have discovered e-commerce channels, McCall predicts they will keep using them, making some of those upward e-commerce trends permanent.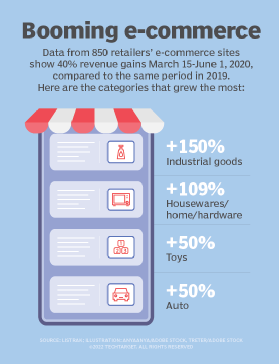 Two groups that surged but are due to come back to earth include hardware and home improvement, as well as toys, hobbies and sporting goods. Sales in those categories grew 200% after coronavirus lockdowns began in mid-March.
"I can only use so many backyard games for the family and fix up so many rooms in my house," McCall said.
Apparel and shoes e-commerce saw a 35% lift after the U.S. government distributed millions of economic stimulus checks in April, several weeks after many states declared pandemic emergencies. They're already coming back down to earth, said McCall, who added that he believes the gains correlated to aggressive discounts retailers offered.
Another retail sector aided by stimulus checks was auto, boat and motorcycle-related e-commerce, which also rose 50% compared with the same period in 2019, according to Listrak data.
"More people with more time to spend repairing, upgrading and enjoying their leisure toys has this vertical up about 50% year-over-year," McCall said. "Government stimulus efforts have been a major factor as consumers are investing those checks on upgrades and items that might have been on hold, as well as the occasional 'splurge' item."
Digital experience key to maintaining gains
Having seen how e-commerce can drive revenue during times of social distancing, companies that previously thought of digital as an adjunct to in-person sales will combine it more deeply with all sales, content and data operations, said Brian Walker, chief strategy officer at Bloomreach, a digital experience platform vendor.
Businesses now realize that digital needs to be integrated into their customer experience, even if the transaction happens in a traditional channel.

Brian WalkerChief Strategy Officer, Bloomreach
"Omnichannel has been a topic for years, and maybe it's not the ideal term [anymore], but we all understand what it means," Walker said. "Businesses now realize that digital needs to be integrated into their customer experience, even if the transaction happens in a traditional channel."
Curbside pickup for stores and restaurants is one example of such convergence that's grown in popularity during the pandemic, Walker said. That customer experience is driven by digital content and e-commerce infrastructure but is fulfilled with employees in a traditional retail mode. "That's a really good customer experience," he said.
Forrester's Barber said that to hold on to e-commerce gains and grow online revenue further, companies -- even with advanced e-commerce operations -- need to re-evaluate their product content and make sure there's rich media and video accompanying product information on e-commerce sites. There should be rich data, too, such as specifications accompanying each product, as well as a mechanism for customers to leave reviews, Amazon-style.
"It's not sexy," Barber said, "but it's making sure you get the basics right before you move on to more advanced types of content such as 3-D models and augmented reality experiences."
The companies with the most evolved e-commerce are growing their business by more holistically understanding their customers with data, Barber concluded. Doing so reveals deeper insights for product recommendations or promotions that individual customers want, as opposed to old standbys such as a coupon delivered on a customer's birthday. With a data-driven approach and the content to support it, companies become more of a mentor or an advisor to their customers, instead of merely taking orders.