BillionPhotos.com - Fotolia
Microsoft challenges Amazon with Dynamics 365 Commerce
Microsoft broadens Dynamics 365 retail apps suite by introducing an e-commerce platform, as well as tools to track product data and intermingle physical and online retail data.
Microsoft filled a major gap in its customer experience stack with the Dynamics 365 Commerce online sales platform, giving customers that own physical stores more technology to drive bottom-line revenues. The e-commerce platform is joined by another new app, the Dynamics 365 Connected Store, which combines data collected online with data collected at brick-and-mortar stores.
The idea is not only to enable online sales for traditional retailers, but to also help customers continue their online shopping experiences when they set foot inside a store location, said Alysa Taylor, corporate vice president for business applications and global industry at Microsoft, in a blog post.
Together with other new AI features and data tools added to existing Dynamics 365 applications, Microsoft is giving retailers a strong alternative to Amazon's platform -- but more importantly, it's challenging integrated CX stacks from Salesforce and Oracle, said Forrester analyst Kate Leggett.
"You can't support the customer through their end-to-end journey without an e-commerce pillar," said Leggett, who added that Dynamics 365 Commerce might not be a great leap forward as an e-commerce platform, but it catches Microsoft up to the pack. "It was a real hole in Microsoft's portfolio."
Microsoft is focusing its e-commerce platform for B2C retailers for now, Leggett said. Technology vendors sometimes have separate e-commerce platforms for B2B and B2C customers, but Microsoft said it plans to build the B2C side and add B2B-centric features later.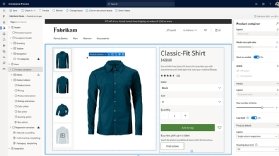 Dynamics 365 Connected Store adds data insights
Dynamics 365 Commerce paired with Connected Store creates a platform for AI and machine learning for behavioral data analysis that can trace customer journeys from online research to their movements through a physical store as they shop. Moreover, Dynamics 365 Connected Store helps store employees personalize their interactions with individual customers by showing them, for example, what the customer was looking at online before they came in.
You can't support the customer through their end-to-end journey without an e-commerce pillar.

Kate LeggettAnalyst, Forrester Research
Connected Store's data tools can help optimize store operations on a day-to-day basis by, for example, summoning clerks via phone notifications to help check out customers during busy times. It also analyzes video and inventory data to report on longer-term buying patterns to promote inventory and merchandising efficiencies within a store or region.
"It's about real-time insights, connected data and analytics -- having that data available to deliver outcomes you need," Leggett said.
Also previewed by Microsoft were related new features for existing applications, including Dynamics 365 Customer Insights, which aggregates IoT data from goods such as connected kitchen appliances that contain sensors transmitting data back to the manufacturer. Another was a set of tools within Dynamics 365 Virtual Agent for Customer Service to make Microsoft chatbots easier to customize and deploy.
Dynamics 365 Connected Store currently is in private preview, while Dynamics 365 Commerce is in public preview. A Microsoft spokesperson said the general availability date would be revealed in the "coming months," as well as pricing information.