Microsoft Dynamics 365 updates add AI features to CRM
Microsoft has introduced new updates to its Dynamics 365 CRM platform, including AI-driven business intelligence tools for sales, marketing and service.
When incorporated into business applications, AI can provide insights into how best to engage potential customers, predict customer needs, answer questions and, ultimately, sell products. Microsoft hopes to enable all that in its latest Dynamics 365 updates for marketing, sales and customer service.
At the Microsoft Business Applications Summit 2018, James Phillips, corporate vice president of the vendor's business applications group, said in a keynote that the Dynamics 365 updates change the platform from something that feels like "a surveillance system" to a business intelligence (BI) tool incorporating AI-driven analytics.
CRM "is not a category of software that people are deeply in love with," Phillips said. "A salesperson sits down and enters their leads and opportunities. It's for someone else, so they can track the forecast, understand the pipeline [and] whether you're doing your job or not."
The granularity of the AI tools Microsoft added with the Dynamics 365 updates will likely be useful for the average end user, said Kate Leggett, analyst at Forrester Research.
"What Microsoft is really excelling at is infusing AI into all their applications to help the business user -- whether it is a marketing or salesperson or customer service agent -- make the right decisions for that particular interaction," Leggett said.
Business-user AI: Microsoft's strength
On the stage at the July 2018 conference, Tammy Mihailidis, vice president of digital customer engagement at Polaris, a maker of power sport vehicles based in Medina, Minn., spoke about how Polaris uses Dynamics 365's marketing, sales and service platforms to give its customers a more personalized shopping experience.
Phillips said Dynamics 365 and its Power BI tools help organizations analyze traffic patterns of email and other communications and marry that information with LinkedIn to help understand where they should focus sales efforts.
Microsoft is trying to break down the artificial division between the front office and the back office by making the CRM assets available to all users.

Kate Leggettanalyst, Forrester Research
"As a salesperson, I have got a tool now that helps me focus my attention, helps guide me to success and isn't simply about keeping track of what I am doing," Phillips said.
Using Polaris as an example, Ryan Darby Martin, a senior product marketing manager at Microsoft, demonstrated how this process would look to both the customer -- in this case, a fictional municipality -- and to the Polaris agents, from within Dynamics 365.
The process with the Dynamics 365 updates includes a chatbot answering questions from a potential customer, predictive lead scoring recommending that sales staff focus on this particular lead, making the sale and welcoming the customer.
"We are actually able to track all of those interactions and calculate the health score of this particular lead," Martin said. "We could see the time that was spent by us, but also the time that was spent by them. For example, I can actually see if they opened [an] email, if they clicked on the attachment, if they viewed the link [and] how many times they were responding to us."
Getting AI into end users' hands the end goal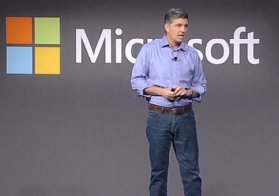 The integration of the marketing, sales and service platform is an example of what Leggett said makes CRM features more accessible to end users.
"Microsoft is trying to break down the artificial division between the front office and the back office by making the CRM assets available to all users with its integration into Skype and the Office products," she said. "They are making it very easy to consume. It's probably one of the most inexpensive enterprise solutions available."
In addition being a venue for unveiling the Dynamics 365 updates, the conference was an opportunity for Microsoft to announce it would be releasing updates to its suite of products twice a year. Each release will be preceded by release notes that will help IT professionals prepare for the software updates months in advance, according to Microsoft.
"Companies have to be continually innovating," Leggett said. "You are getting new releases twice a year, and when that happens, you need to have change management processes in place to be able to understand the changes, communicate them to the end users and then roll out these new releases to you CRM users."
Dig Deeper on Customer service and contact center