your123 - stock.adobe.com
Microsoft Viva Sales takes on Salesforce-Slack tandem
The Salesforce-Microsoft rivalry reignites as CRM applications vendors focus on employee experience by automating tasks that subtract selling time from a sales rep's day.
Microsoft Viva Sales will force some interesting decisions for technology buyers -- especially at organizations that use both Salesforce and Office 365.
An AI-powered automation tool, Viva Sales will launch in preview this summer and is planned for release later this year. It can plumb Teams and Office 365 apps for sales-oriented data and automatically add it to CRM records. Microsoft Dynamics users will receive the tool included in their license at no additional cost, but users of all CRM systems will have a general API available with which to integrate and subscribe.
Salesforce users will get their own custom Viva Sales connector, said Emily He, corporate vice president of business applications marketing at Microsoft. Salesforce, with its Slack acquisition, Troops.ai acquisition and coming Sales Cloud CRM integrations, is working on similar tools with Slackbots and Teams bots.
With Salesforce as the dominant CRM system but Teams as the dominant collaboration app by a long shot, enterprise tech buyers at companies that use both Salesforce and Teams will have to make a choice: Dive in on Viva Sales automation, or wait to see what Salesforce does with Troops.ai technology once the planned acquisition goes through, ostensibly next month.
"In the short term, companies that 'live' in Teams but use Salesforce as a primary SFA [sales force automation] tool are likely to find Microsoft Viva Sales attractive -- or at least want to explore it," said Rebecca Wettemann, CEO at Valoir Inc. "But Microsoft's going to need to show, with clear examples, how the additional cost of Viva Sales justifies what a standard Teams CRM integration doesn't deliver. More clarity on how LinkedIn fits into the whole picture would be helpful, as well."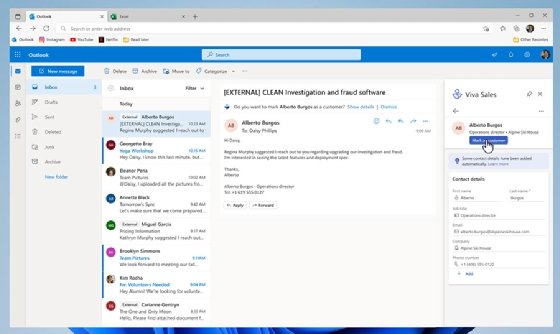 Remote work gives rise to automation tools
Microsoft Viva Sales was necessitated by the popularity of remote work, He said. Salespeople need to cut down on repetitive tasks that require app-switching. Moreover, because salespeople are closing deals digitally, the process creates a richer trove of data that tools like Microsoft Viva Sales can mine while cutting down on administrative tasks that can take up to one-third of a sales rep's time.
Microsoft's going to need to show, with clear examples, how the additional cost of Viva Sales justifies what a standard Teams CRM integration doesn't deliver.

Rebecca WettemannCEO, Valoir Inc.
"Because of hybrid work, digital selling has become the primary selling motion," He said. "...There's so much data that resides in the productivity tools and collaboration tools, especially given how much time they're spending engaging with customers in their virtual meetings."
While reducing data entry has time-saving benefits and enables sellers to spend more of their day selling, automation also promotes accuracy, she added. The same data doesn't always translate from app to app when a sales rep has to manually enter it in multiple places.
Both Salesforce and Microsoft continue to focus development efforts on employee experience with AI and automation. This is a trend across customer experience applications, including customer service tools where vendors such as Pegasystems and Genesys are working to improve the agent experience by reducing app-switching and employing AI to suggest answers to customer questions as it "listens" to calls in progress.
That's important as millennials and Gen Zers seek out productivity tools that direct them to the work that matters at their jobs, said Kate Leggett, an analyst at Forrester Research. A good employee experience can also improve overall customer experience.
Automation such as that in Microsoft Viva Sales can also bridge legacy workflows with state-of-the-art cloud applications. For example, many sales organizations still run sales operations in spreadsheets, regardless of which CRM system they use, Leggett said. Viva Sales can potentially save time automating the flow of that information through CRM and collaboration tools.
"A lot of pipeline management, a lot of forecasting, a lot of sales ops management is still done in Excel," Leggett said. "Viva Sales allows you to do the work in Excel and then push the results or the insights back into whatever CRM you're using -- so you don't have to be wedded to the entire Microsoft stack."
Viva Sales is an offshoot of Microsoft's Viva line of HR employee experience automation tools and will be a separate item on the price list from the Viva Suite.
Don Fluckinger covers enterprise content management, CRM, marketing automation, e-commerce, customer service and enabling technologies for TechTarget.
Dig Deeper on Customer service and contact center