Getty Images
Pegasystems releases contact center agent-assist tools
Pegasystems adds voice recognition and natural language processing agent-assistant 'copilot' tools for contact centers, based on 2021 acquisition of Qurious.io.
Pegasystems released Voice AI and Messaging AI, contact center agent-assist tools that tap voice recognition, natural language processing and AI services to help customer service agents more quickly answer questions during calls.
The feature bundle includes automated data entry and validation; automated contextual workflow launches based on intent detection in customer questions and statements that the NLP picks up; AI tools that locate and show the agent content that may answer a customer question; integrations with softphones; and compliance tools that prompt agents to stay on script.
While Pegasystems may have been behind other contact center technology competitors such as Nice, Uniphore, Nuance and Cisco in the agent-assist "gold rush" of the last few years, the company's new features are more fully formed and ready to deploy, said Dan Miller, founder of Opus Research.
"Pegasystems is always full of surprises, and it's a formidable set of capabilities," Miller said.
The new features are add-ons to Pega Customer Service version 8.6.1 and later, and come with a separate license.
The features are based on speech analytics technology from Pegasystems' 2021 acquisition of Qurious.io. They are cloud-based and can be deployed to help onboard and train agents, which can be complicated when agents start new contact center jobs in remote-work settings.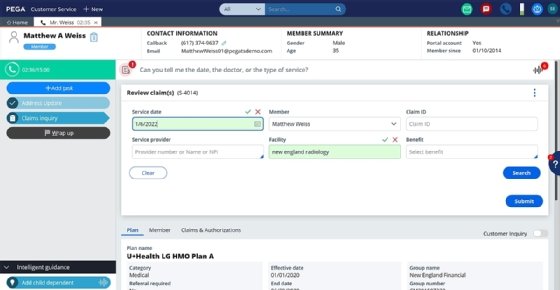 Agents' need for speed
The agent-assist tools, which Pegasystems refers to as "copilot" features, aren't real time, were built with speed in mind, said Sabrina Atienza, Pegasystems director of speech product management and Qurious.io founder. In 2015, when Qurious first built its platform, Google and Amazon didn't have live transcription features. The company took two years to build its own.
Speed is the key to helping agents in the moment and also improving response times as well as time-to-answer -- two key metrics for contact center performance, Atienza said.
In the last few years, numerous IT advancements have all come together to reduce latency in the contact center: cloud computing speed in general, data processing speed, the growing sophistication of AI, and bigger big-data sets on which models can be trained.
"If it's five seconds, that just feels too slow, it's just not quite real-time enough. It may not be relevant anymore. The conversation may have already shifted," Atienza said. "So, we're looking at one- to two-second responsiveness for AI suggestions."
Pegasystems' compliance tools can also detect situations where agents in regulated industries such as healthcare or banking may need scripts to read in certain sensitive situations to comply with regulations or internal policies.
"For example, if agents need to make required disclosures or for HIPAA compliance, they have to confirm the member's identity when they call in," Atienza said. "Voice AI can detect that the agent has said those scripts and can even nudge the agent in real time to remind them to say those scripts."
Don Fluckinger covers enterprise content management, CRM, marketing automation, e-commerce, customer service and enabling technologies for TechTarget.