kirill_makarov - stock.adobe.com
Broken Pega RPA bots can heal themselves with new AI feature
Pegasystems robotic process automation tools, popular in contact centers, add AI capabilities that allow some RPA bots to fix themselves.
Contact centers using Pegasystems' robotic process automation bots will no longer have to always call on developers for a fix when bots inevitably break.
Pegasystems' robotic process automation tools are used to build bots that connect legacy apps to modern technology stacks. The company has added an AI capability called X-Ray Vision, which uses machine learning to automatically heal some broken bots.
Typically, RPA bots are used to automate proprietary apps that have no API access or low-code replacements to handle repetitive tasks. They mimic human keystrokes and mouse movements in a given software application at high speed to save time and work for humans using those applications.
The new capabilities are necessary, based on a Pegasystems 2019 survey of 509 users that shows 87% of Pega RPA users have experienced a bot failure that required developer intervention and caused downtime.
Bots break when interfaces change -- like when a designer changes an icon color or moves an "OK" button to another screen -- prompting a need for developers to fix it. It also happens when data changes, processes are updated or other environmental factors evolve. Pega RPA's AI can determine if a bot has broken and update it, in some cases, without developer intervention.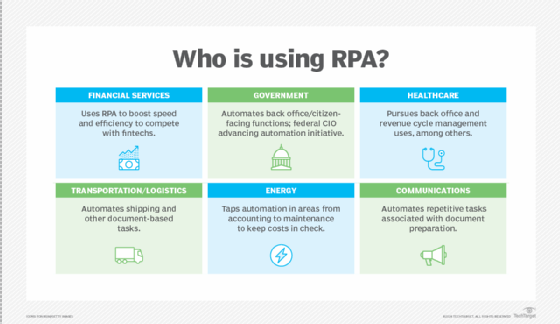 Self-healing Pega RPA bots, which come with its Pega Infinity digital transformation suite, are just one component of what could ultimately be a fully autonomous, AI-driven customer experience platform the company is building, believes Paul Greenberg, analyst for The 56 Group. Such a platform, if Pega can pull it all together, would put the company ahead of major customer experience platform vendors such as Salesforce, Microsoft and Oracle in the race for AI-driven customer service.
Fully autonomous customer service will be able to anticipate problems and solve them before they happen, Greenberg said. One example might be AI trend analysis on a bank customer's checking account that anticipates an overdraft. An autonomous system might detect the issue, contact the customer and advise them to move more funds into an account to prevent it, or set up automatic lines of credit the account holder can opt into.
Pega is taking it to pretty much the limit of RPA by making bots that will fix themselves via machine learning in nearly real time, to the point that humans don't need to be involved.

Paul GreenbergAnalyst, The 56 Group
"Pega is taking it to pretty much the limit of RPA by making bots that will fix themselves via machine learning in nearly real time, to the point that humans don't need to be involved," Greenberg said. "This creates the kind of capability that allows customers to carry out their ordinary, day-to-day activities with a company -- even when the task breaks."
RPA's on its way out
There are 20 to 50 processes in a typical application that RPA can automate, such as data entry, calculations and chat conversations, Carden said. RPA bots can typically reduce a human's labor in an application by 20%-40%.
Pega RPA was built in part from technology acquired from OpenSpan in 2016 for $52 million, which specialized in contact center RPA. OpenSpan was co-founded by Francis Carden, who now serves as vice president of digital automation and robotics at Pegasystems.
Contact centers usually run a complicated application stack with many different applications, and RPA bots can be used for a number of processes. Three common uses are automating time-consuming logins at the start of an agent's shift, detecting customer questions and searching for knowledge base information that may solve a customer's problem, and taking notes from a customer conversation or chat and adding it to the customer's record.
Since RPA bots are typically used to keep legacy technology running, users should have a plan in place to transition to new software that plugs into modern APIs, or can be automated with low-code apps, Carden said. Pega Infinity comes with API-based and low-code app dev capabilities.
"The question is, do you build something new in low-code, never to have to worry about the problem again, or do you keep Band-Aiding it with RPA?" Carden said. "I think you should always move to the true transformational side. If you can't digitize a process because there's no API, build the bot, do it quickly. But also have an end-of-life plan for that RPA bot."