Customer success strategies stoke CRM engagement
Salesforce and other CRM providers use active customer service to increase customer engagement, solve concerns, train users and -- eventually -- bring in repeat business.
Need help importing contacts into your CRM platform? No problem -- a customer success team member can walk you through that. Or perhaps you need help creating content on your marketing platform? You can learn how to do that in the vendor's training and certification programs.
CRM vendors recognize basic customer service won't suffice today, especially when companies can easily switch to cloud-based products, said Kate Leggett, an analyst at Forrester Research.
To keep customers satisfied -- and less inclined to try a competitor's offering -- many CRM vendors combine hands-on, personalized outreach with educational programs about their technology. By providing detailed support through customer success teams and DIY-style training in specialized certification programs, CRM vendors aim to deliver a high level of assistance and insight that customers can, in turn, use to properly meet the needs of their own customers.
"If you do a good job managing customer relations, customers stay with you longer, they increase long-term value and they serve as an advocate for your brand -- which provides secondary sales," Leggett said.
A team that helps achieve success
CRM vendors can put a customer success strategy into action as soon as they acquire a customer. This may begin with a customer success team starting a series of in-person meetings and virtual conferences to review the specifics and potential of the technology and how it can help the customer achieve its business goals. These teams can bring users up to speed on how to use the most important and stickiest features, Leggett said.
"They're getting service on their own terms, but the customer success team is also managing the 'health' of the customer," Leggett said.
These "checkups" enable vendors to quickly identify and remedy customers' frustrations with the technology -- a proactive service that squashes any emerging notions of flipping to a competitor. When Stout, a banking advisory firm, signed on with HubSpot last year, company representatives had two weekly conference calls with Stout Chief Marketing Officer Bob Gerardi and his colleagues. One call helped Stout's marketing team with lingering technical issues; the other call reviewed product features and offered integration tips for services such as Microsoft Office 365, Sitecore and Bedrock CRM.
"They were very detailed," Gerardi said. "They helped us get up to speed much quicker and let us see what [HubSpot] could do and what it can't do."
Recent calls have tackled specific tasks, such as enabling the HR department to use chatbots for recruiting, he said.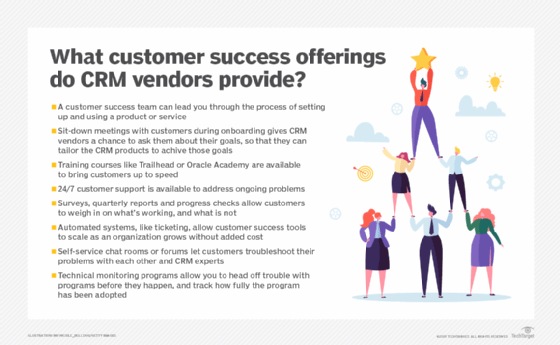 Paying customers such as Stout are not the only ones to receive personalized attention. Those who use HubSpot's free CRM platform also have access to customer success managers, said Kipp Bodnar, the company's chief marketing officer. Managers help nonpaying users handle tasks such as importing contacts or integrating Gmail into the platform, he said.
Salesforce's customer support managers rely on an "early-warning system" that uses algorithms to detect customer dissatisfaction, said Jamie Domenici, global vice president of customer adoption and marketing for Sales Cloud. When trends show a reduction in the use of Salesforce technology, the program alerts managers that they need to jump in and provide active support.
But not every customer can afford these levels of attention, she said, so they take advantage of Salesforce's "Circle of Success" program, where small groups of customers collectively participate in live chats with company representatives to review how they can make the most out of their technology.
Customer success strategy wasn't a focus in the pre-cloud days of CRM and marketing, said Julian Poulter, a Gartner analyst.
"Vendors would get as much money up front … and sell as much as possible, and then ignore you," he said.
Customers, locked into multi-year contracts, had no choice but to tolerate average -- or even poor -- customer service. But the ability for customers to change cloud products on short notice has lit a fire under vendors.
"The customer service can't be crap," Poulter said. "Companies are incentivized to provide a great product and customer service."
Helping yourself in vendor-sponsored training
The other component to this wave of customer outreach is self-service training and education offered for vendor technology. Vendors such as Salesforce, Microsoft and Oracle offer a catalog of certification and training programs that build expertise in the technical aspects and commercial uses of their products.
Our primary goal was to leverage the training resources already available from HubSpot instead of recreating the wheel.

Bob GerardiStout chief marketing officer
Trailhead offers Salesforce-specific gamification courses that run from the technical -- application development for the company's AppExchange program or administrating Marketing Cloud -- to those that focus on life-work skills such as building a Salesforce consultancy practice or learning sales skills. HubSpot Academy has 13 certification programs, covering product capabilities such as inbound sales, email marketing, content marketing, contextual marketing and "growth-driven" design.
Salesforce and HubSpot aren't the only vendors to offer training certifications. Oracle University offers accreditation in seven cloud product categories, including IaaS, PaaS and five distinctions of SaaS. The company also has 10 types of certifications centered on product software and hardware.
Microsoft has 63 different types of certifications specific to the company's technologies, including Azure and Dynamics 365.
"If you can educate customers, you build up your ecosystem, which is good for market share," Poulter said.
Stout CMO Gerardi doesn't have any apprehensions about a vendor being the source of DIY learning. His employees have to learn about the technology anyway, so training might as well come from the vendor itself. Not to mention, HubSpot Academy is convenient and appeals to Stout employees with different levels of technical acumen and receptiveness to training, he said.
"Our primary goal was to leverage the training resources already available from HubSpot instead of recreating the wheel," Gerardi said. "For the younger generation, they're tech savvy and more willing to do it. For the older, less technical crowd, you need to lead them along the path. And this lets us easily push it out to them."