Customer service vs. customer experience: What's the difference?
Customer service is an age-old concept, but where does it fit into the customer experience? Here's how the two are different and where they intersect.
Businesses often conflate the terms customer service and customer experience, but it is more accurate to say that one lives in service to the other.
Customer experience is the perception a customer has after interacting with a brand, product or service. Customer service and support teams interact with consumers as needed. Support teams focus on technical assistance, and customer service teams focus on customer experience and continuing customer relationships once businesses sell a product or service.
"Customer service is like the safety net in an acrobatic trapeze act; nobody goes to the circus to see the safety net, but you want to make sure it's there in case someone falls," said Harley Manning, vice president at Forrester Research.
Businesses can divide customer service into two groups -- live and digital interactions -- said Pete Slease, vice president at Gartner. Live interactions are inclusive but not limited to live phone, chat, email, social media or anything agent-assisted. Digital interactions, however, do not require live agents. Some digital interactions include website search, FAQs, chatbots and interactive voice response (IVR) systems.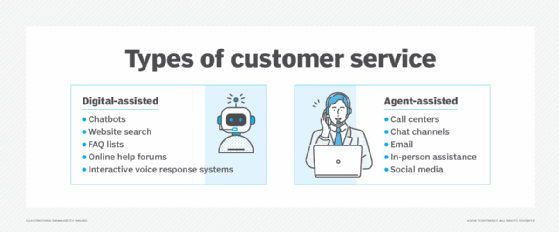 But a customer's experience with a company isn't just about how sleek or useful a product is. It can also depend on the quality and availability of customer service channels, both digital and human. A customer who experiences negative emotions during service might do business with a competitor in the future, despite having positive feelings in prior interactions. Many companies have made strides to improve their digital strategies just to meet the demand for easier access, and customer service is one area that organizations can improve without reinventing the wheel.
In every industry, good customer service is either the most or second most important loyalty builder for customers, Manning said.
"There are three things a customer wants," he said. "They want their problem resolved. They want it solved quickly. [And] they want it so that call center agents or chatbots won't have to escalate -- they want the first person to solve the problem."
Many businesses study how customers feel about their relationships with a company and vice versa. Weighing both data sets can be useful to provide a satisfactory customer experience. For example, using an IVR system might be more cost-effective and get customers assistance more quickly, even if they have a preference for dealing with live people. Yet, a company may choose to offer an agent to high-value customers or those with more complex problems, even if the cost is higher.
Ultimately, the goal of service is to retain the customer and make them feel good, providing them with a superior customer experience.
Dig Deeper on Customer service and contact center