Fotolia
Customer personalization relies on tools, tactics, metrics
Measuring the success of personalized engagements across multiple channels and making adjustments can help improve CX, differentiate offerings and increase sales.
Amazon and Netflix have demonstrated the value of personalizing customer engagements on the web. Now, more companies see the value of personalized engagements across multiple channels and are devising personalization strategies that improve customer experiences and increase revenue.
Personalization is a key component of providing a better customer experience, but in practice, it's a difficult process to master.
"Maintaining consistency across channels, ensuring quality support services and incorporating new technologies to stay on trend with consumer habits is a monumental task," said James Gagliardi, chief product officer at e-commerce services provider Digital River Inc.
Customer personalization only pays off when the results of using different tools and tactics can be correlated with business metrics. Yet, measuring ROI across different channels can be an elusive goal, acknowledged Tom Treanor, head of global marketing at customer data platform maker Arm Treasure Data, part of Arm Limited. A recent survey by the company found that the channel most often measured for personalization is online shopping carts, followed by email and mobile channels.
Businesses investing at least 10% of their marketing budgets in personalization methods typically can achieve a much better ROI compared to those that don't. Leading companies regularly measure the ROI of customer personalization that's applied to direct mail channels as well as support and maintenance channels. "However," Treanor noted, "it's noteworthy that even among leaders, a majority do not adequately measure various other channels, including email and mobile apps."
Customer support is a channel
Customer service is often seen as simply a cost center. But enterprises have a lot to gain from treating customer support as one overarching channel to ensure long-term value. Establishing a good messaging capability can help reduce costs and improve the quality of data on the way to customer satisfaction.
"Nowadays, messaging is the perfect container for support because it is how consumers want to interact with a brand," said Jeff Saenger, vice president of customer success at customer service platform maker Helpshift. Conversations can be conducted on the customer's own time with no requirement to complete the conversation in one sitting. Messaging is usually conducted on mobile devices, allowing companies to capture rich amounts of data. It also provides an ideal "learning environment" for bots and machine learning models to further personalize future interactions with a company, Saenger added.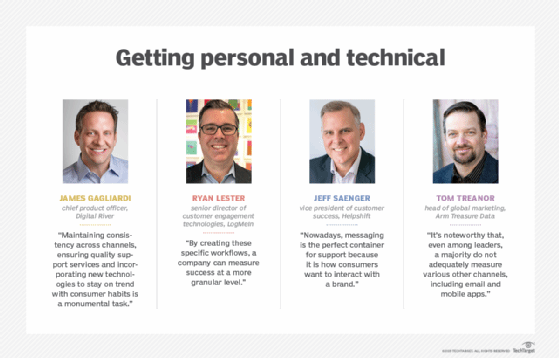 The measure of success when providing support is maximized when customers can serve themselves quickly, he said. And if a customer can't solve a particular problem, AI and automation should jump into action by gathering the right information so that an agent or bot can take over and service the customer.
Businesses can tangibly measure the many aspects of customer satisfaction, such as the number of interactions, time required to resolve the issue and effectiveness of self-service content. After layering AI and automation on top of messaging, companies can deploy different tools and further measure their effectiveness, allowing for a truly measurable and personalized engagement, Saenger said.
Customer views with KPIs and AI
Companies often set up key performance indicators (KPIs) to measure success, including revenue, satisfaction scores, net new customers and customer value. According to Christian Barckhahn, product marketing global senior director for the customer experience business unit at OpenText, a holistic approach to measuring performance across different channels against their KPIs can more accurately measure customer personalization strategies with the help of different flavors of AI-powered tools:
A 360-degree view of the customer can help track, measure, visualize and gain insights into the customer interaction at each of the touchpoints.
Advanced voice of the customer goes beyond surveys to listen, visualize and gain insights into what customers say on different channels. AI is used to aggregate and analyze what customers say when interacting with call centers, chats, social media, email messages and chatbots. It can also provide actionable insights through sentiment analysis, customer behavior analytics and speech-to-text technology across multiple channels.
Marketing optimization through testing can maximize online conversion and revenue by personalizing and optimizing customer experiences on any device through A/B testing, multivariate testing and geotargeting tactics.
A good approach to personalizing customer engagements across channels is to build the experience around typical workflows a company supports in that channel, advised Ryan Lester, senior director of customer engagement technologies at LogMeIn Inc., a cloud-based remote connectivity service. Examples of these workflows include personalized conversational experiences to find the right product for the customer, chatbots to help with easy returns or proactively engage customers based on predictive models around customer behavior patterns and buying habits.
"By creating these specific workflows, a company can measure success at a more granular level," Lester explained. The goal is to focus on the workflow of target customer use cases across all channels rather than specific channels. Based on the results, companies can decide which direction to take their strategy.
Messaging metrics
Some of the more common and impactful metrics for messaging channels include a blend of quality, speed and customer satisfaction, said Shane Murphy-Reuter, senior vice president of marketing at customer messaging platform maker Intercom.
Conversation ratings gather feedback from customers and visitors on their interactions with companies. These ratings can help monitor the support team's performance, provide a better understanding of a customer's experience and give insight into a better CX. But time is of the essence, as the old adage goes.
Time to first response indicates how fast a company provides a personalized CX. Lower response times are better from a customer's perspective. Response time is often the first place where companies make tradeoffs for some or all their customers, Murphy-Reuter said. For example, managers may decide that paying customers get preference on all queries over nonpaying customers. Yet that approach might distort the paid conversion rates, so examining median response times may be a better approach.
Adopt an experimental mindset
There are two key steps to measuring the success and effectiveness of personalized customer engagements, said Jamie Aliperti, vice president of customer success and sales engineering at behavioral analytics platform maker Interana. In the prerequisite phase, marketing teams need to develop a strategy for capturing all data at every customer interaction. From there, they can properly measure the success against control groups and investigate each customer interaction further to determine what does and doesn't work and why.
Once all data is captured and measured, customer behavior patterns and buying habits can be defined by running queries and experiments across each data set. The result is a better understanding and more unified view of the customer.
Bleacher Report, a website that focuses on sports and sports culture, enlisted Interana to measure customer engagement. The outlet gathers data from a visitor's very first interaction with the site to determine the value of each customer. If a visitor doesn't favor at least four sports topic streams -- say, baseball, football, basketball and hockey -- Bleacher Report knows that the specific customer can be an extremely high churn risk and therefore uses that information to tailor its customer personalization accordingly for future site visits.
Trust but verify
"The problem of attributing results to marketing tactics is a heartbreaker," said Patrick Pitman, CEO of consultancy E-business Coach. Although there are techniques that can help data-oriented marketers, specific tools can disappoint when the results are closely examined.
"So don't trust the tool," Pitman said. Instead, break down the problem into parts. Implement customer personalization incrementally rather than across all channels at the same time, he advised, and measure the results in the channel being personalized. Then measure step-by-step conversion actions or outcomes before and after for a close-up view. Finally, monitor broader measures of improvement that are not close up but show a general trend, such as cancellations and the time elapsed between first contact and time of order after the personalization is implemented.
Dig Deeper on Customer experience management