Rawpixel - Fotolia
5 Gen Z marketing trends for businesses to consider
Those born after 1995 are driving trends online for themselves and older generations. These shared experiences are important for marketers to understand. Here are some tips.
Generation Z is getting older and becoming more active buyers in the marketplace. As the generation matures, businesses must find new ways to engage consumers.
Gen Z marketing trends aren't exceptionally daunting, but it helps to understand your audience, said Jack Mackinnon, senior principal analyst at Gartner.
Here are five Gen Z marketing trends to know before designing a marketing strategy.
1. Understand your digital platforms
Gen Z is active on pretty much every social media platform, but it uses each one for a different purpose.
While all consumers are likely to be on at least one social media platform, Gen Z is most likely to use new platforms and even go through more than one account over their lifetime, Mackinnon said. It is important for brands to post to multiple platforms but also ensure that each platform's content is tailored to the specific audience and the reasons people use that platform.
Wendy's and Taco Bell, for example, are well known for engaging with customers one-on-one on Twitter and Facebook. But that approach won't work on a platform like TikTok, where short videos of people doing karaoke or comedy is the currency of choice. Businesses find more success using Native advertising and sponsoring influencers on these platforms.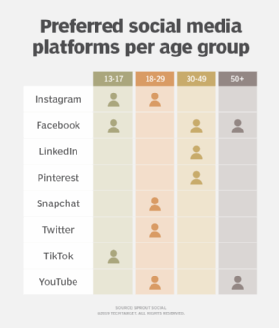 While Gen X has historically been more receptive to learning about product features and costs, Gen Z is more invested in interacting with a relatable corporate identity. So, copying and pasting the same content across multiple platforms, for multiple audiences, is a big no-no.
"Gen Z will see through that in a heartbeat, and they don't like it," Mackinnon said.
It's important to interact with consumers directly on social media, rather than just automating publishing. Some brands integrate chatbots, native advertising and e-commerce into social media platforms such as Facebook. This gives users an updated digital experience while using existing infrastructure.
2. Understand dark social media
Sometimes, traditional social media advertising isn't enough. That's where dark social comes in.
Gen Z knows how to tailor [its] audience. They know Grandma is on Facebook, so they won't post some things there. Brands need to focus on getting content in places [that] people talk.

Jack MackinnonSenior principal analyst, Gartner
Dark social refers to platforms not designed for public posting, using group messaging apps such as Slack and WhatsApp. Users can pull in content and talk to people, but that's it.
"Gen Z knows how to tailor [its] audience," Mackinnon said. "They know Grandma is on Facebook, so they won't post some things there. Brands need to focus on getting content in places [that] people talk."
In 2017, Adidas set up Tango Squad FC, a global soccer initiative that identified young soccer stars who could operate as influencers in messaging apps. Influencers were given shoes, podcasts and events to promote their message. While costly, it can be effective when done right.
"You can't just [use] the same old social media strategy," Mackinnon said. "[Adidas] got their content in where people talk, and that's a tricky challenge. It was very much an experiment, but it worked."
3. Understand your audience
Despite being known as "digital natives," there's mounting evidence that Gen Z prefers human interaction more than preceding generations for certain aspects of their experiences -- as both customers and employees.
"Gen Z does a lot of work comparing brands and looking at options online, but more than millennials, Gen Z wants to do purchasing in real brick-and-mortar," Mackinnon said. "They like testing a product to see if it matches their expectations."
Another important Gen Z marketing trend is that Gen Z is driving change in how other generations interact with brands, Mackinnon said. Older generations are increasingly adopting Gen Z methods of shopping: researching a product online, making it a social experience and still going to a store to purchase it.
Knowing your audience is about more than just knowing what values your customers have. You also need to know how and why they make their decisions in the marketplace.
4. Understand multiculturalism
Marketing to Gen Z also requires sensitivity and inclusion to be effective.
"In 2020, those 18 and younger -- the majority of Gen Z -- will become a majority-minority for the time ever," Mackinnon said. "Equality is a strong value for them. They're excited by stories that they're not familiar with."
The popularity of TV shows such as Atlanta shows that Gen Z is more than willing to engage with stories they might not be immediately familiar with, Mackinnon said. Brands no longer need to play to the cultural-majority-center. Netflix, for example, adds new international content every year.
"Culturally specific content is appealing to everybody, but to do it well, you need a team that has familiarity with the culture and stories," Mackinnon said.
5. Understand transparency
Another trend suggests that Gen Z knows what marketing is and, while they don't mind it, they do value transparency. They've grown up with platforms that prioritize it, such as YouTube, Mackinnon said.
"Many influencers build their channels talking directly to the camera," Mackinnon said. "As a result, Gen Z likes behind-the-scenes content."
While Gen Z is OK with brands promoting materials, they want to know what the company does, how they make the product, where it comes from and how to learn more.
"Brands that provide Gen Z with more content and information, more ways to discover the brand on their own, are going to be successful," Mackinnon said.
Dig Deeper on Customer experience management