James Thew - Fotolia
To predict customer buying behavior, stop, look, listen, analyze
Determining customer wants and needs to devise personalization strategies based on that data takes advanced technologies and the old-fashioned direct approach.
The fuel that powers customer personalization initiatives comes from understanding what customers want, need and favor, enabling companies to customize customer experiences across different digital channels.
With the help of AI, existing and emerging technologies for mining different views of collected customer information -- among them, customer data platforms -- automatically correlate these insights without interrupting the customer's journey.
"One of the most powerful tools to understand the customer's wants, needs, behaviors and favorability is to listen to what customers say and feel [and] adjust your offering, communication and experience to take friction off the process," said Christian Barckhahn, product marketing global senior director for customer experience at OpenText Corp.
A customer's needs, wants, engagement channel preferences and sentiments will vary constantly, so businesses need real-time monitoring capabilities to adjust across channels in an orchestrated fashion. AI and machine learning tools are playing an increasingly important role in profiling individuals and generating predictive models about customer buying behavior. The results can help companies identify and address weaknesses or areas of opportunity and improve conversion funnels across channels.
Viewing the customer from all angles
By gathering customer data from multiple channels of communication and creating a centralized view, companies will "have access to everything they need to know about customers' actions and preferences," said Gerard Szatvanyi, president and CEO of e-commerce consultancy OSF Global Services.
Good sources for mining customer wants and needs include data collected from sales orders, products, page visits, wish lists, abandoned carts, review history, tickets and accumulated loyalty points. This information is critical to providing personalized marketing, support and sales experiences.
"By coupling this data with analytics, or even taking it a step further to include AI," Szatvanyi said, "organizations are able to make informed decisions" and provide a completely seamless online and offline experience.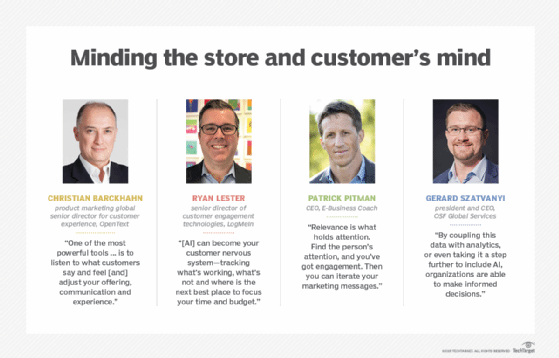 A single view of the customer allows the salesperson to know the customer on a deeper level across a variety of touchpoints. For example, a sporting goods saleswoman would be able to know if a customer she greeted in the store had earlier considered and deleted a particular fishing rod purchase from his online shopping cart. The saleswoman could offer him to try the same rod in store and perhaps present a 10% discount coupon to be used in the store that day.
AI captures and analyzes customer intent
Implementing AI across multiple channels of engagement is a quick way to derive new insights into customer buying behavior, said Ryan Lester, senior director of customer engagement technologies at LogMeIn Inc., a cloud-based remote connectivity service. AI, for instance, can help track the most frequently asked questions on a company's homepage and compare those results to its support page and mobile app.
"By utilizing an AI-powered [tool]," Lester explained, "these intents can be captured and analyzed to see how well you are servicing them today and identify ways to improve them going forward."
In addition, AI's real-time analysis and insights can track and determine the success of any adjustments a company makes to its CX strategies. "This can become your customer nervous system -- tracking what's working, what's not and where is the next best place to focus your team's time and budget," Lester added.
The future is the past
Predicting customer buying behavior depends on understanding past behavior, said Shane Murphy-Reuter, senior vice president of marketing at customer messaging platform maker Intercom. One way is to connect the various channels of communication to the tools containing historical customer data, such as Salesforce, HubSpot, Pipedrive and Marketo.
Answering questions that focus on which channels customers use the most, the open rates and the length of the conversations will help determine their preferences and favorability. Intercom found that just one reply to a site visitor in the messenger increased the likelihood of conversion by 50% and by 100% with just one more reply. The company also reported that a visitor is 250% more likely to become a customer as a result of six exchanged messages in just one conversation.
By unifying customer data and applying advanced analytics, AI and machine learning, companies can move through a cycle of data collection, decision-making and delivery quickly and accurately to determine customer buying behavior, said Abhi Yadav, CEO of self-learning B2B customer data platform maker Zylotech.
ID resolution is an important first step in unifying customer data, followed by enriching the data with third-party information that goes beyond the information provided by customers. It's also important to segment the data to better assess patterns among smaller categories of customers. Models built on smaller populations of users that share something in common help reduce variances among different cultures and personalities to predict future customer buying behavior more accurately.
And there's always the direct approach
Even though tracking how customers behave is most accurate, it's always good practice to ask customers directly what they want to help personalize content and engagements before they purchase, according to Patrick Pitman, CEO of consultancy E-Business Coach Inc.
Pitman suggested a cutting-edge tool like MobileMonkey to help set up chatbots or interactive scripts using Facebook Messenger. Dialogues in the form of survey questions can be created to elicit responses and personalize future engagements. He also recommended RightMessage, which personalizes content on websites through email opt-in offers based on observations and previous site visits.
"Relevance is what holds attention," Pitman said. "Find the person's attention, and you've got engagement. Then you can iterate your marketing messages until you find the connection that works for your business."
Dig Deeper on Customer experience management