Companies entrust CX to customer service chatbots, but only so far
Depending on the vertical, chatbots can relieve human agents of simple, repetitive customer-support tasks. But brands await smarter tech to fully trust them with CX.
BOSTON -- Just about everyone is doing customer service chatbots, even Planned Parenthood, which empowered its chatbot Roo to answer awkward and uncomfortable questions about reproductive health many are afraid to ask.
The hype around customer service chatbots promises they'll slash costs by enabling customer self-service for organizations that employ them. But for those that don't plan for training the bots as well as training the humans monitoring them and -- probably most important -- planning deep hooks into back-end IT systems, they can be at best ineffective and at worst a technology that harms CX.
At LogMeIn's CXNext user conference here, it was clear that companies planning to deploy customer service chatbots or improve on existing ones must concentrate on hooking them into other systems such as shipping, tracking, identity management for password changes and databases to search for information to make them smarter.
Ambreen Molitor, senior director of Planned Parenthood's Digital Product Lab, was among the featured speakers at the June 4to 5 conference at the Marriott Long Wharf hotel.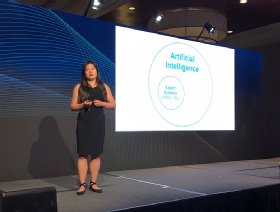 Gaming hardware seller Razer, for example, plans to roll out a customer service chatbot later this year to serve its ultracompetitive customers who want automated means to order and acquire the latest, greatest gear. That's how they want their support, too, said David Peralta, Razer's director of digital support and service technology, adding that the company expects 80% of customer queries can be addressed by the bot, while preserving a quality experience customers expect from the innovative retailer.
Building that bot is taking much effort: identifying customer support scenarios, connecting answers from the knowledge base and figuring out synonyms and variations of phrases customers would use for the same queries. Then, the retailer has to train the bot to answer them.
"In some industries it's easier -- banking has a limited set of questions coming in," Peralta said. "We have a very broad scope. So we have to initially define that scope, make sure those sessions are successful, and build on that. We have to make sure the bot is ready for this -- if you don't have that commitment, you might as well not start."
Technology limited, still
For companies that don't cater to hip, tech-savvy customers, customer service chatbots may offer less return than the overinflated promises, especially when factoring in the customization they require between buying the bots and before they go live.
"Most chatbots are still scripted UI and not very intelligent because natural language processing and understanding is not at a level to produce good experiences," said Mariya Yao, chief technology and product officer of Metamaven and AI author. "Most customer use cases don't benefit from scripted conversations. If you can contain a few, very common issues in a conversational UI script, you don't actually need the chatbot to be that intelligent."
Most chatbots are still scripted UI and not very intelligent because natural language processing and understanding is not at a level to produce good experiences.

Mariya YaoChief technology and product officer, Metamaven, and AI author
Yao said the value many companies derive from chatbots is directly proportional to how many back-end platforms and systems they're integrated with. Resetting tokens, for example, is something a chatbot can handle from beginning to end, or issuing refunds. Handing over complex issues such as triaging customer contact or letting a chatbot handle problems requiring the customer to clarify their question pose risks to customer experience quality.
Other attendees had similar opinions. John Ragsdale, Technology Services Industry Association's vice president of technology research, advised CX leaders to think of present-day chatbots not as replacements for human agents, but as custom search tools one notch more sophisticated than search engines that help customers winnow what is often a mass of information to quickly find answers to their problems.
"In the B2B world, the people calling for support probably don't want to deal with a chatbot," Ragsdale said. "But they do want a conversational experience. If you can ask me a couple more questions, answer my problem, and I avoid having to call you -- it's an amazing experience."
The future is personalization
In line with that sentiment, Paddy Srinivasan, senior vice president and general manager of engagement products at LogMeIn, said the next advancement in customer service chatbots will be personalization. Once a chatbot can combine a customer's current query with behavioral data and previous engagements with the company, the answers will get smarter and more to what the customer needs. That's the next wave of innovation customer experience leaders can expect from chatbots they build from recently released technologies.
"It helps our customers not only understand the user but also customize the experience based on what they are observing," Srinivasan said. "It's a level of sophistication we haven't seen from out-of-the-box chatbots."
Just as important as building quality chatbot experiences is giving bots an out when their intelligence is overwhelmed by a customer inquiry. The chatbot-to-human handoff is still the most crucial customer experience component, said Jeanne Bliss, veteran chief customer officer and co-founder of Customer Experience Professionals Association.
"Automation without human oversight -- it's chatbot prison," Bliss said.
Dig Deeper on Customer service and contact center