AI customer self-service platforms show analytical maturity
AI-enabled self-service platforms graduate from traditional customer support activities to more sophisticated methods of analyzing data on customer wants, needs and behavior.
Companies are increasingly turning to self-service platforms to improve the customer experience.
These platforms have evolved from content management varieties of platforms into all-encompassing campaign management and analytics tools -- from simply automating traditional customer support to finding better ways of customizing the user experience.
"Self-service platforms enable brands and marketers to gain access to data and insights needed to optimize any given campaign or strategy from anywhere at any time," said Ronell Hugh, head of product strategy and marketing for Adobe's Experience Platform. These tools have become more intuitive over time and provide views of data beyond traditional units like demographics and location -- leading to the ultimate goal of better CX planning, not to mention improved ROI.
Evolving along multiple tracks
Self-service customer relationship platforms have evolved over the past couple years in three fundamental and transformative ways, said Jonathan Collins, digital program director at IT consultancy Mindtree Ltd.:
Once reductive organizers of static information, they're now proactive curators of relevant, individualized content.
They've shifted from functioning as self-guided information repositories to assisted, intelligent resolution engines.
They've become active transaction channels for certain types of businesses.
The knowledge bases of early self-service platforms were difficult to use, so developers were forced to build lots of supporting infrastructure. "Rather than mitigating the problem, that infrastructure was dancing around the fundamental issue," said Jake Stein, co-founder and CEO of cloud-first open source platform maker Stitch Inc., a Talend company. Self-service platforms are designed from the ground up to make knowledge discoverable on its own without the need for supporting infrastructure.
Businesses are also starting to weave social media data into their customer self-service platforms, noted David Buchanan, CEO at software maker X2Engine Inc. These platforms can trigger automated replies after capturing social media interaction data that's associated with a contact record and can be directed to appropriate staff.
"We also see self-service portals have more relevance and, in turn, simpler user experience, where options are displayed according to the customer's activities, purchase history or profile status," Buchanan added. This improvement elevates self-service from just a cost-cutting program to a profit center, while boosting brand trust.
Improving automation with AI
Self-service platforms use AI to improve interactions with customers, make sense of customer journeys, yield more relevant information and ease the transition to human agents when required, explained Chris Bauserman, vice president of segment and product marketing at CX platform maker Nice inContact. Voice and text chat interfaces promise to increase the use of self-service channels on mobile devices and help resolve customer issues faster.
On the other end of the process, AI-enabled self-service tools can improve the agent experience as well. "When a customer interaction needs to be leveled up past the point where self-service tools can address it," Bauserman said, "the platform should enable a seamless transfer to an agent-assisted experience." For example, a chatbot could be used to authenticate the customer, gather relevant information and answer basic questions. This information would then be passed on to an agent, who can focus on unique customer needs and thus optimize productivity. In addition, customers don't waste time and energy repeating their information.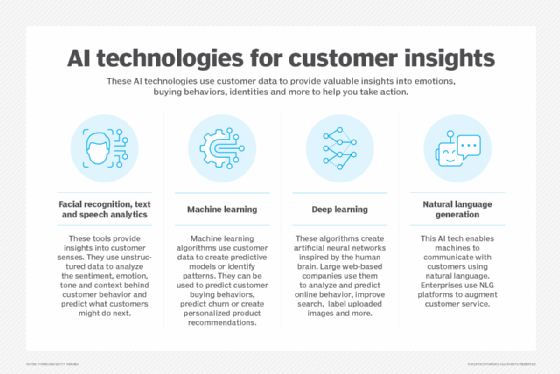 "The primary driver of improvements to self-service platforms in the near term will be AI that leverages both historic and real-time data," Mindtree's Collins said. The technologies that allow AI to be easily accessed across all existing and emerging channels will piggyback on this trend.
It's important to think about AI as a set of tools rather than a single technology. Relatively simple AI tools can auto-fill search queries or individualize content based on segmentation and decision logic tied to customer inputs.
More advanced AI techniques like natural language processing (NLP) and machine learning take those improvements to the next level. NLP can support discreet tasks such as parsing, terminology extraction, topic segmentation, entity recognition and sentiment analysis to make machine-based interactions more efficient and effective than human interactions. Machine learning can help improve customer self-service platforms by streamlining data management and governance and accelerating insight creation analytics focused on customer experience. "This enables companies to piece together unified customer profiles and fully understand customer behavior to ultimately create unforgettable experiences," Adobe's Hugh reasoned.
The primary driver of improvements to self-service platforms … will be AI that leverages both historic and real-time data.

Jonathan CollinsDigital program director, Mindtree
One caveat is that AI is only as good as the data it's processing. "Running AI on a partial view of the customer and presenting next-step options can damage the customer-to-business relationship," X2Engine's Buchanan cautioned. One strategy is to find a way to bring data collected from across various touch points to a common platform to more easily correlate interactions with customers on the web, phone, mobile device, virtual assistant and at a physical store.
Tearing down the silos
Forward-planning companies are eliminating the data silos separating self-service and other business units so that customer information is freely passed among them, Mindtree's Collins said. More sophisticated AI tools can therefore be used to ensure that the self-service experience is consistent and connected across all existing and emerging channels.
Another important step is finding better ways to proactively and seamlessly shift to human assistance when AI fails to deliver. Collins suggested that companies should have a clearly defined, long-term vision of the role customer self-service platforms fill for both the business and consumer.
Customer satisfaction also needs to be measured across different channels to quantify the impact of changes in tools, user experiences or content. Metrics should include trendlines, timelines, behavior and network influencers to anticipate customer needs before the customer even knows it, Buchanan noted.
By viewing customer self-service platforms as a complement to, rather than replacement of, other types of customer service, Stitch's Stein emphasized that companies will be better equipped to match the customers, their needs and where they are in their journey to the experience that provides the most value.