Best practices for using AI-enabled self-service
AI in customer self-service is right behind robotic process automation in terms of growth. Here are some best practices to implement the technology in your organization.
Customer self-service portals can be convenient and improve CX, when they help consumers get what they need more quickly and easily than speaking to or chatting with a live agent. But when customers can't get what they need from self-service or businesses have an opportunity for upsell that requires human intervention, that benefit ends.
Determining whether to route customers toward or away from self-service portals can be challenging.
Making the lines even more gray is the addition of AI to the equation. Now, 17.2% of companies are integrating AI into their self-service portals, which is set to increase to 50.7% by 2025, according to Nemertes' Intelligent Customer Experience: 2019-20 Research Study of 517 IT and CX leaders globally.
AI-enabled self-service is the second-fastest-growing use of AI for digital customer experience, behind robotic process automation. As companies develop and refine their customer self-service strategy, they must factor in how and when AI will play a role.
Best practices for building an AI-enabled self-service strategy
Never finish building a knowledge base. The self-service knowledge base is always a work in progress that changes with the company. The more a business can automate those updates, the better. As customers ask chatbots or live agents questions, AI will note the addition of new inquiries, compile appropriate answers to each and automatically add new questions to the knowledge base. What's more, as content in the knowledge base itself changes, AI can automate those updates. For example, if the warranty terms have changed and are updated in the company warranty file, AI can see that update and automatically update the knowledge base.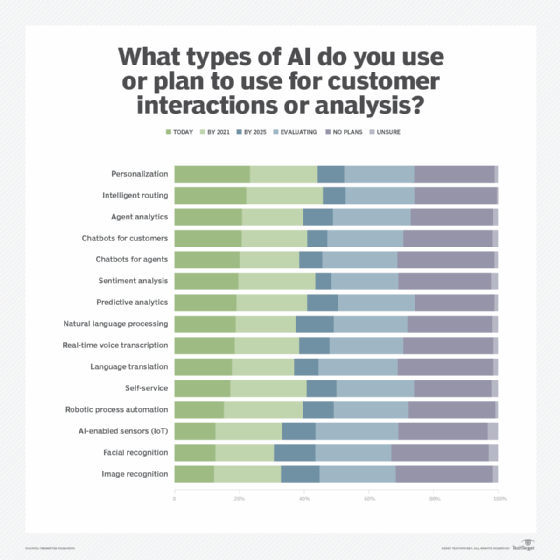 Plan the customer self-service journey. Determine when it's best to direct customers to the knowledge base vs. a live agent via webchat or voice. A chatbot can ask customers what they need and provide links to the self-service knowledge base for answers. Basic questions, such as business hours, overnight mailing addresses, warranty terms, break/fix, etc., are ripe for self-service. However, complex questions, irate customers or those who have questions about which additional products to buy should go to a live agent.
Use transactional self-service. Self-service becomes more complex, but also incredibly useful, when it's transactional. Think of tasks such as transferring money, rescheduling an appointment and retrieving medical records. These task all reduce the operational cost of the business, because in years past, a human had to be involved in each of them.
Make suggestions. Use AI to make suggestions for either solving a problem or selling something that aligns with the customer's characteristics or activities.
Personalize interactions. Personalization and customization matter, so businesses should add that as they add more sophistication to self-service. Rather than just providing knowledge bases that customers can search, provide some personalization based on that customer's past purchases or interactions.
Give customers options. Always have an option to chat with a live human -- or schedule a call/chat if the business does not operate 24/7 -- when self-service fails.
Other strategies
In designing a strategy, there are other enabling technologies that can increase the use of self-service portals. For example, businesses with mobile-enabled self-service portals see an 88% increase in use. Customers who use mobile devices typically want a quick answer to a pressing question.
AI-enabled self-service is the second-fastest-growing use of AI for digital customer experience, behind robotic process automation.
Moreover, companies with a formal customer ratings program see self-service adoption double. The ratings show areas of frustration ripe for self-service vs. lengthy wait times for live interaction, so organizations can tailor self-service portals to those issues. Adding new digital channels to serve as a launchpad to self-service increases use by 95%.
The bottom line: Customers want intelligent self-service that not only provides them with answers quickly, but also guides them to new products and services, opportunities to join loyalty programs or proactive notification systems, and personalization based on their past interactions.
Dig Deeper on Customer service and contact center