Customer service agents, chatbots dial up empathy in pandemic
AI virtual assistants can provide help for embattled customer service agents during the pandemic, but adapting them to changing customer needs and new business models isn't simple.
Contact centers are finding that customer service agents working from home and the chatbots that assist them need to keep up with rapidly evolving customer needs in order to maintain quality of service.
Pandemic customer service means discussing financial hardship with customers 2.5 times more frequently, according to data collected by AI customer service cloud vendor Tethr, spanning more than a million calls across many verticals for two weeks in March. These and other conversations companies scored as "difficult" have doubled during the pandemic, and account for 10% to 20% of call volume, depending on industry.
These calls stress human customer service agents and take longer to resolve. Relaxing stringent payment policies for companies such as utilities, or easing cancellation and rebooking fees for travel companies can reduce agent stress and the time they take to solve customer issues, said Matt Dixon, Tethr chief product and research officer.
If those avenues aren't available to agents, he added, retraining them to frame answers more sympathetically can make both customer and agent feel like they're making the best out of a bad situation. One example would be to say "Let's see how I can help you," rather than giving customers bad news outright.
"The issues themselves aren't unique [to pandemic customer service]," Dixon said. "There's just a big increase in them, and there's a lot of friction created where the policies themselves haven't been adapted to reflect the current environment."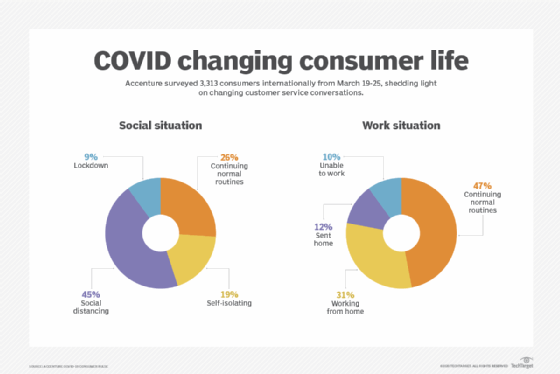 Examining call data first priority
Figuring out what's changing in pandemic customer support begins with collecting contact data. AI-powered speech analytics technology for call centers can help customer service agents analyze trends across multiple channels such as voice, chat and even interactive voice response (IVR) automated answering systems, said Nancy Jamison, an analyst at Frost & Sullivan.
"If you're using speech analytics, you're going to start seeing things pop up," Jamison said. "You're going to get your word clouds, it's going to show you what people are talking about, and you can do trend analysis."
During the pandemic, customer service automation can help agents and chatbots adapt to changing customer needs and maintain quality of service by keeping hold times down and more quickly answering customer questions, Jamison said.
None of this is rocket science. We have different tools to enable us to know how to change.

Nancy JamisonAnalyst, Frost & Sullivan
Companies that have equipped agents with unified desktops and assistive technologies that analyze speech in real time and suggest content, alter call routing and update scripts to help solve customer issues will be several steps ahead of those that haven't. Those using AI in chatbots and agent-assist tools can adapt fastest.
Consider the touchy example of debt collection: Using speech analytics and sentiment analysis, a contact center might see that more people are reporting financial difficulties due to job or health disruptions since COVID-19 began to spread. Changing to a sympathetic tone and offering help through extended payment plans or other forms of relief changes the tone of the calls.
"It takes the burden off the agent," Jamison said. "None of this is rocket science. We have different tools to enable us to know how to change."
Keeping chatbots on point
Accenture clients fall into three categories when it comes to deploying and adjusting messages to meet the needs of customers affected by COVID-19, said Dawn Anderson, a senior managing director at the professional services company that is based in Dublin. The most proactive are in sectors such as banking and travel, whose call centers are swamped with calls since the pandemic and must quickly determine how to best handle it.
"Suddenly, they got this onslaught -- some was normal volume, some of it to deal with COVID-19," Anderson said. "They were empathetic before, but in that situation they have had to become even more empathetic in terms of how they're handling those interactions."
A second category, she said, includes companies getting more business -- and therefore, more customer support tickets in general -- as the world has shifted to remote work en masse, such as in the telecommunications sector. Those companies don't necessarily need to layer extra empathy on to their messages, but instead need to automate and streamline as many workflows as possible to provide the most efficient pandemic customer service.
A third group, the public sector and healthcare, are just getting started with virtual assistants as they realize they need automation to best deliver their services while needs increase among patients and constituents, yet with social distancing and safety in mind. Those groups require empathy mixed with straightforward, unvarnished information in their messaging.
Adapting AI to pandemic times is complicated by changing business models, too, Anderson said. Accenture clients are working to add more human-sounding language to their virtual assistants, which can sometimes take away from the efficiency of the conversation.
Speed of deployment of virtual assistants is of the essence, said Athina Kanioura, Accenture chief analytics officer. The services firm advises companies that need to set up new virtual assistants to keep it simple as possible and build in features later.
"Clients want to set up something extremely fast," Kanioura said. Numerous Accenture clients have set up customer service chatbots that can answer frequently asked questions, and plan to add analytics, AI frameworks and other data tools when customer contact volumes subside and the world returns to business as usual. "We probably haven't slept for three months because of the demand in this space."
Dig Deeper on Customer service and contact center