Getty Images/iStockphoto
AI improves customer experience, call center efficiency
Customers and employees can benefit from the use of AI in contact centers. Businesses can use AI to provide customer self-service options and help make agents more productive.
Artificial intelligence serves a number of purposes in contact centers. It can automate routine processes, provide live chat in the form of virtual agents or chatbots to address customer queries, help deliver personalized experiences and provide predictive analytics, among other things.
Each of these AI functions helps enhance both the employee and customer experience, and many CX leaders are taking a closer look at how it can help in their companies. The driving force behind this movement is the increase in contact center interaction volume as COVID-19 shows no end in sight, moving customers from physical to virtual buying patterns and requiring help from live customer service agents.
CX leaders have reported many changes in their contact centers, including the need for more agents to support customer demand over both the phone and digital channels, and replacing in-person experiences with virtual ones -- driving even more traffic to the contact center.
Signs of agent shortages are emerging. Over 41% of companies say they will increase the number of contact center agents in the next year, and 35% say they are having challenges finding agents with the experience they need. CX leaders who have become overwhelmed managing short-staffed contact centers have accelerated plans to implement AI since the pandemic began.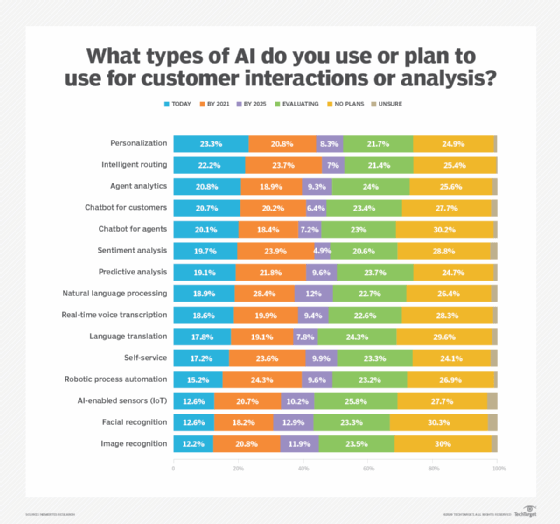 Benefits of using AI in contact centers
Overall, companies use AI to improve business metrics, including revenue, cost and customer ratings. For example, customer sentiment ratings increased 57.3% among companies using AI in their customer experience initiatives. Customer service also improved in businesses using artificial intelligence by providing quick resolutions to issues via webchat or text messaging virtual assistants.
CX leaders who have become overwhelmed managing short-staffed contact centers have accelerated plans to implement AI since the pandemic began.
Other benefits of AI include:
Automated call center quality monitoring. Rather than humans monitoring a small number of calls, AI tools can scan all calls, enabling a business to get a better view of agent performance and customer experience.
Reduction in customer wait time. Chatbots can help reduce customer hold time in a queue. This form of AI can often address simple customer tasks, such as paying a bill or resetting a password, eliminating the need to wait for human interaction.
24/7 availability. Even when human agents aren't available, chatbots can provide assistance at a time convenient for the customer.
Increase agent efficiency. Chatbots free up call center agents for more complex tasks. AI also comes in the form of predictive analytics and can provide real-time suggestions and next best actions to assist employees in their jobs.
AI helps both agents and customers. Agents can provide more personalized, contextual and efficient service, while customers can use self-service capabilities with virtual assistant directions.
Forms of artificial intelligence
AI that enhances employee and customer experience comes in many forms. Businesses have cited nearly 20 distinct AI-enabled technologies either in use or on their priority list, according to Nemertes Research studies. Those garnering the most attention include:
Predictive routing. To aid in faster decision-making and improve customer satisfaction, AI-enabled predictive routing uses real-time metrics and circumstances to determine how to route a phone call to the agent who is likely to deliver the best customer success.
Sentiment analysis. Relying on AI knowledge bases and natural language understanding, sentiment analysis determines the mood of a customer. If a customer yells or types in all capital letters, for example, sentiment analysis tools determine the person is angry and can recommend or automatically hand the phone call off to a supervisor.
Customer self-service. With wait times longer than normal, many businesses are empowering customers with self-service knowledge bases to provide answers to common queries using artificial intelligence. AI-powered virtual assistants can be paired with self-service knowledge bases to provide customers with immediate, personalized responses based on search patterns, questions they answer or interaction history.
Predictive analysis. In order to reduce the time it takes to resolve customer issues, predictive analytics tools anticipate customer needs and benefits. For example, customers calling to buy certain products may also be interested in relevant products that similar customers have purchased. Or, based on customer interaction patterns, predictive analysis can automatically and proactively reach out via email, text message or automated call to suggest a reorder.
Voice transcription. This is expected to grow in the next year, as the technology becomes more widely available. It reduces the time that customer service representatives spend after an interaction entering notes into a CRM system, and it gives customers reassurance in the interaction by receiving a paper trail.
Use cases
One of the most successful and compelling examples of using AI tools to enhance customer experience comes from a global software company. The organization began using artificial intelligence to address customer complaints in 2018 with a goal of closing the cases without human intervention. Customers can raise their issues via multiple channels, and AI analyzes the complaint using natural language understanding, computer software that enables computers to understand commands without computer language.
From there, the software assigns a probability score to whether an AI-powered virtual assistant will be able to resolve the complaint.
The business metric outcome was successful. There was an 11% improvement in customer satisfaction with a 90% success rating, and a 25% reduction in support staff needed to handle customer complaints, with AI handling more than 30% of the total.
Other companies have accelerated plans to manage short-staffed contact centers in the time since the pandemic began.
For example, one large bank planned to roll out an AI virtual assistant by the end of the year, but when the pandemic lockdowns began, leaders realized they would need this capability sooner as work-from-home agents quickly became overwhelmed. The IT staff accelerated development, and the AI virtual assistant launched just four weeks later, helping to offload agent calls.
Virtual living has become a way of life, and as such, customers rely more on contact center interactions. In order to make those interactions productive and cost-efficient, CX leaders should conduct a detailed evaluation of AI's role in their strategy.