AWS contact center AI services expand to Salesforce, Avaya
Cloud contact center vendors that compete with Amazon Connect for customers will push AWS AI-powered intelligent search, speech recognition and language processing services.
For contact center technology buyers, the market just got more complicated -- yet more open.
Companies that compete with Amazon Connect contact center as a service (CCaaS) can now plug AWS Contact Center Intelligence (CCI) AI services for chatbots, real-time translation, natural language processing, speech recognition, voiceprints and enterprise search into their own CCaaS offerings.
AWS added customer service vendors, including Salesforce, Avaya, Talkdesk and 8x8, as CCI technology partners, the company said at the recent re:Invent virtual user and partner conference. They join Genesys, which signed on as partner last August when AWS CCI services debuted.
AWS CCI services include Amazon Comprehend, Amazon Kendra, Amazon Lex, Amazon Transcribe, Amazon Translate, and a text-to-speech service called Amazon Polly.
Companies like Google and Amazon are pouring billions of dollars into AI projects tuned for customer service tasks such as recognizing what a customer is talking about or measuring customer sentiment, said Dan Miller, founder of Opus Research, an advisory firm focused on conversational commerce.
Medium-to-large-sized companies want these AI tools, but they don't want to build them, Miller said. Instead, they want to customize ready-made services to their company's contact center platform to enable self-service and assist agents in solving problems more quickly.
"If you're a retailer, you want to sell stuff; if you're a hotel chain, you want to do bookings -- so you outsource your AI," Miller said. "If you are Salesforce, Avaya or 8x8, you have discovered that there is an advantage to bringing in the Amazon brand or the Google brand for the resources that inform your chat or voice conversational bots."
The moves come six months after Google inked similar partner deals to connect its Contact Center AI services to popular CCaaS platforms.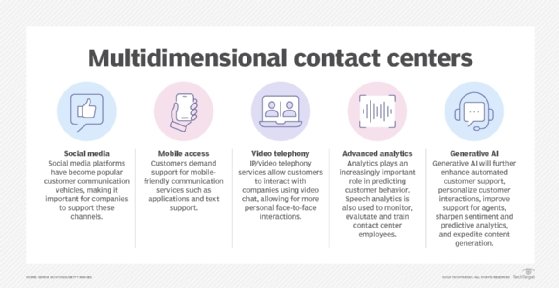 Amazon's growing contact center AI ecosystem
The Amazon Connect CCaaS has roots in Amazon's homegrown contact center platform, which launched internally in 2010. It eventually scaled to serve Amazon's 70,000 customer service agents and became part of Amazon's overall customer experience strategy. Amazon Connect rolled out commercially in 2017.
Now, like Google, AWS contact center AI services are poised to intermingle with competitors' contact center technology stacks as longtime vendors embrace the reality that their customers want choice in cloud environments. They also demand open platforms that mix and match AI services to meet their business needs.
AWS, of course, embraces partnerships with its would-be CCaaS competitors because those competitors' users already have taken up residence on the AWS cloud, said Eron Kelly, AWS general manager of product marketing.
"Whatever the customer wants, that's what we want to deliver -- because if we don't, someone else will," Kelly said. "In many cases that means if a customer says 'We want to use your storage and compute and AI services, but we want to use this other contact center solution,' we think that's great."
Whatever the customer wants, that's what we want to deliver -- because if we don't, someone else will.

Eron KellyGeneral manager of product marketing, AWS
The pandemic further diversified tech stacks in a hurry, as agents were sent home and needed cloud technology support to perform their jobs. It also highlighted the need for the cloud agility to deal with spikes and drops in demand for customer service, Kelly added.
"The name of the game right now is flexibility," Miller said of contact center technology users, many of whom have AI projects in pilot. Most of them feature "brand name" AI services from AWS, Google and Nuance, even though many smaller vendors offer AI chatbots.
Users Miller has spoken with favor the cloud consumption models, and are impressed with the progress current AI technology has made in regard to the higher-level tasks that bots can accomplish compared to the rudimentary knowledge base "answer bots" from just a few years ago.
The current generation of customer service bots are easier to train, and more straightforward to connect to back-end reporting systems, Miller said. AWS and Google AI services' massive data sets give them an advantage to more accurately measure customer sentiment, too, to the point where AWS and Google have commoditized contact center AI services.
Partners weigh in
CCaaS platform vendors aren't the only ones to partner with Amazon to connect contact center AI services. Cresta, an agent coaching and assistance tool, ingests customer conversations on both the sales and customer service side and applies its own AI to assemble the most effective answers to customer questions.
Users can plug in Amazon Transcribe services to harvest speech data to feed into Cresta via an open API, CEO Zayd Enam said. But they can choose to use AWS competitor transcription services as well.
"Companies are moving from these legacy, on-premises infrastructures to cloud-based," Enam said. "That shift is happening because the economics, stability, reliability and efficiencies of cloud-based software have been proven over the last 20 years ... then the pandemic was the final accelerant needed to make it happen."
That's the case in the government sector, where vendor Maximus provides large public agencies with FedRAMP-compliant cloud contact centers through a partnership forged last year with Genesys.
Connecting AWS contact center AI services through Genesys and another Amazon partner, SuccessKPI, gives budget-strapped agencies the ability to ramp up chatbots and agent-assist tools quickly, as well as feed transcriptions into reporting tools where they might not have had resources to accomplish it before, said Andy Beamon, Maximus VP of strategic innovation for citizen services.
Established contact center technology vendors who built their reputations in the on-premises market are embracing the cloud contact center AI microservices model, too, as evidenced by Avaya joining the AWS CCI ecosystem. Avaya has opened its stack to stay cloud-agnostic and accommodate customer demands for private and public cloud instances of its applications stack, said Eric Rossman, Avaya VP of technology, partners and alliances.
Typically, Avaya users must adhere to cloud IT deals already in place to determine whether to use Google or Amazon contact center AI services, Rossman said, so Avaya must make them all available.
"Do they have a contract with Amazon, or do they have a contract with Google?" Rossman said. "They'll sell you a five-year [contract commitment] that you have to pay, and they're going to want to use their credits."