Rawpixel - Fotolia
10 things to know about Google Cloud Contact Center AI
Google has partnered with more than 90 different companies to roll out its contact center AI. This article lists 10 important things you need to know about the program.
Google Cloud Contact Center AI is here, and businesses are hoping it will enable them to improve CX.
While there is some concern that the sole focus of AI is to replace live agents, Google said its AI can empower, enable and service customers 24/7 with feature-rich tools using both virtual and live agents.
Here are 10 things you need to know about this technology:
1. Google has partners. On July 31, Google announced it joined with 90 partners as part of the Google Cloud Partner Advantage program. This means companies can integrate the AI with existing technology, effectively preparing for any additional functionality Google might develop.
2. Businesses need a strategy. There are a few key questions that businesses should ask before bringing Google Cloud Contact Center AI into an organization: Will it transform how employees work and help them be more productive? How painful is the migration and change in management? Will it create security vulnerabilities or be hard for users to adopt? Asking these questions will help you plan an AI implementation that solves your organization's current problems and limitations instead of compounding it.
3. Spelling champs are not required. Dialogflow's natural language processing software, powered by this AI, can automatically correct spelling errors in Google Search, thus helping to reduce time spent proofreading by both agents and customers.
4. The software suits a variety of business sizes. The Google Cloud Contact Center AI is not just for large organizations. Even a 20-person contact center can process thousands of contacts, and it can use that information to eliminate needless calls by automating services that enable customers to book appointments or find answers to common service problems easily.
5. Virtual assistants are always on standby. Maybe you want to see a movie. A Google virtual assistant can tell customers what movies are showing and when, what seats are left, directions to the theater and can enable ticket purchasing. All of this can be done without ever speaking to a human. By providing 24/7 customer support, the Google Cloud Contact Center AI frees up agents to work on more complex, higher-level issues that require advanced knowledge or problem-solving skills.
6. Agents also receive assistance. AI provides live agents with real-time assistance, as needed. The system can listen into calls using sentiment analysis or scan chat text for keywords. Once it gets an idea of what the customer needs, the AI can provide an agent immediate access to articles, scripts and other resources that provide well-established responses to common problems a customer has.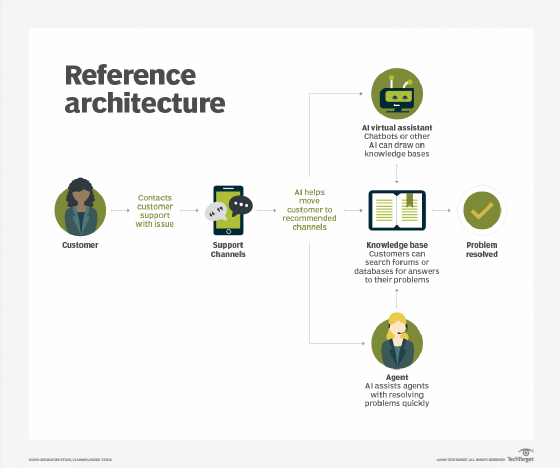 7. Knowledge integration. Google Cloud Contact Center AI can integrate with established knowledge bases or documents to enhance the CX through AI-powered workflows. This enables contact centers to use current knowledge and develop processes for continuous improvement, all without having to manually keep the content up to date.
8. Phone trees are dead. Businesses can reduce customer frustration by using the AI's natural language and speech capabilities. Customers no longer have to weave through a forest of confusing menus and can get to a live agent quicker. Because automated support tools are connected to the interface that agents use, customers won't have to repeat information when they transition from a chatbot to a live agent.
9. Bot or not? Google has announced it will follow best bot practices by informing customers when they are speaking to a chatbot. Transferring customers from a bot to a live agent at the right time is important to create a positive customer experience. Informing a customer of where they stand can help ease the transition and limit frustration.
10. Sentimental AI. Sentiment analysis uses a natural language API to listen for and flag keywords that express dissatisfaction from a customer and automatically determine the next step for improving CX. That step could involve transferring the customer to a more seasoned agent or supervisor, for example.