Chatbots in customer service find success with focused goals
Chatbots can be a great adjunct to customer service, but a successful rollout requires careful planning, flexibility and clear objectives.
For decades, consumers heard, "How can I help you?" over the phone. But now, the phrase signifies the start of an online chatbot support session. That may seem simple, but developing effective chatbots is a complex process that first begins with identifying a business objective.
From cable giants to professional staffing agencies, users at the VentureBeat Transform 2019 AI conference shared how to fulfill specific objectives through chatbots in customer service.
Chatbot service
For Comcast Corp., implementing chatbots was part of a push to rectify years of complaints about long wait times on phone support lines. Another issue was that phone support was always reactive. There was no stored data or profile of a caller that consultants could refer to, so each call was a frustrating and repetitive process.
Executives at Comcast turned to implementing chatbots in customer service to soothe customer concerns. The company launched the Xfinity Assistant chatbot that will try and resolve problems and inquiries or transfer the session to a live agent if necessary.
"We wanted to see if we could use a product development mentality and methodology to improve customer experiences versus what had typically been a people/process/paper customer service approach," said Piers Lingle, senior vice president of customer experience at Comcast.
The investment in chatbots also helps employees, Lingle said. When the chatbot handles the basics -- finding out names, account numbers, addresses and service issues -- it frees up time for the human agents to assist with higher-level problem solving and troubleshooting.
Anonymous, vendor-neutral advice
For some users, informative objectives for chatbots in customer service are more beneficial than their commercial benefits. Planned Parenthood, the reproductive health organization, began to notice that their nonvendor, self-service status had to extend into their chatbot strategy.
Teenagers looking for information about safe sex, reproductive health and sensitive, private matters don't trust big companies like Facebook or Google to find unbiased, vendor-neutral answers.
After years of R&D, Planned Parenthood released Roo, a chatbot designed specifically to answer questions in a factual, objective way. Bold360 -- a customer experience software by SaaS provider LogMeIn -- developed the back-end system, which includes keeping all the interactions anonymous.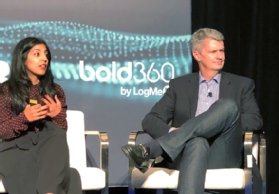 In contrast to Comcast, consumers of the Planned Parenthood chabot want anonymity.
"They don't trust sites that collect and sell their information," said Ambreen Molitor, senior director of the digital product lab at Planned Parenthood.
After evaluating several different platforms, Molitor said Planned Parenthood chose Bold360 because the system was simplistic enough to focus on their very streamlined objective.
"We looked at a lot of great platforms that were robust and flexible, but we couldn't use them without an engineer or data scientist on staff to build it out," she said.
Since its release, Roo has handled 800,000 online chats with only a 1% failure rate, where a question wasn't answered.
Going forward, Molitor said Roo has enough headroom to handle Planned Parenthood's needs for at least the next three years. At which point, the nonprofit plans to work with Bold360 on adding other features.
Chatbots are not one-size-fits-all
There are hundreds of vendor options when choosing a provider and a development strategy for chatbots in customer service channels. Mohan Vamsi Eswara, CTO of the conversational AI practice at professional services firm Cognizant, said at the conference in San Francisco that his company benchmarks the major systems and helps in the evaluation process.
"One-size-fits-all will not [work] with conversational AI," Eswara said. "Each product has a specialty, and you want to match and optimize the use case. That's why we need benchmarking."
He also noted that not all chatbots offer an easy way to benchmark or a good way to analyze their effectiveness in customer service. Overall, he recommended looking for software with conversational support for complex queries and information on how easy it is for the bot to improve.
"You might have a banking situation where someone asking for a balance doesn't get the right answer because of the way the bot was trained," Eswara said. "We use analytics to identify that, but also to make sure it learns for next time."
He also said anyone deploying a bot also wants to be sure there are clear guidelines or instructions in place for when the bot needs to hand off the session to a human agent.
Even though chatbots are taking on more responsibility, Eswara said metrics are continuously improving to the point where companies can expect analytical evaluation time to decrease.