Ronald Hudson - Fotolia
Upselling customers adds ROI gold to contact center channels
AI, analytics and customer service technologies can predict behavior and secure brand loyalty, but generating impulse buys adds a new ROI wrinkle to the evolving contact center.
It seems that ever since the contact center was created -- first as a call center followed by its evolutionary transition into an omnichannel service center -- businesses have been trying to determine ways to make it serve as a vehicle for upselling as well.
In the past, those attempts included CRM systems so agents could easily view customer interactions. But as touchpoints expanded from telephone calls to web chats, online purchases, social media and brick-and-mortar interactions, companies needed to introduce systems that could gather intelligence from multiple sources to better predict their customers' interests and buying habits.
With all that information to collect, analyze and put to tangible use, contact centers have become a major focal point in upselling customers and enticing them into unplanned, impulse purchases. And, according to experts, successful upselling does indeed come down to the data, along with understanding the individual customer and making the best use of new and existing technologies.
Bring the data together
"The number of data acquisition channels, ... and the amount of data that comes pouring in via those channels, is like a fire hose," said Christopher Bergh, CEO and head chef of DataKitchen, a DataOps analytics platform maker. To prepare for an upsell, he added, companies need to extract and analyze data, not just from the different channels that customers use to communicate with the company but from multiple systems, including ERP, CRM, marketing automation, web analytics and call center platforms.
In many companies, however, these operational systems aren't integrated, so customer data housed in different databases can be difficult to match and combine while the customer is on the phone or web chat, Bergh noted. "The result is lost history or loss of critical information from internal or external sources," he said, "or in the case of a newer arena like speech, misunderstanding the data [or] missing key insights, which can mean missed opportunities."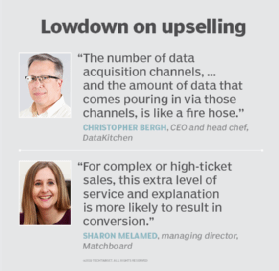 Bergh recommended a DataOps methodology to integrate data stores. The data engineer moves data from the numerous operational systems into a unified, trusted data lake and writes the transforms that populate schemas in data warehouses and data marts for data analysts and scientists. The engineer also sets up automated feeds from third-party databases.
Tests verify data quality and business logic at each input and output stage of the data analytics pipeline. The results, Bergh explained, are visual representations created by data analysts, which provide insights for situations like what product should be recommended to the customer when they're interacting with the contact center.
Many tools in the toolbox
Despite being overhyped, artificial intelligence has worked well in many contact center applications, according to Sharon Melamed, managing director of Matchboard, maker of a business-vendor matchmaking platform. AI, she said, can help predict which contact center agents are most likely to close a sale based on their respective profiles and demographic information. And, in conversational commerce, AI can understand the intent of customers' questions and lead them down the appropriate path to close a sale in a chatbot environment.
Yet many companies don't understand AI, and many times, they don't have the internal resources to cut through the vendor pitches and figure out what they actually need, Melamed said, adding, "Just because a company has '.ai' in their domain name doesn't mean everything they do is AI."
Aside from AI, companies can use existing technologies to entice customers into purchasing more than they intended. One of these tools, Melamed explained, allows customer service agents to send the caller a URL, whether communicating in a browser-based chat or on the phone. When the customer clicks on the URL, the agent can start a co-browsing session without requiring the customer to download software. The agent can then guide the customer through additional product offerings.
"For complex or high-ticket sales, this extra level of service and explanation is more likely to result in conversion," she said. "And with not many companies leveraging this sort of fairly simple technology, it's actually a differentiator."
She suggested that co-browsing software features should include the ability to annotate the customer's screen, which helps highlight recommended products, review a log of co-browsing sessions for training purposes, analyze what customers are clicking on and determine what approaches work best.
Combine chat with body language
Using technology to turn a call into a video chat can also help with upselling customers from the contact center, according to Melamed, who believes body language, including a customer smile, is much more effective in building trust than a simple voice call.
"We live in the age of visual communications -- YouTube being the world's second largest search engine, and FaceTime and Skype video being ever-popular," she noted, adding that people tend to digest information better if it's presented visually and orally, instead of just orally.
Amazon's Kindle Mayday button was years ahead of its time when introduced in 2013 to provide video chat customer support. Now that most people have access to faster internet speeds across mobile and desktop devices, Melamed said, companies can more effectively use video to present sales offers to customers. "Video chat technology is not new and is simply being underutilized," she added.
She recommended video chat tools that feature synchronization between voice and audio so the customer experience is not compromised. The speed to launch the chat is also important.
Even though data serves as the backbone for successfully upselling customers and AI can boost contact center applications and techniques, nothing can replace the human touch when engaging customers. Technologies that allow contact center agents to reach out to customers at critical times and present them with viable impulse buying opportunities add another dimension to the evolving multidimensional contact center.