FotolEdhar - Fotolia
CX initiatives driving contact center technology trends
Making contact center agents more present across all channels is a new focus, as tech vendors rush to give customer service operations more tools to improve customer experiences.
FORT LAUDERDALE, Fla. -- Burgeoning contact center technology trends demonstrate that the customer service and support world has taken notice of the overarching customer experience movement sweeping through the sales and marketing realms.
Few attending this year's ICMI Contact Center Expo here would go as far as to rename contact centers "customer experience centers," including ICMI co-founder and speaker Brad Cleveland.
But a distinct trend is on display at the conference toward creating simpler and easier customer interactions, as well as doing more with the rich data harvested by agents and customer self-service platforms that manage automated interactions via chat, email and other channels.
The dilemma is, despite customer experience (CX) vendors' efforts to break down data walls between sales, marketing and service, it's going to take more than technology to make cooperation happen, said Nate Brown, head of customer service for UL EHS, a compliance software platform from the company formerly known as Underwriters Laboratories, based in Northbrook, Ill.
"The technology is there; technology is no longer a hurdle," Brown said in an interview at the conference. "The hurdle has become the people and their ability to implement the technology well. It requires a unique ability for someone to visualize what can be done. We're all too busy and stressed out trying to keep ourselves alive to really consider how we could raise the bar together with the other departments."
AI chatbots still a specter
AI-powered virtual agents still are a matter of debate, judging from early proceedings at ICMI Contact Center Expo.
Allison Johnson Bryan, product marketing manager at Salesforce, took the keynote stage to elaborate on the benefits of AI for customer service. When she recounted how a chatbot Salesforce used to answer conference attendee questions solved 22,000 cases on its own, she drew gasps, groans and eye rolls from the crowd of call center managers, whose companies in aggregate boast more than 10 million customers.
Ginger Hardage, a former Southwest Airlines executive who helped build the airline's customer experience program, said companies can create an excellent customer service culture among human agents, the subject of her new book.
Despite her people-centric worldview, she said after her keynote she believes there is room for chatbots in the customer service technology stack.
"Anytime we are going to have something that appeals to the customer, we have to be open to that, if it's improving the customer experience," Hardage said. "Years ago, the thought that you could get your boarding pass on the phone and you wouldn't have to interact with anyone might have sounded strange. Now, we can't imagine not having our boarding pass ready in our hands when we show up."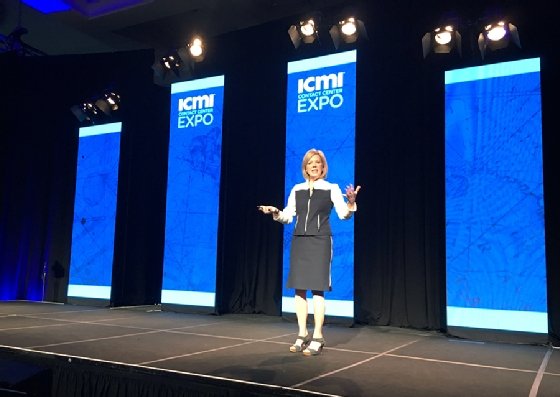 Omnichannel steals the CX spotlight
Anytime we are going to have something that appeals to the customer, we have to be open to that, if it's improving the customer experience.

Ginger HardageAuthor and CX architect
Contact center technology trends were coursing through the ICMI exhibitor floor, with vendors scrambling to enable customer support teams to reach their customers online wherever they are, across all communication channels. In many cases, AI can automate customer service and support interactions or prompt live agents with likely answers to customer questions and speed the process of solving them.
Contact center platform provider Mitel revealed a new integration of Google AI and machine learning into virtual agent tools, as well as assistive technology to help humans interact with customers on phone or chat.
And Talkdesk, another platform vendor that partners with other contact center stalwarts such as Mitel, released Agent Assist on May 14. This feature uses AI to expedite conversations and simplify service and support tasks as it taps data from CRM and searches a company's knowledge base to identify questions and probable answers in the hopes of reducing call-handling time and improving customer experience, according to Talkdesk.
Brown said he's watching voice-of-the-customer analysis tools to learn how vendors have advanced that tech since last year.
"The biggest thing for me is customer sentiment and our ability to understand the thoughts and perceptions of our customers better than ever before," he said.
In more news here, cloud contact center platform vendor TCN said it will debut Workforce Optimization, a business analytics tool designed to enable measurement of progress in customer experience improvement initiatives. The software captures customer experience data from phone interactions, email conversations, social media posts, chat sessions and workflows to benchmark customer service quality.