phonlamaiphoto - stock.adobe.com
Customer service AI tools can improve contact center
By adding AI to its Salesforce Service Cloud integration, Nokia is trying to bring a proactive approach to customer service, while adding AI to workflow.
As AI continues to improve, more organizations are using applications such as customer service AI to realize the benefits that the still emerging technology can provide.
AI has started to gain some traction in customer service and support departments.
Using customer service AI in a contact center can improve ROI and create more efficient customer support, according to analysts.
"Contact centers have typically been considered back-office, reactive cost centers," said Fancy Mills, group training and content director at International Customer Management Institute (ICMI). "Part of this is due to the fact that many centers handle low-level, easy, mundane and routine tasks or questions. These questions and tasks can now be handled through AI."
That's why telecommunications vendor Nokia is putting a lot of emphasis on customer service AI. The Finnish company has added AI to its contact center software in a product called Nokia Intelligent Care Assistant. Released in August, it's available now for Salesforce Service Cloud.
Nokia Intelligent Care Assistant is available on AppExchange for $40 per user per month.
"We're using AI on the proactive side," said Andy Fruhling, SVP of digital experience at Nokia. "We're trying to predict what may happen and solve it before it happens."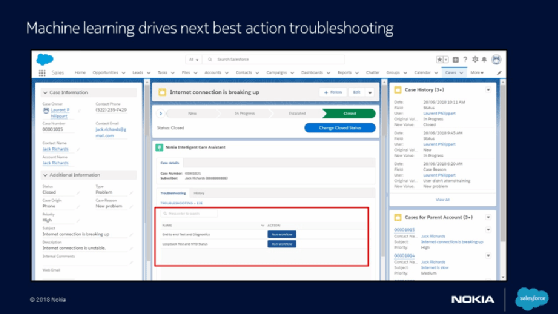 Using AI to be proactive
Nokia is using AI technology to analyze millions of data points from the various in-home devices it supports. Nokia uses that information to predict problems before a customer loses connectivity or has other problems with their devices.
"We do quite a bit to understand networks and devices within customers' homes," Fruhling said. "Many things could affect why Wi-Fi is working -- there are hundreds of issues that could impact it. We are managing the devices in the home and capture that data and use that data to identify what happened to that network."
Some contact centers have adopted [AI] at faster rates than others due to maturity of processes, tools and investment in infrastructure.

Fancy MillsGroup training and content director, ICMI
For organizations looking for AI tools that minimally disrupt an organization's business processes, customer service AI is a good place to start.
"Some contact centers have adopted at faster rates than others due to maturity of processes, tools and investment in infrastructure," Mills said.
CX enters the contact center
Contact centers and customer service departments have evolved as customer experience (CX) expectations have grown. Customers expect companies to know more about their likes and dislikes based on how liberally most consumers give out information about themselves. From providing that data for businesses to customers publicizing their experiences on social media, customer service is now a vital part of CX, and customer service AI tools can help organizations meet customer needs.
"Contact centers are viewed now as customer experience or enablement centers," Mills said. "AI is a tool to help contact centers engage with customers. Companies have now realized how vital a contact center is to their overall profitability."
AI can help organizations improve CX, and by using customer service AI applications, organizations can improve those support interactions with customers.
Beyond solving problems proactively, one goal of Nokia's Intelligent Care Assistant is to help the agent quickly address a customer's problems when a customer support ticket comes in, according to the vendor.
"We take the knowledge and intelligence and deliver it in context into the Salesforce dashboard," Fruhling said. "Agents don't feel like switching between tools, so it's important this information comes up natively in the agent's desktop."
Make sure your organization is ready for AI
Organizations looking to put customer service AI tools into action sometimes are hesitant about whether it's worth the investment.
The relatively early AI applications that vendors like Nokia are releasing now are meant to provide better experiences for customers. If an organization is expecting AI to solve all of its problems and find magical insights like buried treasure, it may be unpleasantly surprised when the AI technology doesn't meet its possibly inflated expectations.
"AI is only useful if it helps you respond and resolve problems quicker, connects customers to the correct information, is available 24/7 and can be personalized so customers don't feel they're talking to a robot," Mills said. "Pushback can come from customers who don't have a quality experience. If your chatbot or tools don't have a human touch or feel, customers will push back."
Also, unlike other technology that can be easily plugged into a workflow, AI requires that all levels of the organization be working in concert and that workflow can change drastically when implementing AI.
"AI can help any type of center, large or small, if they have the proper processes, knowledge, tools and investment to make," Mills said. "A center has to first identify where and how AI can assist."
Dig Deeper on Customer service and contact center