Call center customer experience ROI is more about metrics
When measuring contact center ROI, don't get caught up in dollar signs. Focus on CX metrics, including the length of customer calls, wait times and net promoter scores.
Contact centers often get a bad reputation as a money pit. High agent turnover, expensive infrastructure and difficulty measuring call center customer experience ROI contribute to the perception that the contact center is a cost center instead of a profit center. And while it's tempting for companies to use their contact centers as a tool to upsell customers, that focus can detract from the primary goal of providing a positive experience to gain and retain customers.
Still, companies need to know whether their contact centers are contributing to the bottom line, and measuring the ROI of customer experiences is at the forefront of doing just that. According to a 2020 Forrester Research report on how to prove CX ROIs, companies that are considered CX leaders showed more than five times the revenue growth over businesses whose CX programs lagged behind. To provide a positive customer experience and reduce the costs associated with contact centers, experts advise simplifying and consolidating CX management systems. They also recommend focusing on CX metrics -- not hard dollar figures.
Agent attrition erodes the bottom line
One of the biggest hits to call center customer experience ROI can be high agent turnover. According to a study from McKinsey & Co., the average attrition cost per call center employee is $10,000 to $21,000, including $4,000 to $7,000 in upfront training and $5,000 to $10,000 in lost productivity getting new hires up to speed.
It may be difficult to retain employees, but companies can cut down the time to train new hires and improve productivity by simplifying and integrating disparate software systems. In many contact centers, service agents can toggle between dozens of applications to find the right information, which is not only bad for the customer, but also bad for the agent, said Jeff Pigatto, vice president and global head, Salesforce practice at consultancy Saggezza.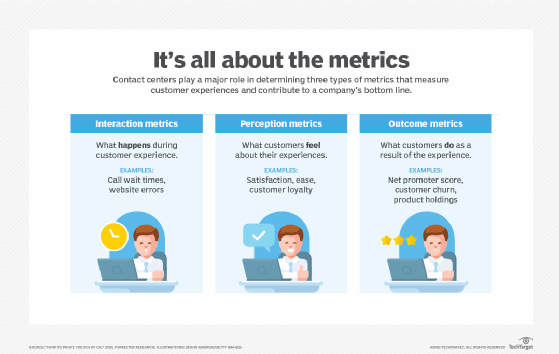 Contact centers need to streamline the agent experience -- reducing training time as well as the time spent resolving customer problems. Pigatto suggested implementing one platform of engagement, a single pane of glass to view service history, product purchases and related information. "This makes it a much easier training and learning experience and will improve the agent onboarding process," he added.
Streamlining may also allow call center customer experience agents to answer a wider variety of inquiries. A company that sells multiple product lines, for example, might depend on separate systems dedicated to each category of product. Agents may be trained to handle just one system, Pigatto explained, and a company experiencing a high volume of support requests might not be able to shift personnel to other product lines. Consolidating systems, he said, lets agents better balance the call load and locate information for customers regardless of product line.
Consolidating systems can also empower agents to resolve issues at first contact, according to E.J. Kritz, director of training and insights at Ath Power Consulting. Contact centers at a bank's corporate headquarters, he noted, often use a completely different software program than its branches, making it difficult to service customers or open new accounts because agents don't have access to the branch systems.
Empowering agents with AI
Artificial intelligence tools can be especially useful in resolving incoming customer inquiries. In addition to chatbots to expedite customer self-service, AI is helping agents solve more complex customer issues, Pigatto said.
Some vendors now allow companies to create data-driven scripts and prompts for agents. Depending on the customer inquiry, the agent is pulled into a flow with the next best action. After clicking on an answer based on what the customer says, Pigatto explained, the agent is presented with another set of choices. Customer interactions are improved and require less agent time.
Some AI products can provide speech recognition, gauge a customer's tone of voice and make recommendations to the agent. "AI is becoming a more integral part of the contact center," Pigatto said.
Gartner said it believes "emotion AI" will play an increasingly important role in personalizing customer interactions with contact centers. "An angry customer," Gartner noted, "can be detected from the beginning and can be routed to a well-trained agent who can also monitor in real-time how the conversation is going and adjust." The research firm expects 10% of personal devices will have emotion AI capabilities on the device or through cloud services by 2022.
Measuring contact center ROI can be easy
By using the right metrics, measuring call center customer experience ROI can be surprisingly easy, Kritz said. Compared to in-store customer interactions, contact centers allow companies to determine exactly how long a customer was on a call or waited for assistance. "In the call center," Kritz said, "we know to the second how long someone waited, how long it took from the moment of the first ring through the [interactive voice response system] until they were on the phone with an advisor."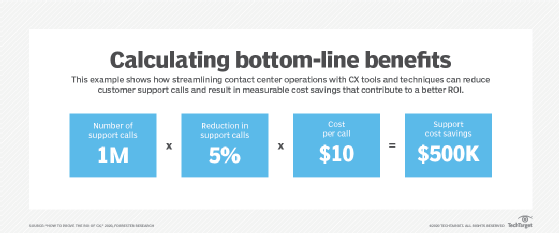 Additionally, companies need to look at the return on opportunity by tracking the net promoter score (NPS) -- a customer's brand loyalty. Boosting the NPS by several points allows companies to logically conclude that customers will remain loyal, leading to more purchases and greater corporate profitability, Kritz said.
Another key ingredient in measuring ROI is how customers prefer to interact with customer service. Companies may invest in automated systems and then realize that many of their customers would rather speak to a live agent, Kritz conjectured. In those cases, he noted, it's better to invest in technology that empowers agents and improves their interactions with customers.
Ultimately, measuring call center customer experience ROI will come down to how well customer service issues are resolved since customer satisfaction is connected to overall profitability. Before investing in customer-facing technology, it's critical to assess what's in front of contact center agents and whether the tools and techniques they use provide quick and seamless first-call resolution -- or hamstring their efforts.
Dig Deeper on Customer service and contact center