Gajus - Fotolia
How remote contact centers benefit businesses, employees
As businesses move to remote contact center models amid the COVID-19 crisis, they're finding benefits in the form of real estate cost savings and happier employees.
Of the many things businesses have learned with the COVID-19 outbreak, one is that companies need alternatives to working in an office or physical contact center. The lessons learned from the global pandemic apply to other circumstances as well, including natural disasters, bad weather, traffic jams, employee convenience, facility cost savings and employee morale.
And, as it turns out, there are benefits to having a remote contact center workforce.
After the COVID-19 stay-at-home orders, 74.1% of companies moved contact center agents to home offices, up from 59% before the pandemic, according to Nemertes' COVID-19 Pandemic: Impact on Virtual Workplace Collaboration Now & in the Future research study of 460 IT and CX leaders, conducted April 2-7. Organizations jumped from 48.9% to 74.7% of their agents working from home full time and from 32.6% to 51.3% of their agents working from home part time before and after the pandemic.
Moving forward, 70.7% of companies plan to continue having agents work from home. This will forever change the workplace for contact center agents. The biggest drivers for keeping agents at home include the following:
improving agent quality of life (57.1%);
preparing the company for future disasters (46.3%); and
better for the environment (36.1%).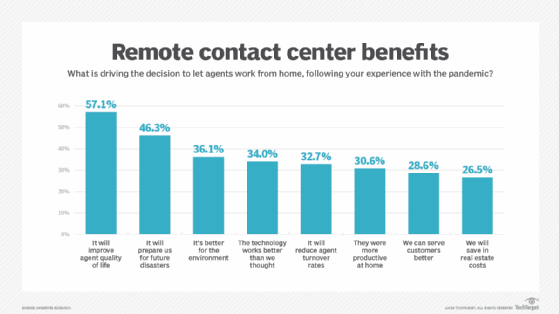 Remote contact center benefits
There are several reasons organizations plan to continue with remote contact centers. Companies went through a process: They had to move agents home and set them up with connectivity, equipment, access to apps and training. Now, as they are doing their jobs at home, managers must assess the situation for the upcoming phases of the pandemic and beyond.
One of the most understated drivers to stay at home is real estate cost savings.
One of the most understated drivers to stay at home is real estate cost savings. Only about a quarter of companies have indicated it's a driver, but as the dust settles and leaders begin a comprehensive evaluation of the work-from-home model, more may see that benefit. The cost for office space varies, but the average is about $8,300 per year, per agent in the United States. If a 200-person contact center were to move only half of its agents to home offices, they would see $830,000 in annual real estate cost savings.
Agent quality of life is vital, but it also has measurable benefits. One of the biggest challenges in the contact center is turnover. Average rates are improving -- 21.1% now -- but they still are too high. Happier agents will stay with a company longer, and one way to keep them happier is to offer flexibility in their work locations and schedules. When companies keep agent turnover to less than 15%, they see a 26% improvement in customer ratings, according to Nemertes' Intelligent Customer Engagement research study of 518 IT and CX leaders.
Remote contact centers also provide these benefits:
enable companies to quickly respond to customers during natural disasters from anywhere in the world;
enable remote agents to expand hours by running split shifts, filling in when incidents take place or personal issues arise; and
enable small businesses to level-set the field to compete with larger ones -- It's easier to hire more and better qualified people by offering a work-life balance, and small companies can expand without increasing real estate costs.
Contact center providers
Many technology companies have offered extensive free trials during the COVID-19 pandemic or other incentives for remote contact center solutions. This has helped many companies stay in business and continue to serve their customers. But it's also given contact centers the opportunity to try platforms in a real-world environment with little risk.
Some of the providers offering services include the following:
Amazon. Salesforce Care customers can use Amazon Connect for free and receive implementation support.
Avaya. Avaya provides 90-day free licenses to enable remote agents across its contact center platforms.
Cisco. Cisco's Webex Contact Center software is available for a 90-day subscription with no minimum volume requirement, and businesses can deploy within about a week. This is not free, but usage is billed in arrears.
Five9. Five9's FastTrack Program sets up agents at home within 48 hours; however, it is not a free trial.
Genesys. Genesys Rapid Response provides free access to Genesys Cloud, with deployments in 48 hours, training and no premiums for volume spikes.
Nice InContact. Nice InContact's CXone@home is available for 60 days with no charge, which businesses can install within 48 hours.
RingCentral. RingCentral's COVID-19 customer engagement offer includes a 90-day free seat license, which the company will have up and running within 48 hours.
Serenova. Serenova's CxEngage Rapid Response offers 48-hour implementations; however, there is no free trial.
Talkdesk. Talkdesk is offering 90 days free for its contact center solutions. Implementation ranges from 24 hours to 15 days, depending on the service selected.
Dig Deeper on Customer service and contact center