kokotewan - stock.adobe.com
Nashville Electric selects Pure Storage to provide power
A Nashville-based power company decided to migrate off an outdated, ill-fitting Dell storage system to something more modern and more reasonable.
An inherited, outdated storage system was costly and beyond a power company's needs, so a hunt for a better fit and a stronger partnership began.
Nashville Electric Service (NES) serves nearly 430,000 customers in the U.S. and supports data centers used by the likes of Meta, Google and Amazon. Nashville is the 10th-fastest-growing major metropolitan area in the U.S., according to the most recent U.S. census, and its utilities will need to keep up.
IT plays an integral role in the utilities industry, underpinning grid management systems and security. However, NES hadn't seen many updates to its IT infrastructure after its CIO departed. The position was vacant for two years, according to Stacy Mill, who took on the role of vice president of IT and CISO in 2021 after serving as the CTO for the state of Kansas.
"I walked in with the notion of modernizing the infrastructure to find most of it was dying," Mill said.
Years before she started, the storage was in need of a refresh. Change finally came just after a storm resulted in a significant outage, prompting NES IT to upgrade to Dell Vmax, now PowerMax.
"They swapped out a lower version of storage that wasn't working for a Mack Daddy version they didn't need," Mill said.
By the time Mill started at NES, Vmax was out of support, and the renewal and maintenance bill came to a million dollars. It was time to look at other options, she said.
Considering the big 10
NES needed to remain on premises and needed support that could match that, so the hunt began with the big 10 in storage, the who's who in Gartner's Magic Quadrant, Mill said, including Dell, Cisco, IBM and Pure Storage. In the end, it came down to support and customer service.
"We needed to be able to have not only a product that can stay evergreen, but support that can stay extremely knowledgeable as it changes," she said.
Part of building out better storage for NES meant upping its technology game, Mill said. Chris Beegle, director of infrastructure at NES, said Pure Storage was offering all-flash arrays that were essentially giant flash drives like the portable ones NES was using for small documents. But Pure differentiated itself in another way: The vendor worked to understand where NES was and how it got there, and then planned to partner with NES on what it needed, Mill said.
[Pure Storage] didn't come to sell to the CIO, they came to build a relationship and a partnership.

Stacy MillVice president of IT and CISO, Nashville Electric Service
"They didn't come to sell to the CIO, they came to build a relationship and a partnership," she said.
NES shifted the investment it was going to spend on maintenance and renewal with Dell to the procurement of two FlashArray//Xes -- one for production and one for replication, Mill said. FlashArray//X is the vendor's all-NVMe flash SAN that now supports both file and block data with the recent update. Given that the costs of two new systems matched the maintenance of the old system, everyone in Mill's office expected the shipment would come by way of a large truck with several racks, she said. The FlashArray came with a surprise.
"My IT controller called and said, 'The storage arrived,'" Mill said. "I asked if it was on the docks or already in the data center. He said it was sitting on my desk."
NES used its own IT department to install the FlashArray in its data center, Mill said. Pure intended to come the following week to help with deployment, but NES managed to complete the installation by conference call instead.
"We were blown away by the small size, the small footprint," she said.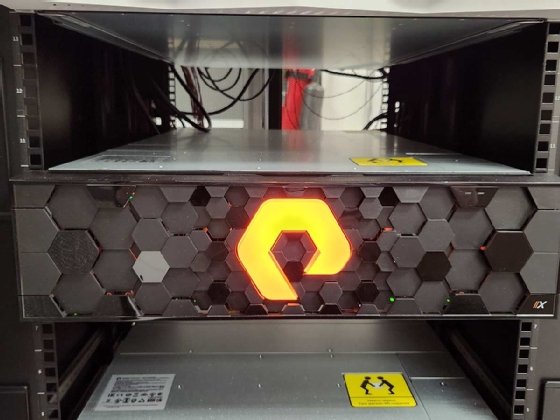 Performance punch with minor issues
While the compact nature of the hardware came as a pleasant surprise, so did the improvement in performance, Mill said. As a former engineer who had been in IT for years, Mill was used to claims from vendors that don't always materialize, but that was not her experience with Pure. Seek times, or the time it takes to locate data on the storage, went from seconds to sub-milliseconds.
"It was the difference between hitting the enter key and counting to 20, and hitting the enter key and being responsive," she said.
Deployment and performance gains were a boon, but a handful of minor issues did surface, Mill said.
"While it wasn't zero issues, my team worked through issues so fast, they never rose to my attention," she said.
Pure laid out project plans that Mill's team tailored to its specific needs, which took NES from box to production in two weeks.
As happy as Mill and NES were with the migration, there is room for improvement.
With Pure -- and storage vendors as a whole -- there is still a lack of visibility for how block storage fits into the rest of the data center puzzle, Mill said. SANs handle storage, but someone else handles the connectivity between them. SANs could also benefit from enterprise-wide support possibilities versus the point solutions they have now.
She said there should be more active intelligence from the SAN as well.
"If I could get more cause-and-effect reporting, that would be great," Mill said. "SANs are intelligent and see what is coming out, and they could help debug [errors] in a better way."
Adam Armstrong is a TechTarget Editorial news writer covering file and block storage hardware, and private clouds. He previously worked at StorageReview.com.