Getty Images/iStockphoto
Pure unifies block, file storage on single FlashArray
Pure Storage expanded the unified storage market by granting native file, block and VM support on a FlashArray, which could reduce complexity and costs for some customers.
Pure Storage updated its FlashArray to natively support file and block storage on a single array from the same storage pool, broadening unified storage options for customers.
In an update to Purity OS, Pure has made File Services for FlashArray generally available. The new storage service doesn't add a file storage system on top of the existing block storage but instead allows support for both on the same storage media. It also natively supports virtual machines with VM-aware Storage, providing administrators tools to manage VMs.
Having dedicated file and block storage in separate arrays may make sense for the enterprise, but mid-market and SMB use cases could benefit from consolidation onto a single system, according to Scott Sinclair, an analyst at TechTarget's Enterprise Strategy Group.
"Pure has been competing with one arm tied behind its back," Sinclair said, noting that FlashArray was a SAN but had been successfully competed against systems that also had file protocol support. Until this update, FlashArray customers had to use a competitive option for file storage.
Now, Pure customers have more options, and the update also makes the storage vendor more competitive against unified storage market leaders NetApp and Dell, Sinclair said.
Unifying file and block storage
Pure Storage isn't the first vendor to offer unified file and block in a single appliance. But generally, unified storage maintains separate block and file pools that must be preplanned. Pure had a different, more subtle approach, according to Steve McDowell, an analyst and founding partner at NAND Research.
"[Pure's] file and block capabilities are using the same underlying storage," McDowell said.
Unifying the underlying storage simplifies management for storage administrators as they can provision storage for file or block out of the same pool, he said.
"We haven't seen this in the past because block and file evolved separately," McDowell said. Pure has found a way to merge the two, leading to more flexibility when provisioning block and file storage resources.
Pure's unified storage architecture won't be as mature for file as more established vendors such as NetApp, according to Sinclair. But addressing new use cases on FlashArray could be a selling point for customers.
"If I'm a Pure customer … I can move more workloads to [FlashArray]. If I'm evaluating Pure, this makes them more appealing as now I have more flexibility," Sinclair said.
Aside from flexibility, Pure's update could reduce storage management complexity and lower the total costs of storage ownership, according to an economic validation study done with Enterprise Strategy Group. The study found Pure's FlashArray reduced complexity by 62% and TCO by 58%.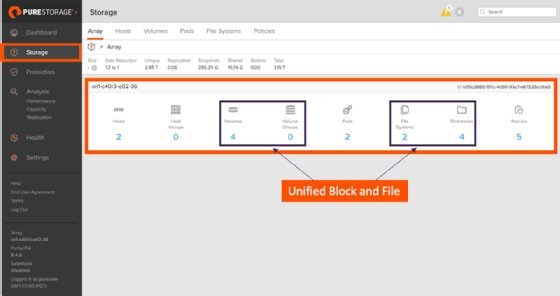 Introducing VM-aware Storage
Aside from file and block, Pure introduced VM-aware storage capabilities to natively manage VMs on FlashArray. The extension to VM support is a natural use case for a FlashArray environment, given that some customers run VMs on SAN while others prefer file. With this OS upgrade, customers can have both.
We haven't seen this in the past because block and file evolved separately.

Steve McDowellAnalyst and founding partner, NAND Research
"What Pure is doing here is not only adding file but also making it as easy as possible to manage other workloads like VMs," Sinclair said.
Data centers are VM driven, McDowell said. Pure is now giving storage administrators tools for "tuning the storage for a particular VM," he said.
Instead of giving a server a certain amount of storage capacity, each VM on the server can be provisioned separately, McDowell said. Like file and block, VMs can run on the same underlying storage.
Adam Armstrong is a TechTarget Editorial news writer covering file and block storage hardware and private clouds. He previously worked at StorageReview.com.