pixel - Fotolia
Google Anthos 'ready' storage includes Dell EMC, HPE, NetApp
Google christens Anthos Ready Storage program to give DevOps customers qualified on-premises storage system options from Dell EMC, HPE, NetApp, Portworx, Pure and Robin.io.
Dell EMC, Hewlett Packard Enterprise, NetApp and Pure Storage head the list of vendors that qualified "Anthos Ready Storage" products under a new program that Google launched this week.
Customers use Google Anthos software to build and manage container-based applications that can run in local data centers and across multiple cloud sites. The Anthos Ready Storage program aims to give enterprises assurance that qualified block and file storage products will run smoothly in on-premises Anthos deployments.
To qualify products, the storage partners had to demonstrate core Kubernetes functionality, such as dynamic provisioning of volumes, through Kubernetes-native storage APIs. They also had to show their systems could manage storage for Kubernetes clusters that can scale up and down, support workload portability and simplify deployment based on Kubernetes best practices.
So far, six partners have qualified Container Storage Interface (CSI) drivers to enable their systems to store data from containerized applications that customers build with the Anthos Google Kubernetes Engine (GKE). Container storage specialists Portworx and Robin.io joined traditional suppliers Dell EMC, HPE, NetApp and Pure in becoming the first to achieve the Google Anthos Ready Storage qualification.
"There's a perception out there that software should work on any hardware. But in reality, that's not that case, and much of enterprise IT understands this," said Scott Sinclair, senior analyst at Enterprise Strategy Group "If something goes wrong, they don't want to have to try to figure out if it's the hardware, the software or the interaction. They want products that are validated and ready to go. And these validation projects are not trivial. They have value. They take work away from IT architects."
Sinclair said the Anthos Ready Storage program is significant because it shows a major public cloud provider understood the need to work with traditional on-premises storage providers -- rather than the other way around -- to simplify and expedite deployments for enterprise hybrid clouds.
Increasing use of stateful container apps
Sameet Agarwal, vice president of engineering for Google Cloud Storage, said more financial service firms and other large enterprises are asking for basic services such as storage as they deploy stateful container-based applications. Those customers "want guidance from us on the best storage products to use underneath Anthos and some level assurance they'll work as expected," he added.
Agarwal said the initial group of Anthos Ready Storage partners encompasses "the likely storage vendors that almost every company is using." It also includes smaller vendors Portworx and Robin that focus on building storage for Kubernetes-based applications.
"Customers have massive investments in technology already. They have their support vendors. They have their storage systems. They have years of relationships with vendors," Agarwal said. "For us, it's a question of how do we help these customers modernize their applications without uploading their entire infrastructure."
Agarwal said the starting point for many customers is application modernization using the Kubernetes container orchestration engine. In some cases, that involves a move to the public cloud, such as Google, AWS and/or Microsoft Azure. But, in many cases, customers choose to keep their applications on premises, he said.
"We expect a fully multi-cloud environment where no customer has just only one cloud vendor or only on premises," Agarwal said. "The good thing is your application architecture is the same whether you are running on premises or in the cloud, and the storage looks the same no matter where you're running."
Kubernetes CSI driver advantages
Google Anthos previously offered customers VMware and Kubernetes volume plugins for on-premises storage. The new Anthos Ready Storage program facilitates third-party storage through CSI drivers. Agarwal said the CSI-driver model enables storage partners to add capabilities on their own, without having to wait for a new revision of the core Anthos platform.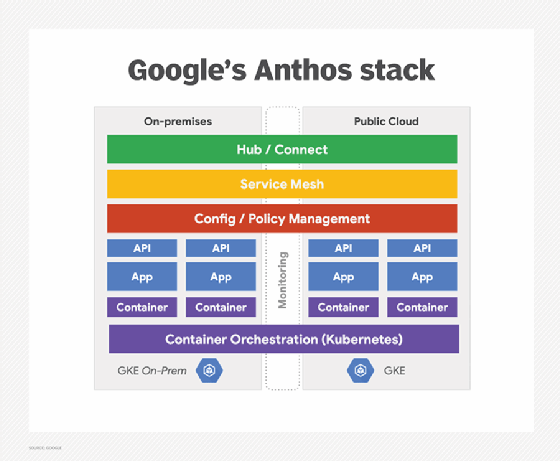 Google is also working with partners and the open source community to expand the CSI specification to include more storage management and data protection functions, such as backup, Agarwal said.
Kubernetes storage specialists Portworx and Robin.io already tested data protection capabilities with Google Anthos. Portworx founder and CTO Gou Rao said Portworx worked with Anthos teams to validate the integration of its core PX storage plus high availability, backup, disaster recovery and multi-cloud capabilities.
"Anthos qualification tests the user experience very rigorously from install to operations," Rao said. "With this level of testing, customers can feel comfortable in the quality of the integration of Anthos with the technologies from the supported ecosystem partners."
Robin.io's platform provides a storage layer for running enterprise applications on Anthos. It can also protect and migrate applications across on-premises and cloud clusters, along with application data, configuration and metadata, according to Partha Seetala, the company's CTO and founder.
Pure Storage's CSI driver can pool multiple FlashArray and FlashBlade units in an Anthos cluster and expose storage to containers as latency-optimized (block) and throughput-optimized (file), according to Rob Walters, VP and GM of Pure Storage as a Service. He said the system lets container users choose their own file system for their block devices.
NetApp on-premises products available for use with Google Anthos include the entire portfolio of OnTap-based products, NetApp HCI and the vendor's open source Trident to manage storage within a Kubernetes cluster, according to Anthony Lye, the company's senior vice president and general manager of cloud data services.
"The hardware flexibility offered by Google Anthos empowers IT admins with greater flexibility in the storage products they use and, in turn, can minimize the overall cost of storage, because there's the increased likelihood they can use existing storage investments," ESG's Sinclair said. "One thing enterprise IT hates is when a provider comes in with this great, new technology and says, 'You have to buy all new infrastructure.'"