10 top hyper-converged infrastructure vendors and products
Determining which hyper-converged infrastructure platform is right for your organization should include analyzing your workloads and assessing technology from top HCI vendors.
Hyper-convergence continues to gain momentum as more and more companies embrace the technology for use as virtual desktop hosts, disaster recovery platforms and more. As such, there are several hyper-converged infrastructure vendors to keep an eye on going forward. Examine, in alphabetical order, 10 prominent HCI vendors, the features of their tools, the use cases they address and what makes their products stand out from the competition.
1. Cisco
Cisco's HCI initiatives are based around its HyperFlex product line. HyperFlex is available in several different configurations, including HyperFlex Hybrid Nodes, which is geared toward hosting general-purpose workloads. Examples include Cisco's HX220c M5 and HX240c M5, as well as the large form-factor version of the HX240c.
The Cisco HyperFlex All Flash configuration is designed for use with mission-critical workloads that require top-tier performance. As the name implies, Cisco's HX220c AF M5 and Hx240c AF M5 are based around flash storage. However, the HX220c All NVMe M5 uses NVMe storage instead.
The HyperFlex Edge configuration includes edge devices such as the HX220c Edge M5, which are intended for use in remote and branch offices.
Cisco's HyperFlex Compute Only nodes are available as either B Series or C Series servers and don't include storage.
2. Dell EMC
Dell EMC's VxRail appliances are based on VMware's Virtual Storage Area Network, or vSAN, technology and are a good fit for VMware shops, as are the company's vSAN Ready Nodes.
Dell EMC also offers a VMware Cloud Foundation on Dell EMC VxRail product that's designed as a turnkey hybrid cloud platform. It provides deep integration with the VMware Cloud Foundation and is designed for organizations that want to run Kubernetes at cloud scale.
Dell EMC also offers HCI platforms for organizations that have standardized around Microsoft technologies. The company's Integrated System for Microsoft Azure Stack Hub acts as a hybrid cloud where the Azure Cloud is used alongside on-premises resources and intelligent edge devices. Similarly, Dell EMC offers a Microsoft Azure Stack HCI system that brings together software-defined compute, storage and networking and Dell AX nodes.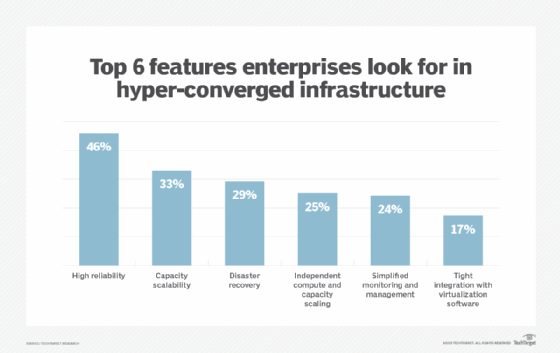 3. Hewlett Packard Enterprise
One of the biggest pain points associated with first-generation HCI platforms was that each node typically contained storage, compute and network resources. This meant that increasing storage capacity often required organizations to purchase additional nodes, meaning they were paying for compute and networking resources they didn't need. Similarly, an organization that needed to add CPU resources to handle a computationally intensive workload would need to purchase storage and network resources that it didn't need.
Hewlett Packard Enterprise (HPE) has addressed this problem with its Nimble disaggregated hyper-converged infrastructure, or dHCI, platform. With HPE Nimble Storage dHCI, administrators can scale storage and compute resources independently of one another, helping their organizations avoid wasteful IT spending. HPE markets Nimble Storage dHCI platform for businesses that need to support applications with unpredictable data growth. The HCI platform is also useful for hosting mission-critical applications that need a high level of storage performance or data resiliency.
HPE Nimble Storage dHCI is built on HPE InfoSight, which provides self-optimization of workloads. HPE also provides a vCenter plugin that admins can use to manage Nimble Storage dHCI from VMware vCenter. According to HPE, the product can be deployed in 15 minutes and delivers six nines -- 99.9999% -- of availability.
4. NetApp
Whereas many hyper-converged infrastructure vendors focus on edge computing or server virtualization, NetApp uses HCI as the basis for its hybrid cloud. Although there are any number of hardware platforms that could be configured to act as the on-premises portion of a hybrid cloud deployment, NetApp HCI takes things a step further.
The NetApp control plane enables a consistent management experience across multiple clouds. This means admins can use an identical interface and identical procedures, regardless of which cloud they're managing. They can also use a single tool to manage NetApp HCI resources, as well as resources hosted within AWS, Google and Microsoft Azure clouds. The control plane also enables admins to move workloads from one cloud to another, as needed.
5. Nutanix Inc.
Acropolis Operating System, or AOS, is Nutanix's software-defined HCI product and one of the most popular HCI platforms in the industry. Nutanix encourages users to run its proprietary hypervisor, Nutanix Acropolis Hypervisor, or AHV, but the platform also supports VMware and Microsoft hypervisors.
AOS includes Nutanix's proprietary Prism tool, which admins can use to manage the entire AOS environment. Prism displays key hypervisor and VM statistics in a simple and intuitive dashboard interface. AOS also includes the AHV hypervisor and Karbon, which is a tool for Kubernetes orchestration.
The AOS platform centers around Nutanix's own storage nodes, which makes enterprise-class storage available to virtualized workloads. The storage layer enables the use of block, file and object storage. Erasure coding protects data against loss and storage is designed to be self-healing.
6. Pivot3 Inc.
The Pivot3 hyper-convergence product is designed for use in the enterprise. Two main things make Pivot3 stand out from other products on the market.
First, Pivot3 seems to be the only vendor that has created an HCI system that's geared specifically toward video data. Pivot3 has also taken steps to prevent frame loss. This includes things such as a solid-state write cache and video stream load balancing.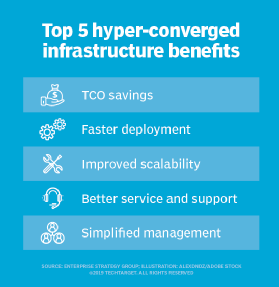 Pivot3's other competitive advantage lies in its reliability. The company has created its own patented erasure coding mechanism, and systems are designed with no single points of failure. The system is also capable of performing real-time health monitoring, which automatically alerts an admin and creates a support case if issues are detected.
7. Scale Computing
Scale Computing markets its HyperCore 3 (HC3) platform for use as an edge infrastructure or as a virtualization platform. Although these particular use cases might be relatively common, the product is noteworthy because of its self-healing capabilities. The HC3 system is designed to automatically identify issues and take corrective action without the need for administrative action.
The HC3 platform is designed to be an all-inclusive system, which Scale Computing calls a data center in a box. According to the company, the platform can be deployed in less than an hour, and no training is required to manage the system. Additionally, Scale Computing doesn't require its customers to purchase hypervisor licenses. Rather than using pricy third-party enterprise hypervisors, Scale Computing bases its HCI system on the full version of the HyperCore hypervisor.
8. StarWind Software Inc.
StarWind is well known in virtualization circles for its free V2V Converter tool, but the company also offers hyper-converged systems. The StarWind HyperConverged Appliance is all-flash storage that's designed for high-performance workloads. StarWind also uses RAM as a write cache to ensure maximum performance. Additionally, the platform ensures that a VM's compute and storage resources exist on the same node to optimize performance.
StarWind advertises six nines of availability, and fault tolerant clusters can consist of as few as two nodes without the need for a witness node.
9. Stratoscale
The Stratoscale HCI platform is geared specifically toward organizations that want to build public, private or hybrid clouds. Its product is based around the KVM hypervisor and supports multiple storage architectures including block, file and object.
Unlike many HCI platforms, Stratoscale supports the use of external storage arrays. Native support exists for leading storage vendors, including Dell EMC, HPE, NetApp and Pure Storage.
Stratoscale focuses on cloud infrastructure, so its management tools tend to be cloud-oriented. For example, the company provides hardware resource monitoring like other hyper-converged infrastructure vendors, but it also has the ability to allocate hardware resources to specific users. Likewise, Stratoscale orchestration capabilities enable admins to scale applications by launching or removing instances on demand in response to changing workload conditions.
10. VMware
VMware provides a software-based HCI product that comprises four core components. The first component is VMware vSphere hypervisor, which enables HCI deployment to host VMs.
The second HCI component, vSAN, is VMware's virtualized storage product. It enables organizations to combine their storage devices into a storage pool, making it possible to scale storage as needed.
The third component, NSX, is the VMware network virtualization platform that organizations can use to connect resources across data center and multi-cloud environments.
The fourth component, vRealize Suite, consists of VMware products that are designed for data center and cloud management.
Dig Deeper on Converged infrastructure management