buchachon - Fotolia
Understanding VMware Cloud Foundation components, features
VMware Cloud Foundation enables users to implement an integrated software-defined data center. Version 4 represents a major architectural upgrade integrating Kubernetes in vSphere.
VMware Cloud Foundation is a suite of VMware products that provide the building blocks necessary to implement an integrated software-defined data center platform. Its components combine to automate deployment and lifecycle management, helping to simplify IT operations and reduce administrative overhead.
IT teams can run Cloud Foundation on premises as part of a private or hybrid cloud or as a service on a public cloud platform. The platform integrates the VMware software stack into an engineered system with guaranteed interoperability, while offering a consistent operational model based on well-known VMware tools and processes.
Explore what VMware Cloud Foundation is and how it works by delving into its component parts, features and deployment options.
VMware Cloud Foundation components
VMware Cloud Foundation bundles four VMware tools -- vSphere, vSAN, NSX Data Center and the vRealize Suite -- to deliver a fully integrated software-defined platform.
VMware vSphere is a bare-metal hypervisor that virtualizes physical server resources, enabling organizations to consolidate applications, while better utilizing compute hardware. In addition to the hypervisor component, vSphere includes vCenter Server for centrally managing the components that make up the vSphere environment. VMware recently released vSphere 7.0, which includes native Kubernetes integration for managing containerized applications.
VMware vSAN works hand-in-hand with vSphere to incorporate software-defined storage and hyper-converged infrastructure (HCI) capabilities into the VMware environment without requiring additional management tools. The vSAN component of Cloud Foundation is built directly into the VMware ESXi kernel and is native to the vSphere hypervisor. Administrators can easily enable and manage vSAN alongside the rest of the vSphere infrastructure. Like vSphere, VMware recently updated vSAN to version 7.0. The update enhances native storage and integrated file services, while simplifying lifecycle management through vSphere Lifecycle Manager.
By unifying vSphere, vSAN, NSX and vRealize into a common platform, VMware promises to deliver a hybrid cloud infrastructure that combines agility and efficiency with performance and security.
The third component in the Cloud Foundation suite is VMware NSX Data Center, a complete L2-L7 networking and security virtualization platform. Similar to vSphere and vSAN, NSX makes it possible to provision and manage network resources independently of the underlying hardware. NSX takes a software-defined approach to creating a virtual cloud network that can extend across data centers, cloud platforms and application frameworks. In this way, NSX brings networking and security closer to applications, whether they're running in containers, virtual machines or on bare metal.
The final component is the VMware vRealize Suite, a hybrid cloud management platform that enables developers to easily and quickly deploy VM-based and containerized applications in private, public and hybrid cloud environments. The suite provides IT management services for vSphere and other hypervisors, as well as for containers, physical infrastructures, OpenStack environments and external cloud platforms. The vRealize Suite includes vRealize Automation, vRealize Operations, vRealize Log Insight and vRealize Lifecycle Manager.
VMware Cloud Foundation features
VMware Cloud Foundation components work together to provide a comprehensive offering for deploying a software-defined infrastructure with integrated cloud management capabilities. It optimizes self-driving operations across private and public cloud platforms, as well as edge environments. The platform uses AI technologies such as machine learning to optimize performance, plan capacity, maintain compliance and deliver intelligent remediation.
VMware Cloud Foundation also includes automated lifecycle management services that automate Day 0, Day 1 and Day 2 operations. For example, the platform can automate tasks such as deploying VMs, configuring storage or creating management clusters. In addition, the automation features help simplify patching and upgrade operations as well as provision isolated clusters on demand. VMware Cloud Foundation also supports self-service automation by providing templates for defining policies that bind compute, storage, network and security resources.
What is VMware vSAN hyper-converged infrastructure?
Previously called Virtual SAN, vSAN tightly integrates, virtualizes and pools server resources to make deploying, managing and implementing an infrastructure easier. An HCI built using VMware virtualization technologies uses vSAN to share software-defined storage throughout a vSphere cluster.
Organizations can use vSAN to deploy three kinds of clusters: standard, two-node and stretched to support hybrid workloads such as backup and recovery, testing/development, multi-cloud workloads, application development, multi-cloud management and mode-1 applications. Standard clusters are located on a single site with a minimum of three, maximum of 64, modes. A two-node cluster requires what's called a witness host to act as a tiebreaker should the connection between nodes be lost. It is for smaller vSAN deployments.
Stretched clusters, meanwhile, consist of two physically separated sites with at least one node per site, up to 30 hosts and, like a two-node cluster, a witness host.
Among the most used HCI and software-defined storage platforms today, there are currently more than 20,000 vSAN licensees. VMware, meanwhile, consistently tops the HCI software market with a 38% share according IDC's most recent quarterly report.
To enhance platform security, VMware Cloud Foundation utilizes the vSphere operating model to lock down the OS and protect the application stack across hybrid cloud environments for both traditional and modern workloads. It also supports network-level microsegmentation, which makes it possible to divide the network into logical security segments with granularity down to individual workloads. VMware Cloud Foundation also includes such features as storage-level encryption and compute-level encryption, which can apply to the hypervisor, individual VMs or Storage vMotion services.
One of VMware's stated goals for Cloud Foundation is to shorten the path to a true hybrid cloud environment by providing a common platform that spans both private and public clouds. To this end, VMware Cloud Foundation helps simplify the process of moving workloads across cloud environments without needing to rearchitect applications.
The platform can also help reduce data center and cloud silos as well as complex processes and deployment risks, resulting in faster application provisioning and accelerated time to market. At the same time, Cloud Foundation can offer more consistent service delivery and performance, while improving security and resource utilization.
As a result of these benefits, VMware Cloud Foundation promises a lower total cost of ownership for deploying a private cloud -- up to 30% or 40% lower, according to VMware.
Deploying VMware Cloud Foundation
Cloud Foundation targets two primary use cases: virtual infrastructure and virtual desktop infrastructure (VDI).
Virtual infrastructure essentially refers to the ability to virtually allocate and reallocate infrastructure resources to meet fluctuating business requirements. The virtual environment makes it possible to deploy a variety of OSes and application types within the tenant VM structure, with workloads ranging in type, distribution and data intensity.
The other use case, VDI, enables organizations to provide hosted desktops and applications to their users. VMware Cloud Foundation VDI does all this while allowing each user to access resources through a single unified workspace.
VMware offers four Cloud Foundation editions: Starter, Standard, Advanced and Enterprise. The Starter edition offers basic management, compute, storage and networking services. For example, it includes features related to monitoring and troubleshooting, high availability and fault tolerance, deduplication and compression, and microsegmentation networking.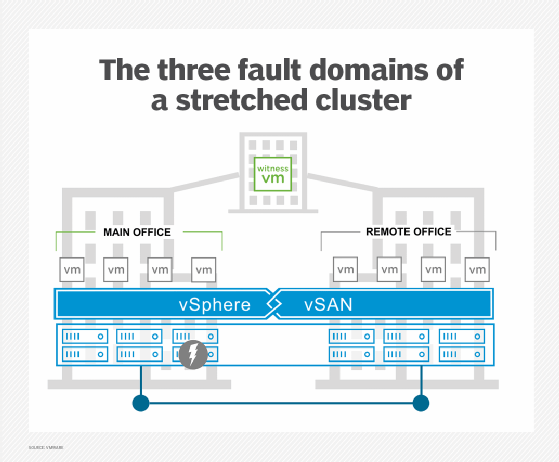 The Standard edition provides many of the same features as the Starter, except in the area of management, which is primarily limited to log analytics. However, the Standard edition includes the vSphere add-on for Kubernetes, which the Starter edition does not.
The Advanced edition of Cloud Foundation offers everything in the Starter and Standard editions, but adds other features.
Enterprise edition builds on the Advanced edition, adding management, storage and networking capabilities not available to any of the other three editions. For example, the Enterprise edition supports data-at-rest encryption and NSX Hybrid Connect, which enables large-scale workload migrations.
VMware provides several deployment options for implementing Cloud Foundation. Organizations can install Cloud Foundation software on premises on any vSAN ReadyNode validated server or purchase an integrated system such as Dell EMC VxRail. In this second case, Cloud Foundation software is preinstalled at the factory.
Another option is to run Cloud Foundation as a service on one of several supported public cloud platforms, including Rackspace, IBM Cloud and VMware Cloud on AWS.
What is VMware Cloud Foundation 4?
VMware Cloud Foundation has been in the offering for several years, with VMware steadily improving the suite of tools over that time.
As part of this trend, VMware recently announced the release of VMware Cloud Foundation 4, which represents a major architectural upgrade to the platform. The big news here is the integration of Kubernetes into the vSphere hypervisor, making it possible to run containers side-by-side with VMs.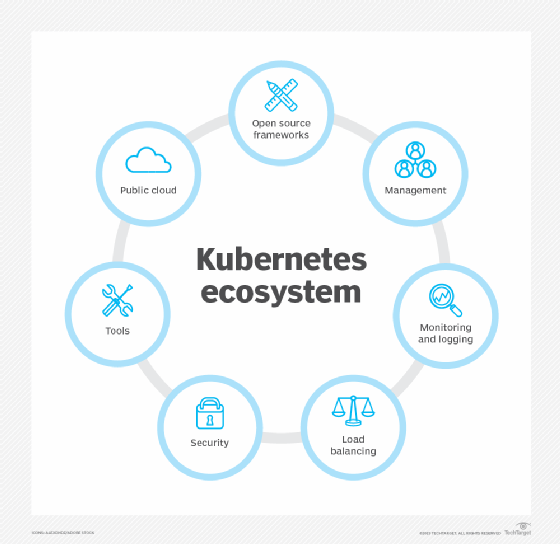 Kubernetes is only part of the larger Cloud Foundation picture, however. By unifying vSphere, vSAN, NSX and vRealize into a common platform, VMware promises to deliver a hybrid cloud infrastructure that combines agility and efficiency with performance and security. Kubernetes simply makes the overall picture more complete in VMware's bid to propel IT into the future of application deployment.
Dig Deeper on Converged infrastructure management