VMware product overview: Virtualization and end-user computing
Confused by VMware's extensive product line? This guide examines VMware products and features to help admins identify whether VMware suits their workloads.
VMware's comprehensive product line can be difficult for some IT administrators to navigate. A VMware product overview will offer an overview of some of VMware's well-known virtualization products and their features, as well as outline certification opportunities for these products.
Data center virtualization and end-user computing are large markets with an abundance of products for admins to choose. VMware provides several tools in these segments, including vSphere, NSX-T Data Center (formerly NSX-T), vSAN and vRealize for data center virtualization and VMware Horizon Suite and Workspace ONE UEM for desktop virtualization. Admins can purchase these products separately or as a combined package.
Data center virtualization
Most admins have some experience with VMware's hypervisor, vSphere, but others might primarily work with Hyper-V or KVM. The concept of running VMs has been around for many years now, but VMware products have evolved into what many refer to as the software-defined data center (SDDC). VMware vSphere is at the heart of most deployments.
VSphere 7
Following the release of VMware vSphere 7 on April 2, 2020, vSphere's main function continues to be running VMs in a majority of VMware workloads. VMware manages vSphere with the vCenter Server, which is the central management appliance that governs every vSphere host and VM. VMware vSphere includes a host of products and features, such as the ESXi hypervisor, vCenter server, vSphere Client, vSphere software development kits, Virtual Machine File System, Virtual SMP, vMotion, vSphere High Availability, DRS, Fault Tolerance and Host Profiles -- all of which enable admins to virtualize and modernize their applications.
One of the newest additions to vSphere 7 is the ability to run containerized workloads on vSphere that typically run with Kubernetes, enabling admins to run existing enterprise applications in vSphere. This is an important feature for larger data centers that must maintain a consistent setup.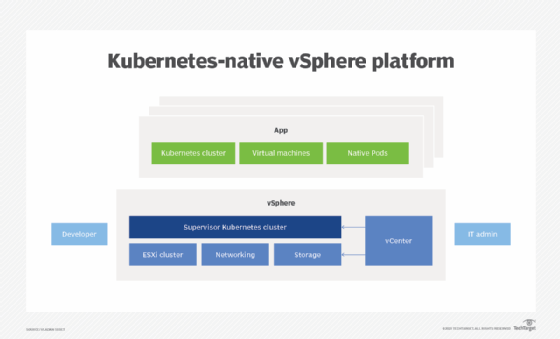 VMware also introduced several other updates, including enhancements to its Lifecycle Manager, which simplifies updating ESXi hosts and helps keep those hosts compliant. In addition, vSphere 7 simplified VMware's content libraries and templates, introduced identity federation and authentication, and made improvements to vSAN and DRS. Following VMware's licensing changes, vSphere 7 is now licensed per processor, not per processor core.
NSX-T Data Center
A hypervisor alone does not make an SDDC. One other important part in VMware's product line is the network virtualization capabilities that NSX-T Data Center offers, including software-defined networking for non-vSphere infrastructures. NSX-T Data Center shifts responsibility from a data center's physical switches and routers to the hypervisor by creating virtual networks for switching and routing. Traditionally, network admins would create virtual LANs and set up routes in their switches and routers; NSX-T Data Center achieves this with overlay networking along with support for Border Gateway Protocol routing.
NSX-T Data Center also has a prominent security component with a distributed firewall for protection within the data center that monitors VM traffic to and from the physical network. In addition, NSX-T Data Center uses network introspection, intrusion detection and antivirus protocols with the help of IPsec and a Layer 2 VPN.
VSAN and vVols
VMware offers storage virtualization through vSAN and Virtual Volumes (vVols). Both features are integral parts of vSphere, but vVols require admins to purchase a Standard or Enterprise Plus license to enable this functionality in vSphere. VVols aren't as widespread as vSAN because vVols require a storage product from a vendor that supports this functionality, whereas vSAN works with any hardware listed on VMware's compatibility list.
A group of at least three generic servers can make their local storage -- usually, flash storage -- available as shared storage with many redundancy options in vSAN. This helps place storage management in the hands of vSphere admins. VSAN also uses the vSphere hypervisor as a storage platform without the need to purchase specialized storage hardware.
VRealize Suite
With vSphere, NSX-T Data Center, vSAN and vVols, admins have the basic foundations for an SDDC, but it's hard to manage without automation and proper monitoring tools. For that purpose, VMware offers its vRealize Suite, which contains vRealize Automation, vRealize Operations, vRealize Log Insight and vRealize Suite Lifecycle Manager. VRealize Automation enables admins to deploy their own workloads -- VMs or containers -- and design them with the correct networking, security and storage configurations.
VRealize Operations offers admins operations management across physical, virtual and cloud environments, while Log Insight manages and analyzes system log data, troubleshoots issues with vSphere, and performs security audits and compliance testing. VMware's Lifecycle Manager enables admins to better deploy and manage all of these components within the vRealize Suite package.
Admins new to VMware might be overwhelmed by these products and won't know where to start if their organization decides to implement a VMware SDDC. Thankfully, organizations can purchase all of these products as a total package, known as the VMware Cloud Foundation. It's still not a plug-and-play solution, but it becomes simpler to implement overall.
Something else to know about these offerings is that organizations can purchase them on a subscription-based plan as a cloud alternative. Admins don't have to purchase any hardware or even own a data center; they can leave all of that to VMware and its partners Amazon, Google, Oracle or Microsoft. In this case, admins' entire SDDC then runs on hardware owned and managed by these third parties and are managed with the tools that admins would normally use in their on-premises data center.
End-user computing
Another branch within the VMware product line includes end-user computing (EUC). Desktop virtualization, which enables admins to offer a desktop to users on any device from anywhere, fits in this category. The desktop and any accessed data remain secure in the data center or the cloud whether users are working at the office, on the road or from home.
VMware Horizon
VMware Horizon offers admins a succinct way to virtualize their remote desktop operations. Horizon uses several components, such as Horizon View, Horizon Client, Horizon Workspace and Horizon Air to deploy secure desktops and applications to users on a variety of devices.
Admins can keep desktops up to date with software and patches by maintaining a single image -- master or parent -- that forms the basis of all user desktops. On top of that, admins can use VMware App Volumes in their applications as well as with their desktops, which they can then control with the Dynamic Environment Manager. These three tools together offer what VMware has named the Just-In-Time Management Platform (JMP). When admins require a desktop, JMP ensures it's there and has any components they require.
Workspace ONE UEM
The other large part of VMware's EUC is what was previously known as AirWatch, which VMware acquired in 2014. It's now branded as Workspace ONE UEM, or unified endpoint management. This product offers complete management over endpoint devices, installed applications, and Windows 10 desktops and their applications.
Workspace ONE UEM enables admins to manage the full lifecycle of an endpoint device, optimize desktop OS management for mobile devices, enables use of rules-based automation and improves security.
Workspace and Fusion
Two products that don't directly fall into the EUC category but are worth mentioning are VMware Workstation -- Player or Pro -- and VMware Fusion. VMware Workstation runs VMs on Windows or Linux workloads, while Fusion runs VMs on a macOS.
With these products, users can run VMs directly on their own hardware whether they are admins who must test different OSes, developers who must develop applications on multiple systems or just enthusiasts who must run more than one OS.
Certification opportunities
VMware offers documentation and certification for almost all products that were mentioned in this article. There are five main certification tracks in which admins can become a VMware Certified Professional (VCP):
Data Center Virtualization
Network Virtualization
Cloud Management and Automation
Digital Workspace
Desktop and Mobility
Each of these focuses on a main product within the VMware product line, such as vSphere for Data Center Virtualization and NSX-T Data Center for Network Virtualization. But there are also badges on top of these certifications that enable certified professionals to demonstrate that they have specific knowledge on a product, such as vSAN or vRealize Operations.
After becoming certified as a VCP, there is an Advanced Professional track in most fields and the highest certification admins can achieve being the VMware Certified Design Expert in the respective fields.