agsandrew - Fotolia
NSX-T 3.0 enriches VMware's hybrid IT offering
VMware's new NSX-T 3.0 brings important tools to customers modernizing data centers for the cloud era.
VMware has introduced a significant upgrade to its NSX-T virtual networking and security software. The new version provides customers with better tools for operating hybrid IT and multi-cloud environments.
VMware unveiled this week NSX-T 3.0, the latest iteration of what has become the core of the vendor's Virtual Cloud Network strategy. Introduced two years ago, VCN is a portfolio of products VMware offers to redesign data centers for the cloud era. Also, VCN provides technology for applying security and network policies across modernized data centers, SaaS, and applications running on public clouds, such as AWS, Google Cloud, and Microsoft Azure.
With NSX-T 3.0, "VMware is evolving," Brad Casemore, an analyst at IDC, said. That evolution has brought a more automated virtual network overlay that serves traditional and modern applications. The overlay also supports underlying infrastructure, including virtual machines, bare-metal servers and containers.
NSX-T 3.0 has many new features. One of the most noteworthy is NSX Federation. Generally, the technology lets users implement network zones that engineers can isolate if they become infected with malware. Also, engineers can deploy the same network and security policies across the zones.
Paul Bryant, a software-defined data center architect, said NSX Federation would provide one user interface for multiple NSX-T instances. Today, an engineer has to use the UI for each instance.
"That becomes a management overhead headache," said Bryant, who works for Freeman, an event management company based in Dallas.
Engineers planning to use NSX-T 3.0 will find that it's relatively simple to use within new projects, Bryant said. However, deploying it in existing environments will be difficult.
"A brownfield environment will require significant work to move towards this architecture," he said.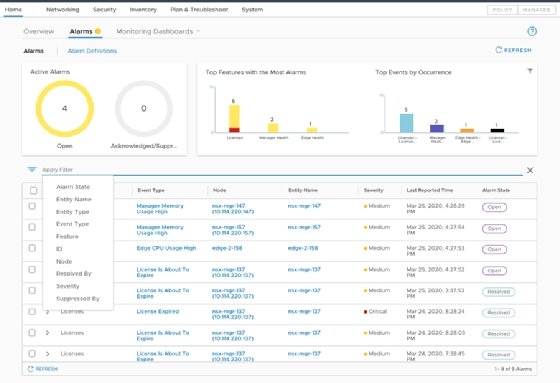 NSX-T with vSphere 7
Another critical feature in NST-T 3.0 lets users extend Layer 2 through Layer 7 networking to VMware's vSphere 7, which the company released in March. VSphere is a suite of server virtualization products for the data center. The latest version lets users run containers and virtual machines. The former is a crucial component in cloud computing environments that companies are developing in the data center to make it more compatible with public cloud infrastructure.
"The tighter integration into vSphere will allow admins to manage and deploy their environments faster," Bryant said. "Also, this cloud-like integration between components should eliminate fears of complexity, fears of failures, and [cause] a deeper sense of control over their environment."
NSX-T 3.0 also delivers Layer 2-7 networking to VMware's Tanzu product portfolio. Engineers use Tanzu to support open source Kubernetes container orchestration software on VMware infrastructure.
With the NSX-T upgrade, VMware also introduced version 5.2 of vRealize Network Insight. The software suite provides network insight, automation, and management to hybrid IT and multi-cloud environments.
The latest version supports NSX-T 3.0 while also introducing traffic analytics to discover applications running across all VMware platforms. The feature categorizes applications and application tiers. It can also notify engineers if an application is slowing down or a tier is degrading.
VMware improves integration with Azure
Finally, VMware improved connectivity between a customer's branch office and Microsoft Azure. To do that, customers can deploy VMware's software-defined WAN in an Azure Edge Zone. The latter is a Microsoft facility placed in metro areas, so that customers can run latency-sensitive applications closer to the user. Microsoft has Edge Zones in New York, Los Angeles and Miami.
VMware's SD-WAN can also run on an Azure Private Edge Zone, which is an on-premises appliance that contains a duplicate of the Azure cloud platform. With the Private Edge Zone, users can manage applications running on the hardware in the same way they would software on the Azure cloud.
NSX-T 3.0 is generally available. VMware plans to ship vRealize 5.2 by the end of the month.
Surveys have shown that a majority of enterprises are revamping data centers to accommodate the many applications they're running on public clouds. VMware's latest release puts pressure on rival Cisco to deliver comparable capabilities in its NSX-T competitor, the Application Centric Infrastructure (ACI).
"I would expect further multi-cloud coverage, similar to VMware's NSX breadth, to be forthcoming [from Cisco]," Casemore said.
Dig Deeper on Cloud and data center networking